The market is reaching new highs, and so are leading stocks. It is important to take note of the improvement of fundamentals, and the general technical picture in order to profit in the stock market. Amazon.com Inc. (NASDAQ:AMZN) is not showing earnings, as they are just above breakeven, but the growth in sales is stellar. eBay Inc. (NASDAQ:EBAY) is showing above-average growth in earnings and revenue in a low-growth economic environment. Cisco Systems Inc. (NASDAQ:CSCO) sales growth is moderate, and adjusted EPS growth was in double digits in the last four quarters, which is outstanding for this tech giant, as it posted a five-year growth of just 5% in EPS and sales.
Amazon.com Inc.
There is much controversy about Amazon's valuation, and yet, the stock is reaching new highs lately. The company has focused on sales growth, and it is not valued for its earnings. Price to sales is a more reliable metric for Amazon, and this metric is reaching the high end of the previous four-year period, according to the P/S chart on Ycharts. But there is still room to the top of the range, and Amazon will report earnings by end of January, and TTM sales are projected to rise from the current $57.25 billion to $62.03 billion, and revenue per share would rise to $136.94, driving down the P/S ratio to 1.97 (calculated at the time of writing, with closing price of $270.48 on January 17).

Click to enlarge
Source: Earnings.com, Ycharts
The stock broke out from a cup-with-handle formation on January 7,with above-average volume and reached new highs this week.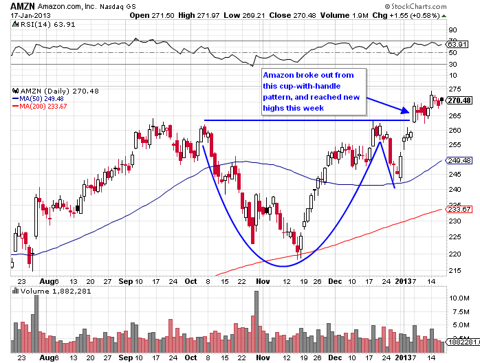 Click to enlarge
Source: Stockcharts
eBay Inc.
eBay reported earnings this week, and beat estimates, but gave a light guidance for the next quarter. The company delivered solid growth in previous quarters, with EPS growing in the 15%-17% range in the previous four quarters, and sales rising in the 14%-28% range, with the last two quarters presenting the slowest growth. EPS and sales growth in the past five years were 25% and 14% respectively. Earnings are projected to grow 14% in the next five years.

Click to enlarge
Source: Earnings.com, Ycharts
eBay made new highs after beating fourth-quarter earnings and sales estimates, and did so in above-average volume. It broke out initially in late December, and pulled back to the 50-day moving average line, and rebounded from there as it found support.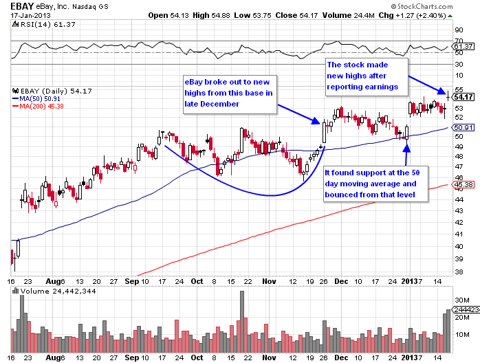 Click to enlarge
Source: Stockcharts
Cisco Systems Inc.
Cisco is a slower grower than the previous two names, but delivered improved numbers in the last quarters. Earnings edged up at an above-average pace, from 11% to 27% in the last four quarters, while sales were up in the 4%-10% range in the same time period. The company is expanding and making acquisitions, with six companies bought in last six months. It is looking to become a big player in cloud computing.

Click to enlarge
Source: Stockcharts
The stock reached new highs this week, rising 26% from its mid-November lows.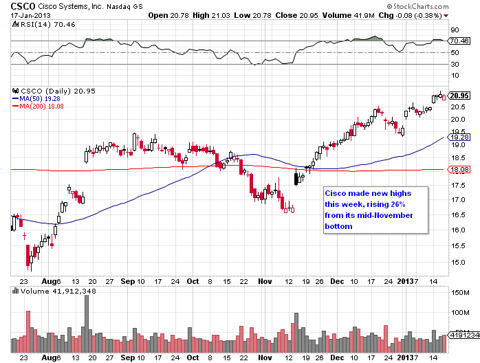 Click to enlarge
Conclusion
As the market paces forward, so do these three stocks. They are expanding in their territories, and driving up earnings and sales, and that is expected to continue in the future.
Disclosure: I have no positions in any stocks mentioned, and no plans to initiate any positions within the next 72 hours. I wrote this article myself, and it expresses my own opinions. I am not receiving compensation for it (other than from Seeking Alpha). I have no business relationship with any company whose stock is mentioned in this article.