Today I present to you the leading consumer company in Latin America: Fomento Económico Mexicano, S.A.B. de C.V. (NYSE:FMX), also known as FEMSA.
Get to Know FEMSA
This company is definitely a name long-term investors should have in their portfolio due to its diversified, recession-resistant businesses and its long-term focus on creating wealth for shareholders. FEMSA has its headquarters in Mexico, the No. 2 country in the world in terms of soda consumption. It is a Mexican-based corporation that has diversified into several sources of income.
Four Sources of Income
FEMSA is the majority holder of Coca-Cola FEMSA, owning 50% of the company and having 63% of the voting rights. Yes, Coca-Cola FEMSA is Coca-Cola's (NYSE:KO) largest franchise bottler. It has 37 bottling plants in Latin America in countries such as Colombia, Brazil, Venezuela, Nicaragua, Panama, Argentina, and Costa Rica, with over 85,000 employees and over 1.8 billion points of sale. (Data sourced from here and here.)
The FEMSA Comercio branch operates the fastest-growing convenience chain stores in Mexico, OXXO, which have quickly taking third place nationwide in revenues. FEMSA Comercio currently operates over 10,100 OXXO stores, growing at a pace of around 1,000 stores a year, a sustained annual store growth of over 7% with little variability. (Sources: Investor presentation and Q3 2012 report.) FEMSA Comercio has revolutionized how chain stores operate in Mexico by successfully implementing what 7-Eleven has been doing over the past decades in Mexico, threatening to take over a market that had previously been very fragmented.
FEMSA's third business is beer. It currently owns 20% of Heineken, making it the second largest shareholder. This makes its sales and operating cash flow as steady as they come.
This past November, FEMSA acquired a 75% stake in Farmacias YZA, a leading drugstore operator in Southeast Mexico that operates 333 stores. This transaction is expected to close in the first quarter of 2013.
Recent Acquisitions
Acquired for $120 million last October, Doña Tota -- a "gordita restaurant" franchise -- currently operates 200 sell points across Mexican territory. Over the next five years, the company plans to operate over 800 establishments.
During 2011, KOF spent around $2.5 billion in M&A activities, following the 2007 purchase of the Jugos Del Valle brand. It manufactures juices, and then OXXO and other retailers distribute it -- that's what I call a round business. The same integration, of course, happens with Coca-Cola products as it keeps expanding its product portfolio to keep more of its FEMSA Comercio average ticket to its own companies.
Stability
With these main revenue drivers, FEMSA suffers little revenue variability and presents low risks due to its anti-cyclical and recession-resistant businesses. Even with another financial crisis, people will still be drinking soft drinks, beer drinking could even increase, drug stores will still be a necessity, and people will still need to buy groceries. With the integration of its supply chain, OXXO has only gotten better operational efficiency and is able to maintain high margins.
Revenue Growth Not Slowing Anytime Soon
Click to enlarge images.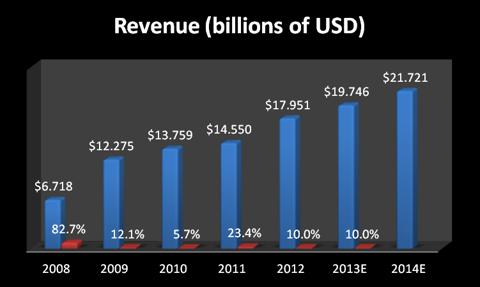 Competitive Advantage
FEMSA appears to have kept its strategic focus on diversifying its sources of income and using existing distribution channels in both Coca-Cola FEMSA and FEMSA Comercio to reduce its supply chain cost. This means it out-powers "mom and pop" convenience stores, only competing with 7-Eleven in major Mexican cities.
OXXO stores have begun to overtake their national competitors, currently in third place in total revenues and No. 1 in number of stores, being so available it is almost annoying. Brand awareness is very high for OXXO. When people reference convenience stores, OXXO is aiming to be at the customer's top-of-mind when they think of buying cigarettes, food, beverages, etc.
FEMSA Revenue Source
The company sold its former main revenue source, Cerverceria Cuauthemoc, in 2009 and has more than made up for its lost revenue. It currently has the following revenue distribution: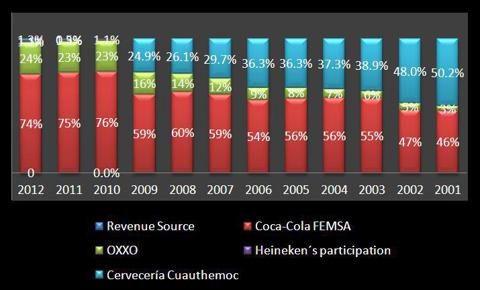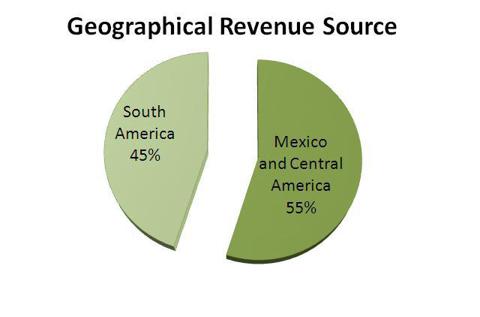 FEMSA has aggressively been expanding into Central and South America, especially with Coca-Cola FEMSA. The company has 21 plants and over 83 million consumers who can purchase the products at more than 900 million points of sale throughout Mexico and Central America, which represents $4.8 billion in revenues. Coca-Cola FEMSA has 16 plants, 873 million points of sale, and over 135 million consumers in South America, and now represents around $6 billion in revenues.
The company not only sells soft drinks but several other beverage products in its portfolio, including bottled water Ciel, sparkling water Sidral Mundet, sports drink Powerade, Fuze tea, juices, and others.
Sustained Success
FEMSA has a good history of sustained doubled-digit growth, growing its revenues at a 16% CAGR. Its EBIT has grown at a 15% CAGR, and all of this is since 2001, so it's no fluke.
Creating Value for Shareholders
FEMSA has created value for shareholders by increasing its share price many times over, as you can see on the chart below: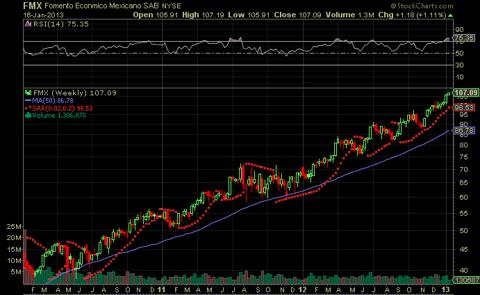 Growing from around $40 in 2010, the stock is currently at $107.09. It has grown 168% in two years, catching up to its fair price.
Dividends
FEMSA also pays dividends, which have grown as its businesses in mature industries become cash cows. All of this is being done while aggressively seeking growth by searching fast-growing revenue sources.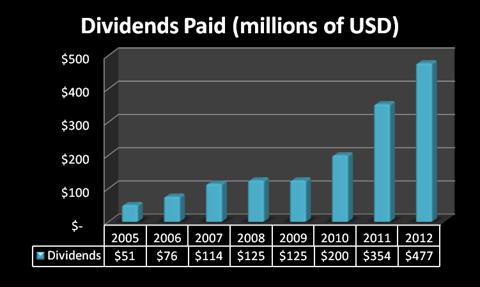 It has increased its payout ratio from 7% in 2005 to 30% in 2012, having a 38% CAGR.
DCF Valuation Under Three Scenarios
1. Business as usual: Sales grow by 10% each year for the next four years and then slow down to 5% to perpetuity. Gross margins stay around 41.8% and then fall to 40% to perpetuity, and investing and financing cash flows are negative by almost a billion each, reflecting a continuing diminishing of its interest-bearing debt and its pursuing of strong business models to acquire.
Target Price: $97
2. Positive outlook: Sales increase by 17.5% in 2013, and then by 15% in 2014, 12.5% in 2015, and 5% in perpetuity. Gross margins stay around 42% and then fall to 40% in perpetuity. Financing and investing cash flows are kept the same in all scenarios.
Target Price: $153
3. Pessimistic scenario: FEMSA's revenue growth starts to slow down, growing its revenues by 10% in 2013 and only 5% in the next four years and in perpetuity. Margins are pressured by competition (OXXO has massive bargaining power with its suppliers, so that could hardly erode margins) or Coca-Cola FEMSA has higher input costs, causing its gross margin to decrease to 40% for the following years (it has been above 41.7% in the past five years).
Target Price: $85
This weighted DCF valuation gives me an average price target of $115.10, which I expect to be achieved this year. JPMorgan has a $110 price target per share on FEMSA.
Piotroski's F-Score
This is the first company I have valued that has scored nine out of nine with regard to Piotroski's F-Score. Here is the link to my article that explains each of these components in detail, and the following table summarizes the results.
| | | |
| --- | --- | --- |
| 1. ROA | 1 | Positive return on assets |
| 2.CFO | 1 | Positive Cash Flow from Operations |
| 3. ΔROA | 1 | Improved return on assets |
| 4. ACCRUAL | 1 | No accounting red flags |
| 5. ΔLEVER | 1 | Decreased its interest-bearing debt |
| 6. ΔLIQUID | 1 | Improved current assets to current liabilities ratio |
| 7. EQ_OFFER | 1 | Bought back equity or did not issue more |
| 8. ΔMARGIN | 1 | Improved net margin |
| 9. ΔTURN | 1 | Increased asset turnover |
Conclusion
This stock should be a part of an investor's long-term portfolio as it should have no problem growing at least hand in hand with inflation and population growth, plus another 3%-4% revenue growth by expanding its operations. Also, bear in mind that this stock effectively diversifies you from the U.S. stock market and presents less risk than many other alternatives.
This could be a stock to give to your kids, as its business model is not easily copied, there are high barriers to entry, the cash flow generation is constant, and its capital structure is getting better by paying down interest-bearing debt. It should be aggressively bought on dips, as there is little downside to the stock unless a massive financial crisis hits and the stock price falls below $85. At that time, I will be backing up the truck and loading up on its shares. In the meantime, I will be buying in increments.
If you're thinking of buying shares, you have good company. As per Bloomberg, "The Bill Gates Foundation and Cascade Investment LLC, which manages money for billionaire Gates, own 8.7 million of Coca-Cola FEMSA's American depositary receipts as the top two investors in the U.S. shares."
Disclosure: I have no positions in any stocks mentioned, but may initiate a long position in FMX over the next 72 hours. I wrote this article myself, and it expresses my own opinions. I am not receiving compensation for it (other than from Seeking Alpha). I have no business relationship with any company whose stock is mentioned in this article.