From my colleague, Adam Crawford:
LinkedIn (NYSE:LNKD), the social-networking website for professionals, enjoyed a banner year in 2012. Though the Q4 results have not been reported yet, the company's guidance calls for revenues of about $940 million for the year, an increase of 80% over 2011. Furthermore, analysts are forecasting that revenue growth for the next four years will continue at a compounded annual rate of 36%.
Some important attributes are underpinning this impressive growth: an effective business plan, a strong competitive advantage, and a sound financial position. These are attributes that make for a good company, and when a company possesses them and is growing at an annual rate of 36%... well, it's easy for an investor to get caught up in all the excitement.
However, at the risk of emphasizing the obvious, we must remind ourselves that there is a difference between a good company and a good stock. It's a question of valuation. Just as a Honda, though certainly a good automobile, would be a bad buy at $300,000, a well-managed, profitable, and growing company can be overpriced and therefore a bad stock purchase. We think LinkedIn may be such a stock and will explain why shortly. But first, let's take a look at why we like LinkedIn as a company.
Business networking is not a new concept; it's as old as business itself. Business and professional people discovered early on that establishing relationships and making their talents and skills widely known to others in their professions could lead to opportunities for growth and advancement. LinkedIn is the modern-day, high-tech version of business networking.
Anyone can become a LinkedIn member for free just by going to the website and simply filling out a profile. Here, in the company's words, are the benefits that members receive:
"Members are able to create, manage, and share their professional identity online, build and engage with their professional network, access shared knowledge and insights, and find business opportunities."
LinkedIn monetizes its membership list in three ways:
Premium subscriptions. While basic memberships are free, premium members pay a fee for special benefits. These fees amount to 20% of the company's total revenues.
Advertising. LinkedIn averages 134 million unique website visitors per month. That kind of traffic is of interest to advertisers; ad space generates 25% of the company's total revenues.
Talent solutions. Companies and recruiters who are looking to hire employees pay for relevant information from LinkedIn's database. This revenue stream accounts for 55% of total revenues.
Of the three revenue-producing segments described above, talent solutions (formerly designated as hiring solutions) is currently the largest - about $520 in annual revenues - and has the greatest potential for growth. As the company grew its membership over the years, management began to view member profiles as an enormous database of résumés. Consequently, they wisely began to position the company less as a social medium and more as a data provider.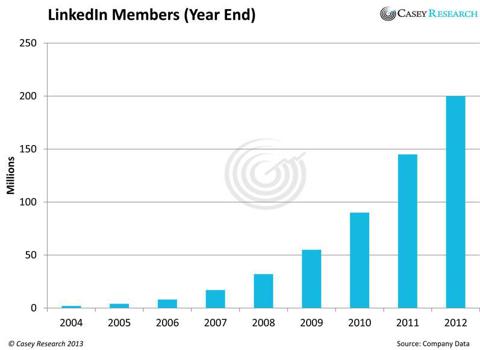 (Click on image to enlarge)
The company began packaging information tailored to the needs of human resource departments and recruiters who were searching for employees. Turns out that human resource departments and recruiters were hungry for this kind of data. Suddenly, it was easier to find lots of qualified candidates with specific skills. As a bonus, the database included résumés of people who are oftentimes the best candidates… those with a job. "We find better depth and breadth of candidates (thru LinkedIn), plus we're saving over $1 million this year" raved the HR director for one of LinkedIn's customers.
In 2008, LinkedIn had only 500 of these enterprise customers; today the number is almost 18,000. And the potential for further growth is huge; the company estimates that the addressable market for employee recruitment is $27 billion. In light of the outlook for this segment of LinkedIn alone, estimates of 36% annual growth through 2016 look entirely reasonable.
This is all to say that we think LinkedIn is a good company. It has a well-conceived and capably executed strategy, a well-received product, and lots of headroom for growth. It also appears it has created a "network effect" which makes its position as the market leader imminently defensible. No other service can come close to LinkedIn's 200 million résumés for recruiters to peruse.
However, as good as this company may be, for investors there is a rub: all of these positives and the growth that should result appear to be priced into the share price, and then some. Consider the following: Non-GAAP earnings for 2012 are estimated to be $.72. On the current share price of approximately $118, the price-to-earnings ratio is 164. Four years from now, non-GAAP earnings are projected to be $4.21; placing the forward P/E at 28.
Though it makes matters worse to do so, we think GAAP earnings are the more appropriate way to view LinkedIn's performance. About 90% of the difference in non-GAAP and GAAP earnings in 2012 was stock-based compensation. This is a real and recurring expense and should not be ignored. Warren Buffett explains it well: "If stock options aren't a form of compensation, what are they? If compensation isn't an expense, what is it? And, if expenses shouldn't go into the calculation of earnings, where in the world do they go?" Indeed. That's why this expense should be taken into account... and when it is, forward P/Es soar.

(Click on image to enlarge)
Extraordinary multiples of this sort probably indicate that the market expects the company to substantially exceed estimates. It seems to us that there is a lot of risk in expecting a company to substantially exceed annual growth estimates of 36%.
In either event, waiting five years just for a company's earnings to catch up to its stock price is not a smart investment, no matter what you think might drive the price in the short term.
And, even in the short term, it can be hard to predict what happens to the world. After all, few investors saw 2008 coming. Even if LinkedIn outperforms on revenue and earnings, another significant market downturn (err, umm… correction?) would hit those stocks with the highest multiples the hardest.
Add to that the steady outflow of insider shares - over the last six months, insiders have sold 2 million shares and bought none - and our discomfort increases. Now, this selling may largely relate to the company's stock-based compensation plan, but it doesn't express a great deal of confidence in the stock's future performance. If no one at the top will buy at these prices, why should you?
The bottom line is that LinkedIn is a solid company, but its shares appear to be richly valued at current levels... so you won't find LinkedIn in the Big Tech portfolio anytime soon. What you will find are tech stocks with good growth prospects at fair prices and with a risk profile that will allow us to sleep comfortably at night.
Disclosure: I have no positions in any stocks mentioned, and no plans to initiate any positions within the next 72 hours. I wrote this article myself, and it expresses my own opinions. I am not receiving compensation for it. I have no business relationship with any company whose stock is mentioned in this article.