If you are currently retired or getting close to retirement age, building a portfolio that generates stable income is probably your primary focus right now. In our opinion, one of the best ways to generate stable income is through dividend growth investing. Thankfully, this strategy is not rocket science and it is fairly simple for anyone to implement. Ideally, you want to build a portfolio of dividend paying stocks that have a track record of increasing their dividends every year. This way, not only are you generating stable income, but you are also able to maintain the purchasing power of your dollar (as long as your dividends are at least rising at the rate of inflation).
What Is A Dividend Aristocrat?
Each year, Standard & Poor's publishes its list of Dividend Aristocrats. According to S&P:
Since 1926, dividends have contributed nearly a third of total equity return while capital gains have contributed two-thirds. Sustainable dividend income and capital appreciation potential are both important in determining total return expectations.

The S&P 500 Dividend Aristocrats is designed to measure the performance of large cap, blue chip companies within the S&P 500 that have followed a managed-dividends policy of consistently increasing dividends every year for at least 25 years.
Companies included in the S&P 500 Dividend Aristocrats come from a broad spectrum of industries. Unlike indices that focus only on high dividend yields, which are typically from the Financials and Utilities sectors, the "Dividend Aristocrats" are well diversified across all sectors.
Aristocrats Yielding Over 3.0%
We recently ran the entire list of Dividend Aristocrats through our rating system and came up with our "All-Aristocrat" team. This team is made up of the 20 Dividend Aristocrats with the highest Parsimony Ratings. Here are links to that 4-part series: First Team; Second Team; Third Team; and Honorable Mention.
Many of the stocks on our "All-Aristocrat" team have dividend yields under 3.0%, which is a key target threshold for many dividend investors. While we believe that there is more to dividend investing than yield itself, we understand that many retirees have a minimum 3.0% yield hurdle for their retirement portfolios.
That said, we are starting a new 3-part series today that highlights our top 12 Dividend Aristocrats that have dividend yields over the magic number of 3.0%. We broke this list down into gold, silver and bronze rankings (note that the gold medal winners are the stocks with the highest Parsimony rating):
Part 1: Bronze (stocks #9-12)
Part 2: Silver (stocks #5-8)
Part 3: Gold (stocks #1-4)
Bronze Medal Winners
The vast majority of the roughly 50 S&P Dividend Aristocrats rank very highly in our system, but we only picked the top 12 3%-yielders for the Core Retirement Portfolio list. This article highlights the 5 stocks that received Bronze medals (stocks ranked #9-12). The tables below summarize some of the key data points that we analyze when ranking our dividend stocks.
#12 Procter & Gamble (NYSE:PG)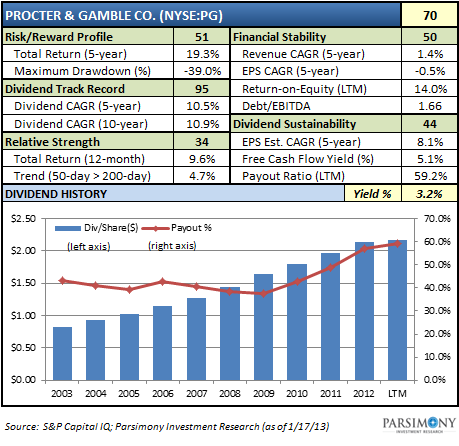 Procter & Gamble has a very high rating for Dividend Track Record (95) as the company has increased its dividend at a compound annual rate of 10.9% over the past 10 years. P&G has been paying a dividend for 122 consecutive years since its incorporation in 1890 and has increased its dividend for 56 consecutive years. The company has average ratings for Financial Stability (50) and Dividend Sustainability (44) due to its flat growth profile and its rising payout ratio. However, we think that P&G is a very stable long-term dividend stock.
#11 PepsiCo, Inc. (NYSE:PEP)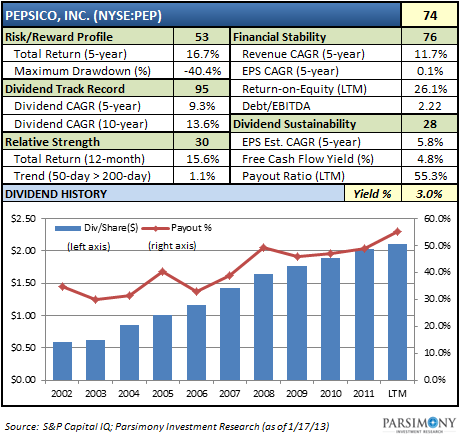 PepsiCo has great ratings for Financial Stability (76) and Dividend Track Record (95) and it has increased its dividend at a compound annual rate of 13.6% over the past 10 years. It's payout ratio has also been increasing over the past few year (hence the below average dividend sustainability rating), but the company has paid consecutive quarterly cash dividends since 1965, and 2012 marked the company's 40th consecutive annual dividend increase. This is another decent core stock for a retirement portfolio, in our opinion.
#10 HCP, Inc. (NYSE:HCP)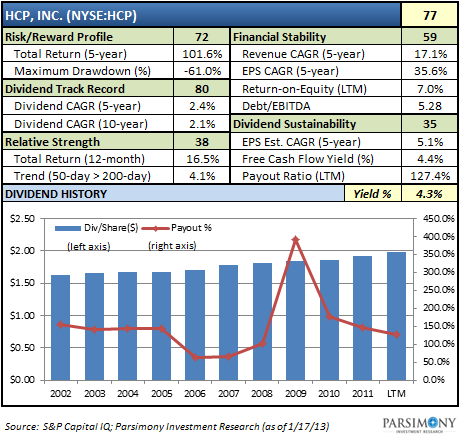 Despite HCP's relatively low historical dividend growth rate, HCP has the highest dividend of yield (4.3%) of any stock in our top 12. HCP is a Real Estate Investment Trust, which is why its historical payout ratios are so high (due to a REITs requirement to distribute the majority of its earnings to shareholders). HCP was the first healthcare REIT selected to the S&P 500 index, it has increased its dividend per share for 27 consecutive years, and it is the only REIT included in the S&P 500 Dividend Aristocrats index.
#9 Johnson & Johnson (NYSE:JNJ)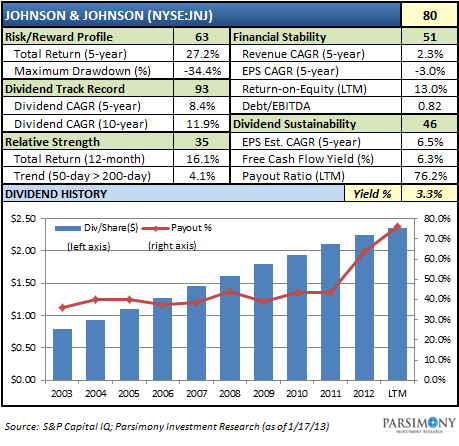 Johnson & Johnson has increased its dividend for 50 consecutive years, including a compound annual growth rate of 11.9% over the past 10 years. Like some of these other slower growth "blue chips", J&J's Financial Stability (51) and Dividend Sustainability (46) ratings are average...but its still a very stable stock for a long-term retirement portfolio.
Summary
If you are looking to generate stable income, dividend growth investing is a great way to accomplish this goal and any one of these dividend Aristocrats make a nice addition to your retirement portfolio.
Please make sure to "follow" us as we continue this series and unveil the dividend stocks that won the Silver and Gold medals.
Disclosure: I have no positions in any stocks mentioned, and no plans to initiate any positions within the next 72 hours. I wrote this article myself, and it expresses my own opinions. I am not receiving compensation for it (other than from Seeking Alpha). I have no business relationship with any company whose stock is mentioned in this article.