I've been in an activist campaign to push Fremont Michigan Insuracorp (OTC:FMMH) to lower its expense ratio and make other reforms to lower the company's business risk and increase its intrinsic value.
To the company's credit, the expense ratio has come down significantly over the past year. However, I still highly disagree with certain of Fremont's actions, such as a new plan that would allow certain independent agents to purchase shares at a discount to market value.
There are two main questions to consider when contemplating an investment in any company:
Is it selling for less than a shrewd private acquirer would pay?
What will drive growth at the company?
Below, I have tried to highlight in a white paper what would make the company an attractive acquisition target by a private equity firm, larger insurer, or other acquirer in terms of value and growth. The numbers are quite striking. I think the reader will come to the conclusion that, in insurance, a lot comes down to mathematical tendencies in the structure of the company's operations. In Fremont's case, I believe many of these tendencies are quite favorable.
(Click images to enlarge)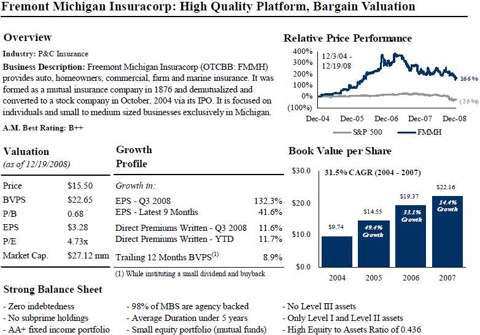 Click to enlarge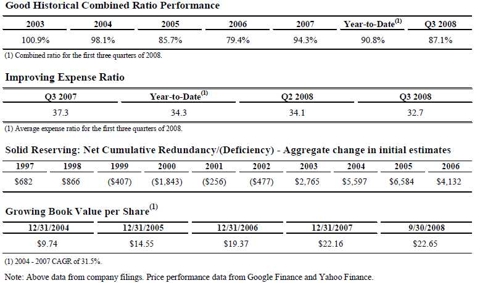 Click to enlarge
Potential for Significant Operating Leverage Due to Returns to Scale
In the latest 9 months, when NPW written increased from $33,051,028 to $37,157,252 [+12.4%], expenses only grew from $11,661,017 to $12,018,546 [+3.1%], or only ¼ as much as the NPW. Essentially, the company has a relatively fixed cost structure when premiums increase due to the increasing reliance on technology, rather than employee growth. The chart below shows the trend in increasing premiums written per employee.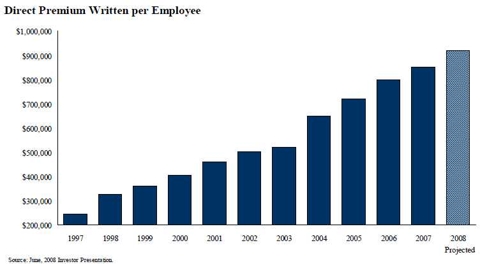 Click to enlarge
The Engine of Underwriting Profits: Be Close to Your Agents and Write Good Risks
Fremont's strategy is to be very close to its independent agents, who know Michigan (and the company) extremely well. For instance, Michael Dekuiper's White Agency is Fremont's largest producer. He sits on the company's board and is the father-in-law of CFO Kevin Kaastra. Two other independent agents, Donald C. Wilson, and Harold L. Wiberg, also sit on the company's board. These agents feed the company their choicest, most conservative risks--older, conservative drivers, with high insurance scores, who live far away from Michigan's cities, in less accident-prone rural areas. Fremont has a full contact, high touch approach in initiating, maintaining, and supporting agency relations through the full spectrum of selecting agencies, communicating expectations about the quality of the business generated, underwriting, claims, and policy retention.
Fremont has been able to get a very high quality book of business from its agents by paying generous commissions for profitable business. The company has incentivized insurance agents by creating, "an enhanced profit sharing commission program that has been well received by agents. Through this new program, many agencies submitting profitable business have increased their commission over their regular base commission. Emphasis to reward profitable agencies continues through special awards and incentive initiatives." (2007 10-K)
Fremont never forgets that working with agents is a people business and that the agents can place the company's sought-after target business with competitors. By rationally structuring incentives, the company seeks to be the prime choice for placing conservative risks for its independent agents.
Fremont is an underwriting-centric insurance company, whose main focus is to write policies at the proper rates in relation to the risk assumed in order to generate solid underwriting profits. Its policy is to never drive growth at the expense of underwriting profitability.
Technology Drives Growth
While excellent service for agents and policyholders is central to Fremont's strategy, management has also invested significantly in Fremont Complete, a web-based rating and automation system, to drive convenience and efficiency for agents in initiating and monitoring their business with the company. "Within Fremont Complete, agents can quote, bind and issue policies in a real time environment." (2007 10-K)
During the current soft market, independent agents are placing more emphasis on placing business with carriers that can provide an efficient process for quoting and issuing policies. Our investment in Fremont Complete has paid significant dividends which is evident by the growth we've experienced in direct premiums written. The Company's goal is to be the carrier of choice in every one of our independent agencies. The Company is achieving its goal by providing our agents with the path of least resistance in terms of quoting and placing target market business with Fremont. (Q3 2008 10-Q)

Click to enlarge
Disclosures: Harry Long owns FMMH shares directly, through partnerships, and through trusts. To the best of his knowledge, certain of his family members own FMMH shares through partnerships and trusts. Such ownership may change at any time.