In today's mercurial stock market, investors are rightfully seeking shelter under the faithful wings of dividends. More investors are becoming aware of the power of speculation and are resorting to a more reliable source of income.
Dividend investments may be one of the safest and most effective investment strategies executed. From 1990 to 2010, 43% of the S&P 500's return came from dividends. With dividend stocks, not only can investors receive a steady stream of income every quarter, but they can also experience capital appreciation from the share price.
When I think of companies to consider for dividend investing, I imagine companies that hold serious stature in their industries and pay dividend yields over 5%. All of these companies that I have a chosen follow a strict criteria that I have set. One, the company had to have a strong dividend and a history of consistently paying that high dividend to its shareholders. Two, not only did these companies have to pay high dividend yields, but also have a history of increasing dividends every few quarters. This increases the likelihood of a dividend increase occurring while you hold the stock. Three, I wanted to choose companies that have been around for at least 15 years. This shows that the company isn't pushing high dividends just to attract investors. Lastly, I wanted companies that had a planned strategy on growth and expansion, and a good piece of market share. Let's take a look at some companies that follow my criteria for making a great dividend investment in your portfolio.
Kinder Morgan (NYSE:KMP)
The first dividend stock on the list is Kinder Morgan Energy Partners. I have chosen this particular stock because it meets all of my requirements that I look for in a dividend investment, and more. There are two huge advantages of owning shares of KMP: The company offers a reliable high-yield dividend that has consistently paid its shareholders, and the share price of this company has significant forecasted growth. Currently, KMP offers a dividend yield of 5.7% (5.04) and is currently trading at $88.42. From 11/12/1992 to 11/14/2012, this company has consistently paid a dividend each quarter, while increasing the dividend every few quarters. During the recent conference call management said, "All five of our business segments at KMP recorded higher results than in the prior year, and segment earnings before DD&A and certain items increased by 20% in 2012 to almost $4.4 billion."
The growth of this company is massive. KMP has invested over $25 billion in expansions, new build projects, joint ventures and acquisitions since 1997 to grow the company. If you're looking for a sure thing, this may be as close as it gets.
Tal International Group (NYSE:TAL)
TAL International Group made the list of my top picks because it's one of the world's oldest and largest intermodal container leasing companies with a 12% market share, and it has a lower valuation than relevant companies in the industry. Also, TAL has a limited risk of sustained excess container capacity due to a short buying cycle and its strong asset residual values provide downside protection. As you can see below, TAL has extremely less volatility in comparison with other shipping lines and consistently higher returns in comparison with other transportation leasing companies.


(Click to enlarge)
TAL offers a dividend yield of 6.17% (2.48) and is currently trading near its 52-week high of $40.56. This stock is up 19% this year and has a P/E ratio of 10.4x. TAL has a very strong history of paying substantial dividends to its shareholders. TAL generated $198.2 million in adjusted pre-tax incomes, a 90% increase compared with the prior year. To add the icing, it pays more than half of its income to its shareholders with a current dividend payout ratio of 0.60. Both Bank of America and Merrill Lynch upgraded TAL from a hold to a buy because of its promising future.
AstraZeneca PLC (NYSE:AZN)
AstraZeneca PLC is a biopharmaceutical business that operates in 69 countries. The primary focus is the discovery, development and commercialization of prescription medicines for six important areas of healthcare: Cardiovascular, Gastrointestinal, Infection, Neuroscience, Oncology, and Respiratory & Inflammation. AZN currently operates in over 100 countries. I chose this stock because it met all of my criteria, and also because of the market demand in the next coming years. Not only do I believe that this stock will consistently pay you increasing dividends, but I also believe that because of the growth and demand of the biopharmaceutical industry, you will also experience a significant increase in share price.
AZN has a dividend yield of 5.80% (2.85) and is currently trading near its 52-week high with a share price of $48.97. AZN holds an attractive P/E ratio of 9.9x with a market cap of $60.5 billion. Over the last five years, AstraZeneca has consistently increased its dividend. Also, in the years 2007, 2008, 2010 and 2011, shareholders were rewarded with stock repurchases. Due to the demand, growth, stature and dividends present in this stock, I think it can be a tremendously profitable asset to your portfolio.
Annaly Capital Management (NYSE:NLY)
Annaly Capital Management is the largest mortgage REIT listed on the NYSE and my favorite dividend stock. With a current dividend yield of 12.22% (1.80) and share price of $14.77, this stock is perfect for a smaller investor searching for dividend income. We were told to be wary of stocks with high-dividend yields because it's usually an indication of distress, but Annaly has a long track record of delivering its dividends in a consistent manner. Since Annaly's IPO in 1997, it has paid over $9 billion in dividends to shareholders. This stock usually floats around the $14-$16 price region, so it doesn't offer much opportunity for substantial profits or losses, but this isn't a bad thing. For dividend investments, I prefer lower amounts of volatility. Below, I've placed a chart illustrating the prior dividend payments.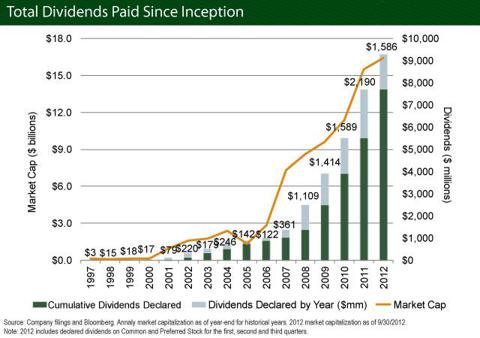 (Click to enlarge)
Dividend investment strategies can prove to be a lucrative tool to increasing profits in your portfolio. A well-diversified dividend portfolio offering high yields will most likely outperform other investment strategies that are susceptible to the mood of the market. Invest in high-quality companies that have an established dividend-paying rapport and low volatility, and I assure you that you will find yourself closer to your investment goals.
Disclosure: I have no positions in any stocks mentioned, and no plans to initiate any positions within the next 72 hours. I wrote this article myself, and it expresses my own opinions. I am not receiving compensation for it (other than from Seeking Alpha). I have no business relationship with any company whose stock is mentioned in this article.