2013 is expected to be a year of cautious optimism. The fiscal deal is half done (discussions on spending cuts and debt limits are pending), the U.S. economy is showing some signs of recovery, emerging markets are bottoming out, and headwinds from the euro crisis are subsiding partially after the announcement of Outright Monetary Transaction (OMT). In such a scenario, companies with significant geographically diversified sales and an ability to take advantage of cyclical uptrends would ideally be favorites.
I believe Nvidia Corp. (NASDAQ:NVDA) is one such company in the mid-cap category that is well-positioned in such a scenario compared to its competitor Advanced Micro Devices Inc. (NYSE:AMD). Headquartered in Santa Clara, California, Nvidia Corp. provides graphics chips for use in smartphones, personal computers (PC), tablets, and professional workstations markets worldwide. It operates in three segments: Graphic Processing Unit (GPU), Professional Solutions Business (PSB), and Consumer Products Business (CPB). From its roots in visual computing, NVDA has expanded into super, mobile and cloud computing.

Why NVDA?
NVDA posted strong Q3 2012 results with EPS of $0.34 vs. $0.29 in Q3 2011 and consensus of $0.29, primarily driven by higher revenues from increased use of Kepler-based GPU (market share of 66% at Q312) architecture in notebooks and desktops, cloud-based workstations and launch of Microsoft's Surface R0054, powered by Tegra 3. Notably, NVDA captured ~20% core GPU share from its competitor AMD, and is likely to continue to benefit in 2013 due to its superior interface.
I see a great upside for NVDA given its focus on its non-PC segment, which now accounts for 30% of total revenues vs. 7% in Q3 FY10, thanks to increased usage of Kepler-based GPU, Tegra series processors, and is expected to increase due to higher projected global smart-phone/tablet shipments of 1,000 million units in 2013 and 1,200 million units in 2014. Future growth opportunities in this segment are also expected from Tegra 4 (processor with 4G capabilities), Grid (cloud-based computing system), Shield (portable gaming device) and integrated modem (3G/LTE)/applications processor, which are expected to be available during Q2 2013 or towards the end of 2013.

NVDA valuations are also expected to be bolstered by increased market share of its GPU from Kepler-based architecture due to a better interface; leading to higher usage in gaming, designing and supercomputing augmented by higher foreign sales, especially in emerging markets where 3G and 4G networks are expanding, and this can act as a good hedge as well. Revenues from sales to customers outside of the United States and Other Americas accounts for ~70% of total revenues. Just to add, extension of the tax credit on R&D would further help to improve the earnings level given the significant R&D expenses at NVDA.
Why Not AMD?
AMD, based in Sunnyvale, California designs and manufactures microprocessors for personal computer and server applications. AMD's graphics technologies are found in a variety of solutions ranging from game consoles, PCs to supercomputers. It operates in two segments: Computing solutions and Graphics.
AMD reported a Q3 2012 net loss of $157M (-$0.21 per share) vs. net income of $97M ($0.13 per share) in Q3 2011, and consensus of (-$0.22 per share) due to lower revenues as a result of weaker than expected demand in its PC segment. Further, management during the call said it anticipates weaker demand going into 2013.
In the coming quarters, operating income is expected to take a hit due to restructuring charges of $80MM and termination payments of $320M to GlobalFoundries (NYSE:GF), owing to lower than anticipated purchases from GF given the weak macroeconomic condition, competition from tablets/smartphones and loss of market share to competitors.
Though international sales account for approximately 90% of its revenues, and AMD is undertaking business restructuring exercise by shifting from PCs (85% of total revenues from legacy PC business) to a server, embedded and ultra low power segment, it will continue to face challenges from ARM-based competitors focused on the fast-growing tablet and smartphone markets given the lack of competitive product in this category. Apart from these factors, its highly leveraged balance sheet is expected to further restrict higher earnings at AMD in the near term.
Conclusion
NVDA is currently trading at $12.09 (as of 1/16/13), close to the lower end of its 52wk range of $11.15-$16.90, reflecting a slowdown in PC segment. However, I believe there is a scope for significant boost in NVDA's valuation compared to AMD due to the growth drivers as noted above in its smartphones/tablets business and continued strong position in GPUs, coupled with the cyclical recovery expected in the economy.
Stock Price Chart: NVDA vs. AMD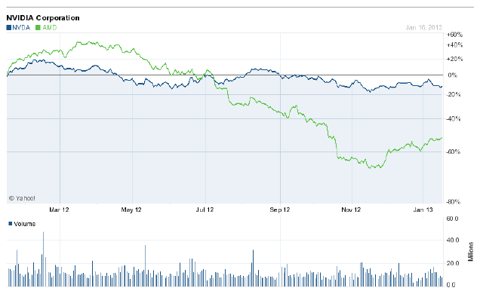 Key Financial Metrics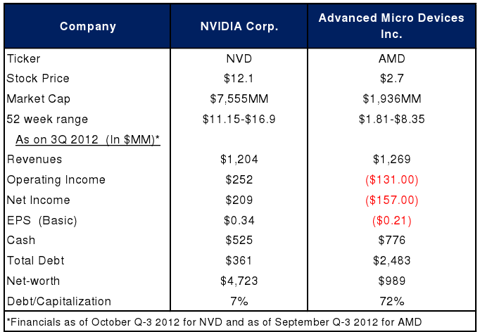 Disclosure: I have no positions in any stocks mentioned, and no plans to initiate any positions within the next 72 hours. I wrote this article myself, and it expresses my own opinions. I am not receiving compensation for it (other than from Seeking Alpha). I have no business relationship with any company whose stock is mentioned in this article.