Business Model
American tower (NYSE:AMT) is a wireless infrastructure firm that holds over 22,800 communications sites including towers and antenna systems; over 85 percent of them are in the US and the rest are in Mexico and Brazil. American Tower's primary business is leasing its antenna space to wireless service companies and radio and TV broadcasting firms, accounting for 98 percent of its revenue.
American Tower operates on long term contractual agreements with wireless carriers, typically 5 to 10 years in length, with 3 to 5 percent annual price increments. The company enjoys generally high lease renewals with low maintenance costs once towers are established, and less incremental costs for accommodating additional tenants.
While the number of wireless subscribers in the United States reached more than 250 million subscriptions, indicating growth has matured tremendously, American tower is focusing its business on emerging markets like Brazil, Mexico and recently, India. American Tower has strategically placed itself to address the growing demand for additional bandwidth due to increasing subscription for smart phones.
Though American Tower is strategically well-positioned both in the US and in emerging markets, the financial numbers and valuations have climbed well beyond justified market expectations. Those analyzing American Tower as a growth machine are wrong to continue to do so, as the wireless segment has reached its peak, with most American families owning two or more cell phones. As the overall economy looks sluggish and unemployment looks set to continue rising into the next year, how many people are really going to buy flashy smart phones with an extra 40 dollars per month in data plans?
As tabulated in the financial highlights section, American Tower appears to be in a cash squeeze. Its current ratio is less than one and interest coverage is less than 2. Sales appear to be growing in recent days, however watch the trend in the account receivables section. For the past one and half years, sales growth has come in at 11% while accounts receivable has been growing at a rate four times higher than sales.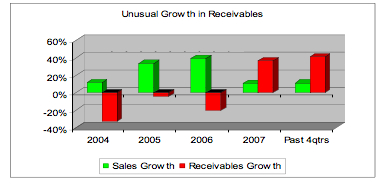 High Valuation
American Tower is trading at 75 times earnings and four times book value based on trailing twelve-month data. However, tangible book value is deep in the red since 2007.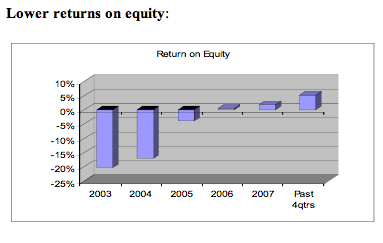 While the company issued half a billion dollars in debt at 7 percent in October 2007, it purchased its own shares at the same time, returning just 2 percent on equity in 2007. With 1.6 times debt to equity, American Tower appears to be entering risky territory.
References: 10K, 10Q data from EDGAR, Securities and Exchange Commission.
Disclosure: Long Puts on American Tower.
Year-End Disclosure
During this tough year, how have my recommendations on Seeking Alpha fared?

I closed my short position in Arbitron (NYSE:ARB) since price valuations got healthier.