I have previously laid out my thesis for gold and precious metal appreciation as a result of the United States' addiction to debt and the endless easy money policies of the central banks, and thus the recent selloff in gold and silver stocks presents a buying opportunity.
The most popular gold and silver ETFs, the SPDR Gold Trust (NYSEARCA:GLD) and the iShares Silver Trust (NYSEARCA:SLV) are down 4.2% and 5.5% in the last three months, respectively. The ETFs that track the miners of these metals such as the Market Vectors Gold Miners ETF (NYSEARCA:GDX) and the Market Vectors Junior Gold Miners ETF (NYSEARCA:GDXJ), are down even further in the last three months compared to the metals they produce, losing 14.3% and 15.7%, respectively, while the Global X Silver Miners ETF (NYSEARCA:SIL) is down slightly less, losing 10.7% in the last three months. Given this selloff and the long term-tailwinds that gold and silver prices have due to central bank stimulus, I have opined that a buying opportunity has arisen for the long-term investor in silver and silver companies, as well as the best of breed gold stocks.
In the present article, I highlight the main holding of and provide updates regarding progress on Vista Gold's (NYSEMKT:VGZ) Mount Todd Mining Site in Australia. This junior gold miner may be one of the best opportunities among all of the junior gold miners. The company has massive proven and probable reserves, no debt, a potential upside of over 450% according the most bullish analyst and on top of it all, the company is ripe for a takeover. Even with all of these details that suggest Vista Gold offers multiple reasons to own its stock, Mount Todd is reason enough to buy at current levels.
Mount Todd Mining Site Has Massive Proven and Probable Reserves in a Stable Jurisdiction.
VGZ's premier mining site which it hopes to further develop in with proceeds from the aforementioned offering is a gem of a site, which I think once production ramps up, will drive revenues significantly higher and reward shareholders with subsequent share price appreciation in coming quarters. Mount Todd is located in the Northern Territory of Australia in a very mining friendly jurisdiction with excellent existing infrastructure (figure1).
Figure 1. Location of Vista Gold's Mount Todd Mining Site, Northern Territory, Australia.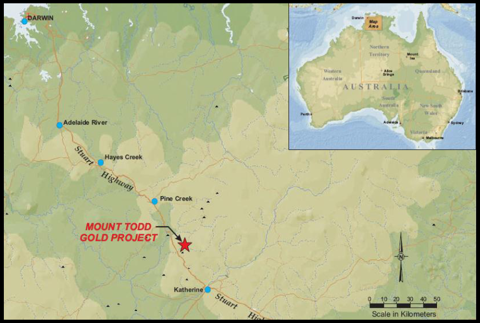 Click to enlarge
Mount Todd is of significant size and VGZ has exploration permits for a very large sections of the site. At the site, there are confirmed deposits of gold, silver, copper, and lead among other metals and minerals. Figure 2 displays the regions of the Mount Todd site exploration area where various deposits are located.
Figure 2. Exploration Areas and Resource Locations at Vista Gold's Mount Todd Mining Site, 2013.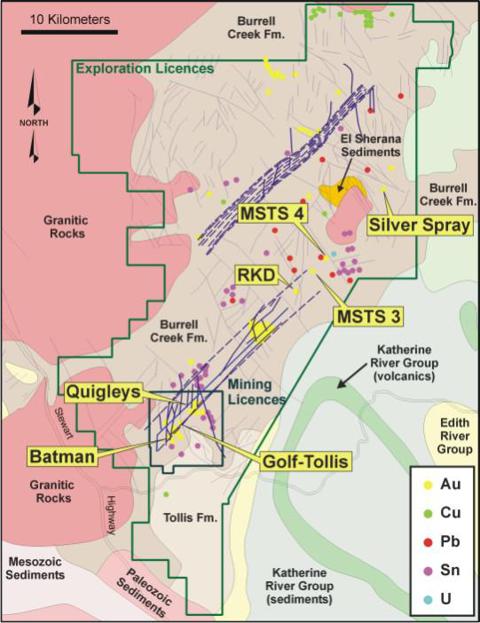 Click to enlarge
Mount Todd was originally acquired in 2006 for $2.1 million, which equates to a paltry cost of $0.66 per ounce of gold acquired. That's quite the bargain. Since the acquisition, VGZ has drilled over 48,000 meters and added significantly to the resource base of the project. In January 2011, VGZ announced the results of a preliminary feasibility study which contemplated a 30,000 ton per day processing facility with estimated average gold production of approximately 240,000 ounces of gold per year. Proven and probable reserves were estimated to be 4.1 million ounces of gold within 149.9 million tons of ore with an average gold grade of 0.85 grams per ton. In September 2011, VGZ announced the results of a new resource estimate for the Mount Todd gold project and in November 2011 initiated a resource conversion drilling program. In September 2012, VGZ announced the results of a new resource estimate with 7.0 million ounces measured and indicated as well as 2.0 million ounces inferred resources.
Recently, VGZ announced that after completing a scoping study to assess the optimal size for the project process facilities, it has adopted a 2-stage development strategy for Mount Todd. The company believes that it can recover about 82% of the gold at the deposit through a two stage mine development process that will minimize capital investment, accelerate capital payback to shareholders and maximize mine and reserve life.
Vista plans to initially construct a 30,000 ton per day plant and raise the cut-off grade to 0.5 grams gold/ton to minimize initial capital requirements and shorten the payback period. Subsequently, the Company intends to expand the project to 45,000 tons per day and lower the cutoff grade to 0.4 grams gold/ton to take full advantage of Mount Todd's large and growing resource. Resource conversion drilling is winding down and was mostly complete in November 2012. Vista intends to complete a preliminary feasibility study in Q1 2013 and subsequently complete a new resource estimate and feasibility study with final results in the Q2 of 2013. Vista continues to work with the Northern Territory government to permit Mount Todd as expeditiously as possible.
The Mount Todd gold project is "brownfield development" with significant existing infrastructure including paved access from the major transportation corridor, a natural gas pipeline to site and medium-tension power lines for power generation, a fresh water reservoir and water treatment plant, readily available labor and technical personnel. The Northern Territory government is supportive of new mineral developments and there are no Aboriginal rights issues associated with the project.
Figure 3 displays the growth of resource finds at the Mount Todd site, an impressive figure that displays the true potential of this mining site. As shown in the figure, proven and probable reserves have grown exponentially while total resource growth has grown linearly year over year, demonstrating the potential of this site.
Figure 3. Resource Growth at Vista Gold's Mount Todd Mining Site, 2006-2012.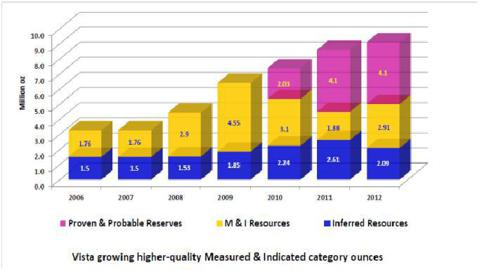 From my analysis and the company reports, I believe Mount Todd is a world class asset that is flying under the radar of Wall Street. The large resource base of 7 million ounces with another 2.1 million inferred is in and of itself an attractive deposit that a larger competitor such as a Goldcorp (NYSE:GG) or Barrick Gold (NYSE:ABX) may be interesting in acquiring. Both GG and ABX, while struggling as of late have the necessary cash to make such a purchase. Another potential buyer is Yamana Gold (NYSE:AUY). AUY has excellent debt management and produces its gold at a cash cost lower than both GG and ABX. It also is flush with cash just like GG and ABX. I believe these companies are buys in their own right, but given that gold and silver are in limited supply Many smaller gold miners operate in politically risky areas of the world, and the Northern Territory of Australia is quite stable, another positive for the company. Finally, there is also an existing heap-leach pad at the site which creates an opportunity for the company to generate some cash-flow from the 'low-hanging' fruit of mineral reserves close to the surface while the deeper mine construction is underway - another major positive for the company.
Additional Properties Beyond Mount Todd Adding Value to the Company
Along with other joint venture partners, VGZ is taking exciting steps toward growth and future profitability.
Besides having Mount Todd, which by itself is reason enough to own the stock at current levels in my opinion.
VGZ acquired the Awak Mas gold deposit on the Indonesian island of Sulawesi for $1.5 million in 2005. The project has undergone significant exploration and drilling by major companies from the period 1991 - 1998 with over $40 million spent on the property during that period. In late 2006, VGZ completed a drilling program and a new resource estimate for the project and completed a preliminary assessment in January of 2008. Awak Mas currently has a measured and indicated gold resource of 1.7 million ounces and an inferred resource of 539,000 ounces.
VGZ's Long Valley project is an epithermal gold deposit located 30 miles northwest of Bishop, California. The project has a current measured and indicated resource of 1.2 million ounces and 600,000 ounces of inferred resources. Approximately 880,000 ounces of gold are located in near-surface oxide material that, based on a 2008 preliminary economic assessment, could be produced in a simple heap leach operation at gold prices above $550 per ounce. Long Valley also has numerous exploration targets with strong potential to increase the resource base. VGZ is not currently actively advancing Long Valley, but will continue to hold the project in its portfolio for future development, joint venture or opportunistic divestiture.
VGZ's 100% owned Las Cardones (formerly named Concordia) gold project is located approximately 55 kilometers southeast of the city of La Paz in Baja California Sur, Mexico. VGZ acquired Las Cardones in August 2002 for $2.3 million. Current gold reserves at Las Cardones are 1.3 million ounces. In 2009, VGZ completed a bankable feasibility study for the project which demonstrates strong economics from a 10-year mine life that will produce over the first five years of the mine an average of 142,900 ounces of gold at an average cash cost per ounce of US$372 from an open pit mine.
VGZ also has a promising exploratory mining site in Guadalupe de los Reyes, Mexico that it is currently investing in. In mid-2011, VGZ started exploration at the Guadalupe de los Reyes gold-silver project. After completing a surface sampling and mapping program, Vista obtained the environmental permits for exploration drilling and started drilling in November 2011. The focus of the drilling program was to confirm the previously estimated resources, obtain core for metallurgical testing and to test the hypothesis that the underlying consolidated vein system hosts mineralization with high gold grades and bonanza silver grades. A 7,215 meter drilling project at the site indicates the potential for high grade silver and gold deposits. There are strong estimated resources here, with about 380,000 ounces of gold and 8.3 million ounces of silver indicated. Surveys also suggest there are another 155,000 ounces of gold and 9.4 million ounces of silver inferred at the site.
According the company management and analyst coverage, the stock is far undervalued
VGZ management recently acknowledged how undervalued their stock is. Management cited much of the progress the company has made in the last few years at the Dahlman Rose 4th Annual Conference on Precious Metals last week. In their presentation, VGZ publicly announced their shares were significantly undervalued by the market. All things considered, I am inclined to agree.
The analyst sentiment on this stock is extremely positive. The company is minimally covered as only three analysts have initiated coverage on the stock. Two of the analysts rate the company as a "buy" while one rates the company as a "strong buy." The price targets that these analysts have suggest the stock is heading in a favorable direction in 2013. The mean one year analyst price target for VGZ is $11.79. The low target is $9.00 and the high target is $14.58. This translates to analysts looking for an average 356% share price appreciation in one year, with at least a 248% appreciation or according to the most bullish analyst, a whopping 467% share price appreciation. Shares of VGZ currently trade at $2.55 a share, with a 52 week range of $2.21-$4.09.
Conclusion
I believe VGZ is a conviction buy. Given the long-term tailwinds in place for the price of gold and silver going forward stemming from central bank action, I believe nearly all gold and silver companies are great buys going forward. With its proven and probable reserves alone, combined with the beating the shares took as a result of the new share offering and the recent selloff in precious metals, I am inclined to be bullish on this stock myself, and believe it is my make my readers aware of the potential of this little known company with my readers. For those looking for potentially exponential gains in this sector, consider buying this company that has the wind at its back, an undervalued share price, large reserves, zero debt and is a potential takeover target.
Disclosure: I am long ABX, GG. I wrote this article myself, and it expresses my own opinions. I am not receiving compensation for it (other than from Seeking Alpha). I have no business relationship with any company whose stock is mentioned in this article.
Additional disclosure: I will likely initiate a position in VGZ in the next few trading days