According to IMS Institute For Healthcare Informatics' report entitled "The Global Use of Medicines: Outlook Through 2016," global spending on medicine will reach nearly $1.2 billion by 2016. The report states that "new medicines will transform patient care in a large number of diseases including cancer, heart disease and central nervous system disorders." Another major highlight of the report is that proven medicines will become more widely available over the next five years. This will greatly increase revenues for the players in the therapeutics space and promote further research and development of new advancements in medicine.
In this article, I will focus on Incyte (NASDAQ:INCY), ImmunoGen (NASDAQ:IMGN), Endocyte (NASDAQ:ECYT) and Senesco Technologies (SNT) to see if their current developments in therapeutics warrant investment consideration. I chose these companies because they are all important players in the development of therapies, and they could all benefit from the trends I will discuss below. Incyte focuses on the development of proprietary small molecule drugs for oncology and inflammation. ImmunoGen is focused on the development of antibody-based anticancer therapeutics. Endocyte focuses on developing targeted therapies for the treatment of cancer and inflammatory diseases. Senesco Technologies also focuses on developing products and technologies for human therapeutic applications to treat cancer and inflammatory diseases.
Where Is The Money In Therapeutics?
According to the IMS Institute for Health Informatics, oncology continues to lead the therapeutics market, with revenues forecast to reach nearly $75 to $80 billion in 2015. The top 20 segments in therapeutics will account for 42% of global spending, led by oncology, antidiabetics and respiratory, as seen in the chart below.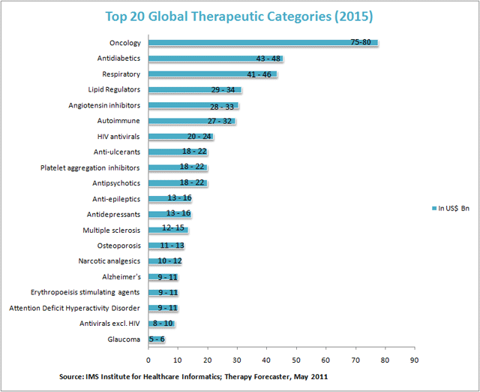 Incyte
Incyte's Jakafi is a JAK1/JAK2 enzyme inhibitor that regulates blood and immunological functions used to treat patients with intermediate or high-risk myelofibrosis (MF), including primary MF, post-polycythemia vera MF and post-essential thrombocythemia MF. MF is a disorder of the bone marrow often characterized by an enlarged spleen and bone pain.
Incyte has entered into a worldwide collaboration and license agreement with Novartis (NYSE:NVS) in which it retains exclusive rights for the U.S. while Novartis received exclusive rights outside of the US. FDA approval was received for the treatment of patients with intermediate or high-risk myelofibrosis. In August 2012, Novartis announced that Jakafi (ruxolitinib), marketed as Jakavi outside the U.S., has received approval from the European Commission for the treatment of disease-related splenomegaly or symptoms in adult patients with primary MF, post-polycythemia vera MF or post-essential thrombocythemia MF. Before Jakafi, MF patients had few viable options which were mainly palliative in nature.
Incyte's efforts to increase physician awareness started with two recently completed long-term study trials known as Comfort 1 and Comfort 2. Both trials demonstrated better survival over competing therapies. Incyte believes this data might encourage physicians to prescribe Jakafi to a wider group of MF patients. These studies also examined the use of various dosage levels and found safety advantages when using Jakafi, including spleen size reduction without drops in hemoglobin, even at low dose levels. The late-stage trial using Jakafi for the treatment of polycythemia vera should deliver results in the latter half of 2013, with the expectation of a new drug application filing by the first-half of 2014 if endpoints are met. I expect this to be a significant price catalyst.
Incyte also announced that it has earned a $50 million milestone payment from Eli Lilly (NYSE:LLY) based on the formal initiation by Eli Lilly of the rheumatoid arthritis (NYSE:RA) Phase 3 program for Baricitinib, its oral JAK1/JAK2 inhibitor. Baricitinib is an orally administered selective JAK1 and JAK2 inhibitor that spares JAK3. It is advancing into Phase 3 trials as a potential treatment for rheumatoid arthritis and is in a Phase 2b trial for moderate to severe psoriasis with primary endpoint results expected in 2013 and a Phase 2 trial in patients with diabetic nephropathy and results are expected in 2014. Four Phase 3 RA studies are planned, which will investigate the safety and efficacy of Baricitinib in 2 mg and 4 mg doses once daily in patients with active RA who are methotrexate-naive, biologic-naive or biologic-experienced.
Current treatment regimes for rheumatoid arthritis include non-steroidal anti-inflammatory drugs (for pain relief), oral disease-modifying anti-rheumatic drugs (for slowing the progress of RA) such as methotrexate and injectable tumor necrosis factor-alpha (TNA-a) inhibitors. TNF is a pro-inflammatory cytokine implicated in the pathogenesis of RA. The global market for rheumatoid arthritis drugs is expected to reach $17.3 billion from $12.7 billion in 2010. If the Phase 3 trial meets its endpoints, Baricitinib has the potential to become a major player in this market.
For the third quarter and nine months ended September 30th, 2012, net product revenues of Jakafi were $43.7 million and $92.7 million, respectively. Incyte updated its 2012 guidance and now anticipates that Jakafi net product revenues will be in the range of $130 million to $135 million, up from its previous forecast of $120 million to $135 million. Incyte's total revenues for the third quarter and nine months ended September 30th, 2012 were $60.5 million and $183.2 million, respectively, compared to $16.8 million and $65.6 million, respectively, for the same periods in 2011.
Incyte's net product revenues have been increasing based on a sell-through method.
| | | | |
| --- | --- | --- | --- |
| Sell-Through Method (3 months ended in millions) | 3/31/12 | 6/30/12 | 9/30/12 |
| Product Net Revenues | $19.3 | $29.7 | $34.5 |
With one drug already approved by the FDA and another drug in the pipeline that could be a potential blockbuster, Incyte is better placed than many other biotechs. Its partnerships with two major pharmaceuticals, Novartis and Eli Lilly, continue to be a source of great strength for the company, and are testimony to its undoubted future potential. If you are looking for a promising growth story in therapeutics, you should consider investing in Incyte.
ImmunoGen
ImmunoGen develops anticancer therapeutics using its Targeted Antibody Payload (NYSE:TAP) technology and antibody expertise. ImmunoGen announced that Amgen has licensed the exclusive rights to use its maytansinoid TAP technology to develop anticancer therapeutics to a third (undisclosed) target. Amgen licensed rights for two other targets in 2009 and has two compounds in clinical testing under those licenses. For each license, ImmunoGen receives a $1 million upfront payment and is entitled to receive milestone payments potentially totaling $34 million plus royalties on the sales of any resulting products. Amgen is responsible for the development, manufacturing and marketing of any products resulting from the license.
On September 30th, 2012, ImmunoGen had total cash and cash equivalents of $233.6 million, up from 160.9 million on June 30th, 2012. For its fiscal year ended June 30th, 2012 (FY2012), ImmunoGen reported a net loss of $73.3 million, or $0.95 per basic and diluted share, compared to a net loss of $58.3 million, or $0.85 per basic and diluted share, for its fiscal year ended June 30th, 2011 (FY2011). For the quarter ending June 30th, 2012, ImmunoGen reported a net loss of $22.4 million, or $0.29 per basic and diluted share, compared to a net loss of $16.2 million, or $0.23 per basic and diluted share, for the same quarter in FY2011.
Revenues in fiscal year 2012 were $16.4 million, compared to $19.3 million in fiscal year 2011. Revenues in fiscal year 2012 include $9.2 million of license and milestone fees compared to $6.4 million in 2011. Fiscal year 2012 fees include $5 million in milestone payments earned with partner advancement of one TAP compound into Phase 2 clinical testing and two TAP compounds to Phase 1 clinical testing. The fiscal year 2011 fees include $3.0 million in milestone payments earned with partner advancement of two TAP compounds to Phase I clinical testing.
Revenues in fiscal year 2012 also include $4.5 million of research and development support fees and $2.7 million of clinical materials revenue, compared to $7.3 million and $5.7 million, respectively, for fiscal year 2011. The differences in support fees and clinical material revenue from the prior year are primarily due to the variable nature in the amount of research and in the number of clinical batches produced and released for partners on a year-to-year basis.
ImmunoGen expects its net loss for its fiscal year ending June 30th, 2013 to be between $70 million to $74 million, its cash used in operations to be between $78 million to $82 million, and its capital expenditures to be between $4 million to $5 million. Cash and marketable securities on June 30th, 2013 are anticipated to be between $172 million to $176 million, inclusive of the net proceeds from the public stock offering recently completed.
According to Gregory Perry, Executive Vice President and CFO at ImmunoGen, "Roche, Sanofi and the rest of our partners are making tangible progress with compounds that can generate meaningful revenue to ImmunoGen. Our strong financial position enables us to aggressively fund advancement of our wholly owned compounds to further enhance shareholder value."
Presenting at the JPMorgan Healthcare Conference, Immunogen President and CEO Dan Junius explained that TAP technology uses the targeting ability of an antibody to bring a highly-toxic payload into a cell, release the cell, and through that start a mechanism that results in cell destruction. The technology used for the proprietary cell killing agent itself has a chemotherapeutic that's far, far more potent than standard chemotherapy - 100 to 1000 times more potent. Tubulin inhibitors inhibit cells from dividing and lead to cell death. The targeting nature of the technology permits the treatment to gain access to the cancer cells to kill them. By using an antibody-based approach, it avoids the systemic toxicity that you normally get with broad-based chemotherapeutics.
A TAP compound uses a tumor-targeting monoclonal antibody to deliver one of ImmunoGen's purpose-developed cancer-killing agents specifically to tumor cells. Ten TAP compounds are now in clinical testing, of which three are wholly owned by the company. Marketing applications for trastuzumab emtansine (T-DM1), the most advanced compound using ImmunoGen's TAP technology, are under review in the U.S. and Europe. Roche Holding (OTCQX:RHHBY) is developing this compound globally under an agreement between ImmunoGen and Genentech, a member of the Roche Group. This drug has been found to significantly extend survival rates in people who have aggressive forms of breast cancer. The results from clinical trials have been encouraging. T-DM1 couples Genentech's blockbuster cancer drug Herceptin (or trastuzumab) with a chemotherapy agent developed by ImmunoGen. Herceptin carries the chemotherapy agent to a precise landing spot on a cancer cell, delinking the toxic payload once inside the cancer cell. That offloading action minimizes damage to healthy surrounding cells as well as side effects like hair loss and nausea. The FDA's decision is due by February 26th, 2013. Decision Resources, a pharmaceutical research group, predicts the breast cancer market sales will reach $10.9 billion in 2018 due to new drugs.
Although T-DM1 filing is for second line treatment indication, it is likely that physicians will prescribe T-DM1 as a first line treatment rather than wait for patients to fail on Herceptin. Furthermore, since T-DM1 and Herceptin are both marketed by Roche, Roche is also more likely to aggressively promote T-DM1 than Herceptin since Herceptin's patent will expire in 2015. Most of Immunogen's revenues will come from royalties for product sales. The company has negotiated a potential $845 million in milestone payments with its partners for licensing its TAP technology.
If the FDA approves T-DM1, it will create a strong case for all the TAP technology based products for commercialization and for this drug to piggyback on the commercial success of Herceptin which currently generates over $5 billion in sales. The fact that Roche is going to market T-DM1 in addition to already marketing Herceptin will be another major plus factor because both drugs target the same prescribing physicians. Finally, FDA endorsement of TAP technology will boost the value of the 11 products based on this technology already in the development pipeline. Immunogen appears to be a compelling investment. This is another high potential growth play in therapeutics.
Endocyte
Merck and Endocyte announced that the European Medicines Agency (NYSEMKT:EMA) will review the marketing authorization application (NYSE:MAA) filings for the novel investigational cancer candidate vintafolide (MK-8109/EC145). It will also review the investigational companion diagnostic imaging agent etarfolatide (EC20), for the targeted treatment of patients with folate-receptor positive platinum-resistant ovarian cancer in combination with pegylated liposomal doxorubicin (NYSE:PLD).
Both vintafolide and etarfolatide have been granted orphan drug status by the European Commission, which means competing products will be barred from the market for up to 10 years if they are approved. The MAA filings are supported by four clinical studies: a Phase1 study in solid tumors, two single-agent, single-arm Phase 2 studies in ovarian cancer and non-small cell lung cancer, and the Precedent trial, a randomized Phase 2b study in patients with platinum-resistant ovarian cancer.
Vintafolide consists of folate (vitamin B9) linked to a potent vinca alkaloid anti-cancer agent, desacetylvinblastine hydrazide (DAVLBH). Folate is essential for cell division, and cancer cells generally consume higher levels of folate than normal cells. Vintafolide is designed to exploit this by selectively targeting the folate receptor to deliver the anti-cancer agent DAVLBH intracellular to the tumor. Vintafolide is currently being evaluated in a Phase 3 randomized, double-blind clinical trial for platinum-resistant ovarian cancer (Proceed trial) which is evaluating the product in combination with PLD compared to PLD plus placebo for the treatment of folate-receptor positive platinum-resistant ovarian cancer. This trial also employs the companion diagnostic imaging agent etarfolatide, a molecular imaging agent which is being developed as a non-invasive method to identify tumors that over-express folate receptors. As part of the license agreement with Endocyte, Merck is responsible for the development and worldwide commercialization of vintafolide in oncology. Endocyte will co-promote vintafolide in the United States, and is responsible for the development, manufacture and commercialization of etarfolatide worldwide. Merck will pay Endocyte a $5 million milestone payment for the EMA filing acceptance.
In 2012, it is estimated that there will be more than 22,000 new cases of ovarian cancer in the U.S. and over 40,000 new cases in the European Union. Ovarian cancer causes more deaths than any other cancer of the female reproductive system. Approximately 80% of patients relapse after first-line platinum-based chemotherapy. Platinum resistant ovarian cancer is a challenging disease with a high unmet need. An estimated 80% of platinum-resistant ovarian cancer patients have been found to have folate-receptor positive disease, and 40% express the receptor in all of their target tumor lesions. Compared to patients who do not express folate receptors on their tumors, folate-receptor positive patients have a poorer overall prognosis.
Up through the end of 2013, the likely catalysts are PSMA imaging data, folate tubulysin IND, folate inflammation IND, and the development of vintafolide and etarfolatide for other cancers that express the folate receptor. Every year, more than 1 million people in the U.S., EU, and Japan are diagnosed with a cancer that expresses the folate receptor. None of these are major but given the low share price, could cause an increase in the share price. In late 2013 and early 2014, the major catalysts will be the EU decision, phase 2b NSCLC data, and phase 3 Proceed Proc PFS data, and these are likely to be positive. Endocyte appears to be undervalued at its current price of around $9.32, especially when you consider that the market cap of approximately $330 million has to be looked at in the light of the company's cash balances of $200 million. Because of its comfortable cash position, it is highly unlikely that there would be any equity dilution in the near future.
Endocyte reported a net loss of $1.2 million, or $0.03 per basic and diluted share for the third quarter of 2012, compared to a net loss of $12.1 million, or $0.36 per basic and diluted share, for the same period in 2011. Endocyte reported revenue of $12.4 million for the third quarter of 2012 associated with the collaboration with Merck. $11.7 million of this revenue was related to the amortization of both the $120 million upfront license payment and $4.8 million in reimbursable research and development expenditures incurred before the third quarter. The remaining $0.7 million of revenue related to amortization of reimbursable research and development expenditures was incurred during the third quarter of 2012.
Research and development expenses totaled $9.9 million for the third quarter of 2012, compared to $8.9 million for the same period in 2011. The increase was driven by an increase in clinical trial expenses and development costs of the preclinical pipeline and compensation expense, partially offset by a decrease in manufacturing costs related to process and method validations for Endocyte's lead candidates vintafolide and etarfolatide. Merck is obligated to fund manufacturing costs for vintafolide, along with a portion of the Proceed trial and all of the Target trial costs, as part of the collaboration. Adjusted research and development expenses were $5.3 million for the third quarter of 2012, net of the $4.6 million in expenses for this period reimbursable by Merck.
Endocyte's cash, cash equivalents and investments totaled $204.7 million on September 30th, 2012, compared to $211.5 million on June 30th, 2012 and $128.1 million on December 31st, 2011. The increase compared to December 31st, 2011 was attributable to the upfront payment from Merck of $120 million and Merck's reimbursement of certain research and development expenses. This was partially offset by the cash disbursements for operations and the repayment of the outstanding balance on credit.
Summer Street Research has initiated coverage of Endocyte with a "Buy" rating and a price target of $18. I anticipate Endocyte will have a favorable risk/reward profile from now until the EU decision because of its comfortable cash position and the series of positive upcoming catalysts. The big move will occur on the EU decision, but between now and then, there do not seem to be any factors that could cause the share price to drop. Investors should consider Endocyte as a solid, stable play on therapeutic market growth.
Senesco Technologies
Senesco Technologies, which is focusing on its eIF5A technology, is sponsoring a clinical study in multiple myeloma with its lead therapeutic candidate SNS01-T, which targets B-cell cancers by selectively inducing apoptosis via eIF5A. eIF5A is believed to be an important regulator of cell growth and cell death. Accelerating apoptosis may have applications in treating cancer, while delaying apoptosis may be useful in treating certain inflammatory and ischemic diseases, including diabetes. Cell death or apoptosis may be the answer to treating cancer. Senesco is exploring ways in which apoptosis can be used to control and stop cancer.
The eIF5a pathway is thought to function as a 'master switch' for a natural growth control that functions in most if not all cancers. It regulates the main pathways that trigger cell death, apoptosis, and make it more difficult for malignant cells to avoid responding to the programmed cell death signal that normally protects the body from cancer. eIF5A is a key regulator of tumor biology and SNS01-T is the first-in-class agent to target eIF5A. It selectively triggers apoptosis in B-cell cancers and single agent activity and synergy with lenalidomide or bortezomib in mouse models.SNS01-T has three components-siRNA suppresses pro-survival hypusine form resulting in inhibition of NF-kB activation, Plasmid expressing stable eIF5A under control of B-cell specific promoter induces apoptosis selectively . Polyethylenimine (NYSE:PEI) forms a nanoparticle that protects the RNA and DNA from destruction in the blood and aids uptake into the cancer cells.
NS01-T results from Phase 1b/2a in multiple myeloma show good safety and an effect at the lowest dose. SNS01-T selectively triggers apoptosis, programmed cell death, in B-cell cancers like MM, MCL and DLBCL. The combination of lenalidomide and SNS01-T performs better than either treatment alone in mouse xenograft models of MM and MCL. SNS01-T showed good tolerability and stable disease in first cohort of Phase 1b/2a multiple myeloma trial. It can be extended in current form without further non-clinical investment to treat non-Hodgkin lymphoma and can be easily modified to target any other cancer including solid tumors. There are plenty of opportunities in a wide range of cancers with multiple therapeutic candidates from eIF5A platform and there is a billion dollar market opportunity for B-cell cancers alone. eIF5A modulation leads to death in all human cancer cell lines that have been tested to date and the company believes that the technology may be applied to any tumor type. Potential therapeutic applications include other diseases associated with suppressed or premature apoptosis, including inflammation, diabetes and ischemia.
Senesco has reported that interim results from the ongoing Phase 1b/2a study were presented by Dr. John Lust, the PI at Mayo Clinic, Rochester, Minnesota at the 54th American Society of Hematology (NYSE:ASH) Annual Meeting and Exposition in Atlanta, Georgia. Cohort 1 was completed in August 2012 and currently two of the planned three patients in cohort 2 have completed dosing. No drug-related serious adverse events or disease limiting toxicities have been recorded to date. In multiple myeloma, normal plasma cells have transformed into malignant myeloma cells that accumulate in the bone marrow and produce large quantities of a protein called monoclonal (NYSE:M) protein which is released into the blood stream.
Multiple myeloma is an incurable cancer of plasma cells, a type of white blood cell derived from B-lymphocytes, normally responsible for the production of antibodies, in which abnormal cells accumulate in the bone marrow leading to bone lesions and interfering with the production of normal blood cells. Senesco was previously granted orphan drug status for SNS01-T, the Company's lead drug candidate for treatment of multiple myeloma. Mantle cell lymphoma (MCL) is a form of non-Hodgkin's lymphoma (NHL), constituting roughly 6 percent of all NHL cases in the United States with a prevalence of approximately 30,000 cases. It is considered an aggressive form of B-cell lymphoma and SNS01-T was granted orphan drug status for treatment. Diffuse large B-cell lymphoma is a fast growing form that is the commonest of non-Hodgkin's lymphoma (NHL) accounting for 30 percent of new cases every year and there are approximately 120,000 cases in the U.S. SNS01-T was granted orphan drug status for treatment of this condition.
During the fiscal year ended June 30th, 2012, Senesco earned total revenue of $200,000, which consisted of a milestone payment in connection with an agricultural license agreement. The company did not earn any revenue during the fiscal year ended June 30th, 2011. As of June 30th, 2012, Senesco's cash balance totaled $2,001,325, with working capital of $386,532. Senesco's total operating expenses decreased 16% from $6.33 million in 2011 to $5.29 million in 2012. Total research expenses declined 31% from $3.72 million in 2011 to $2.56 million in 2012. Senesco's total contractual cash obligations are $703,909. $598,304 is due in less than one year, while $105,605 is due in one to three years.
Investors should be aware of the risks of investing in a microcap like Senesco Technologies. Microcap stocks are attractive due to their potential to generate high profits, but those profits come at the cost of higher risk. Senesco Technologies is a development stage biotech with a limited operating history. The company was started in 2009 and has limited assets and capital.
It is possible that SNS01-T won't obtain FDA approval. SNS01-T is much different from other drugs in this space like Kyprolis, Revlimid and Velcade because it specifically targets B-cell cancers and selectively induces apoptosis via eIF5A. Conversely, Kyprolis and Velcade belong to a class of drugs known as proteasome inhibitors. They work by preventing the breakdown of protein in cancer cells, triggering their death. Revlimid contains lenalidomide, which is an immunomodulating agent. Lenalidomide stops cancerous plasma cells from multiplying. It also enhances the action of cells in the immune system called natural killer cells. These naturally attack abnormal cells, including cancerous cells. In order to grow, cancerous cells need a blood supply that provides them with nutri lenalidomide also stops the development of new blood vessels, which helps cut off the blood supply (nutrients) to cancerous cells.
Kyprolis is the most expensive of these drugs at $10,000 per 28-day cycle at the recommended dose for a patient of average size. Velcade costs between $4,000 to $8,000 per 28-day period, depending on the frequency of dosing, and Revlimid costs $7,900 per 28-day period at the FDA-approved 21-out-of-28-day dosing. The expected costs of SNS01-T are unknown at this time.
Kyprolis was approved by the FDA in July 2012 for patients with multiple myeloma who have received at least two prior therapies, including treatment with Velcade (bortezomib) and an immunomodulatory therapy. In 2006, the FDA granted approval of Revlimid for use in combination with dexamethasone in patients with multiple myeloma who have received one prior therapy. In 2003, the FDA approved Velcade for the therapy of patients with progressive myeloma after previous treatment.
Even if Senesco can get approval, it is possible that Senesco won't have enough money to get SNS01-T to the commericial drug phase. I estimate that Senesco will need at a minimum $2 million to commercialize SNS01-T. As of September 30th, 2012, Senesco had cash and cash equivalents of $1,312,056. Senesco believes that its current cash resources and ability to utilize its unused line of credit and delay certain costs are sufficient to fund operations through March 31st, 2013. The problem with this is that Senesco's short-term goals and objectives for 2013 include staying on track to complete its Phase 1b/2a multiple myeloma trial with SNS01-T in 2013 and start a Phase 2b study toward the end of 2013. Both activities will burn significant capital, compounded by the company's total contractual cash obligations listed above.
Senesco expects that patient recruitment for its SNS01-T trial will be opened soon at the John Theurer Cancer Center at Hackensack University Medical Center where David S. Siegel, M.D., Ph.D., chief of the Division of Multiple Myeloma, is one of the nation's leading experts on multiple myeloma. Dr. Siegel served as lead investigator of the multi-center, Phase 2b study involving 30 cancer centers in North America that led to the FDA's fast-track approval of Kyprolis for relapsed multiple myeloma patients.
Senesco has adopted a novel and innovative approach to cancer treatment, and results so far have been impressive. Investors should consider Senesco Technologies as another promising growth stock in therapeutics.
Disclosure: I have no positions in any stocks mentioned, and no plans to initiate any positions within the next 72 hours. I wrote this article myself, and it expresses my own opinions. I am not receiving compensation for it (other than from Seeking Alpha). I have no business relationship with any company whose stock is mentioned in this article.