AT&T (NYSE:T) has really taken advantage of the smartphone/tablet craze, not just with Apple's (NASDAQ:AAPL) devices, but with other vendors as well - as Forest Gump said, "goes together like peas an carrots." In the company's Q3 earnings call held on October 24, 2012, AT&T noted it supports Nokia's (NYSE:NOK) Windows 8 Lumia devices and is (at the time) the only company supporting Asus's and Samsung's Windows 8 tablet devices. In the conference call, the company indicated it faced significant supply issues related to the iPhone 5, but apparently the supply issues have been ironed out, as AT&T recently announced on January 8, 2013 that it has sold more than 10 million smartphones in the fourth quarter of 2012, including both Android and Apple devices.
To support the various smartphones and tablets, AT&T has accelerated deployment of the fourth generation LTE wireless communication technology and reported experiencing download speeds in the range of 12 Mbits per second and higher in some cases - plenty of bandwidth to go around.
AT&T indicated it had a strong quarter with respect to wireless and its wireless strategy has been aiding the company's cash flow, as $11.5 billion of cash flow from operations was and $6.5 billion of free cash flow was reported. The company added 1.4 million smartphone subscribers in the third quarter and over 8 million in the last year.
AT&T indicated it introduced Mobile Share in the third quarter which enables customers to share buckets of data. The company noted that a third of its Mobile Share customers are selecting the larger data plans of 10GB or more.
On a negative note, AT&T indicated it saw business customers reluctant to pull the trigger on purchases, and believed the hesitancy was due to a slowdown in government spending, uncertainty over tax policy and the Fiscal Cliff.
AT&T noted its future plans for revenue growth starting in the next year are related to connecting devices in the home and automobile, a strategy which the company is tagging as "Digitize."
While AT&T's Price-to-Sales ratio of 1.6 looks very attractive, it's Price-to-Earnings ratio of 44 is fairly expensive. However, AT&T's stock price has recently retreated and appears to be forming a base in the $33 range with potential for a continued leg up as shown below: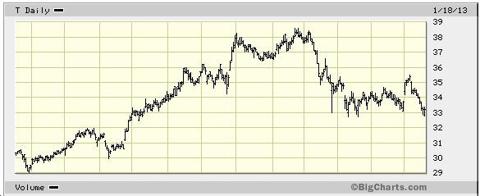 Click to enlarge
With AT&T apparently solving its iPhone 5 supply issues, the company could be primed to report a very good fourth quarter on its earnings release scheduled for January 24, 2012. An investor considering an investment in AT&T might consider a protected position such as provided by the married put option strategy. The married put strategy positions for unlimited upside while protecting against a large downside. The strategy can be entered by purchasing a put option against a long stock. The expiration for the put option is typically selected several months in the future in order to reduce the per-day cost of the put option "insurance."
Using PowerOtpions, a number of married put positions were found for AT&T for July 2013 option expiration as shown below: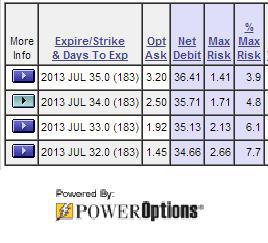 The married put position using the 2013 Jul 34 put option looks attractive with a maximum potential loss of 4.8%. However, the 4.8% maximum potential loss does not take into account expected dividend payments during the holding period. When taking into account expected dividend payments, the maximum potential loss is reduced to 2.3%. So, even if the price of the stock goes to zero, the maximum loss which can be sustained is 2.3%. The details for entering the AT&T married put are shown below:
AT&T Married Put Position
Buy T (existing or purchased)
Buy T 2013 Jul 34 put at $2.50
A profit/loss graph for one contract of the AT&T married put position is shown below: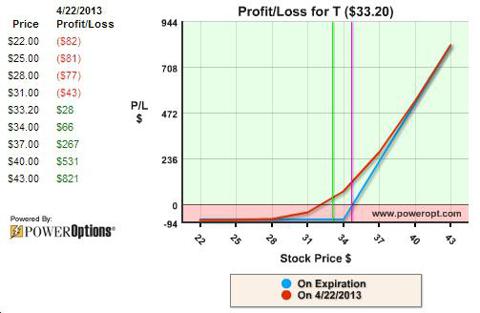 Click to enlarge
If the price of the stock drops below the $34 strike price of the put option, the value of the married put position remains unchanged. And, if the price of the stock increases to above the $34 strike price of the put option, then the position can be managed via income methods to reduce risk and receive income as taught by RadioActiveTrading.com.
Look forward to hearing your comments below!
Disclosure: I have no positions in any stocks mentioned, and no plans to initiate any positions within the next 72 hours. I wrote this article myself, and it expresses my own opinions. I am not receiving compensation for it (other than from Seeking Alpha). I have no business relationship with any company whose stock is mentioned in this article.