We are about to get another chance to buy stocks on the cheap.
Back in July of 2011, the world was worried about the impending debt ceiling that would throw the American economy into a tailspin from which we might never recover. I was getting multiple phone calls from clients wondering what we were going to do once America defaulted, to which I responded by writing an article to "do nothing". History will show that the debt scare came and went, and stocks have added around 20% since that time when you include dividends.
Like the Fiscal Cliff silliness we just experienced, this debt ceiling will be nothing more than an opportunity to buy stocks at a lower price before an eventual run back up to a fair relative value when comparing stocks to the fixed income market. As with the fiscal cliff, the government will string America along until that last moment when a "deal" will be reached, and politicians will have justified their jobs by "saving" America from ruin.
The reason this is all a complete charade is simple. The debt ceiling is pointless and not needed. Congress has already voted on their spending and tax plans with the fiscal cliff deal. That deal already guarantees another trillion + dollar deficit which will add to the debt. By not raising the ceiling, they will make their vote on the fiscal cliff null and void. It would be like me committing to swim after I was already in the pool, then telling the pool owner that if he didn't add water to the pool, I wouldn't get in.
Huh?
How can you implement a spending deficit plan and then not raise the artificial debt ceiling (which means absolutely nothing in the first place.)
Now that you know my thoughts on the coming "crisis" it makes sense to figure out a way to game what I think is going to take place.
On November 16 as the S&P 500 (NYSEARCA:SPY) was in the midst of pulling back 9% from highs it hit just a few weeks before, I typed an article stating it was time to buy stocks again. I thought we were near a low that we could see within a few weeks of that article. I had no idea that the low would happen right then. Since then, the market has risen a tad over 10% in a matter of 9 weeks. Sentiment at the time of that article was in the pits, and technically, the market was ready for a bounce.
Fast forward to today with the S&P 500 breaking out to new 5 year highs. While I still believe we will see new all time highs within 12-18 months, I believe we are at a point where it's time to wait for one final pull-back in stocks before the test of all time highs. My reasoning is based on the fact we should be hearing more and more rhetoric about the impending debt ceiling crisis which will scare investors out of stocks in the short term, but as of now, that is not happening. What we are seeing currently is a love of stocks in the short term.
The AAII Sentiment Survey reported frothy numbers for the 7th time in the past 8 weeks:
Bullish: 43.9%, down 2.5 percentage points
Neutral: 28.7%, up 2.1 percentage points
Bearish: 27.3%, up 0.4 percentage points
Historical averages:
Bullish: 39.0%
Neutral: 30.6%
Bearish: 30.6%
So here we are, breaking out to new multi-year highs, with sentiment on the frothy end of the scale, and the impending flurry of fake bad news about to hit the airwaves in gale-force fashion. For a little icing on the cake, the VIX (NYSEARCA:VXX), often used by traders as a gauge on fear in the market, has collapsed to a level not seen since before the 2008 financial crisis.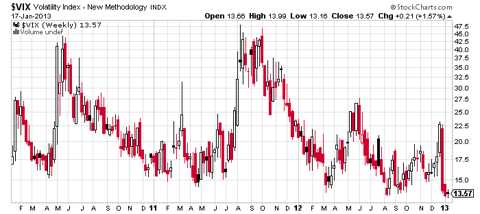 Click to enlarge
(Click to enlarge)
Everything is lining up for the market to see a decent sized pullback in the short term. My guess is the market will roll over slowly, probably starting tomorrow now that Intel (NASDAQ:INTC) has reported lower than expected revenues and is down over 5% after hours. Sentiment in the market place will not change over night, but this will be the first event that will form the short term top I believe we are about to see. We have been almost fully invested in client accounts for the past few years, but for the first time in a long time, we are selling stocks and not reinvesting the proceeds. Our cash levels in core accounts are from 4-10% at the moment as we anticipate a short term, but sharp pull back that will be "buy-able" sometime in March as the politicians come and rescue us from something we don't really need to be rescued from.
We will begin to allocate the excess cash in client accounts as we get back near the 50 day Moving Average on the S&P 500 as seen in this chart: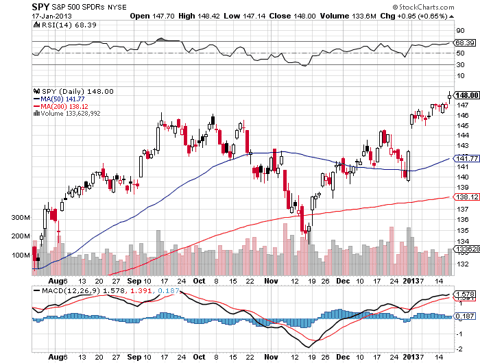 Click to enlarge
(Click to enlarge)
Be mindful of the fact that we are still around 90%+ invested. By no means do I think we are about to collapse to head into a new bear market. I just want to have enough cash on hand to take advantage of a potential pull back that seems ripe for the picking at the moment. Position yourself accordingly.
Disclosure: I am long INTC. I wrote this article myself, and it expresses my own opinions. I am not receiving compensation for it (other than from Seeking Alpha). I have no business relationship with any company whose stock is mentioned in this article.