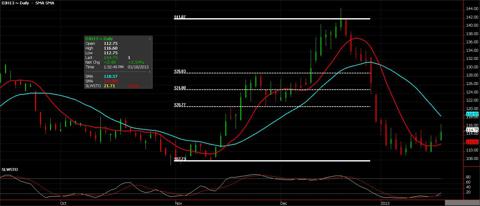 In the last 3 months, FCOJ prices rose 35% only to be followed up with a decline of 25%. After building what I interpret to a base the last 2 weeks, I think we could see round 2 of an appreciation. March futures, which can be seen in the chart above, has closed above its 9 day MA and as of this post, is trading near 2 week highs. My stance is that we see a trade higher in the coming weeks/months, and I've advised clients to scale into bullish trade using the Fibonacci levels as your targets on the way up.
As long as we do not see a penetration of the recent lows, I would remain in long futures and trail stops on the way up if the market cooperates. As for option trades, I would look out to May and July contracts and use multiple legs to allow flexibility. I like the idea of back ratio spreads, thinking we could see a trade 15% higher in the coming weeks/months.
I do think we will see a shift in money among the commodity players. I do not see traders abandoning the markets that have outperformed of late, like metals and energies, but I think when big traders rebalance, some of the money will find its way into commodities that have underperformed recently. Two sectors that I believe could see some of those assets on a rebalancing are the softs (FCOJ, sugar, cocoa, and coffee) and livestock markets (cattle and hogs).
Risk Disclaimer: The opinions contained herein are for general information only and not tailored to any specific investor's needs or investment goals. Any opinions expressed in this article are as of the date indicated. Trading futures, options, and Forex involves substantial risk of loss and is not suitable for all investors. Past performance is not necessarily indicative of future results.
Disclosure: I have no positions in any stocks mentioned, and no plans to initiate any positions within the next 72 hours. I wrote this article myself, and it expresses my own opinions. I am not receiving compensation for it. I have no business relationship with any company whose stock is mentioned in this article.