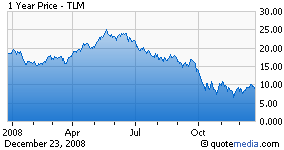 A likely cutback to Talisman Energy Inc.'s (NYSE:TLM) capital budget will curb production in 2009, says UBS analyst Andrew Potter.
Mr. Potter told clients that Talisman is expected to cut capex from C$5.5-billion to C$4-billion in 2009 due to weak oil prices. As a result, he reduced his 2009 production estimate by 16% and his 2010 production forecast by 11%. Mr. Potter's cash flow per share estimates, meanwhile, fall by 13% in 2009 and 12% in 2010.
"Approximately 75% of the reduction to 2009 and 2010 production forecasts is due to the much lower capex assumption," said the analyst in a research note.
"The remainder of the production decrease is a combination of potential project deferrals at Auk/Fulmar and Yme as the company attempts to lower costs as well as a more conservative assumption regarding the ramp up of Indonesian gas sales reflecting the weak economic environment."

Mr. Potter said Talisman will continue to focus on its unconventional assets, in particular the Montney and Marcellus natural gas plays.
"We continue to believe that results from Talisman's various emerging unconventional plays should be a catalyst for the stock in 2009," he wrote.
Mr. Potter maintained his "buy" rating but reduced his price target from $19 to $18.