With a $33.3 billion market cap, and billions of dollars in unknown liabilities, Hewlett-Packard (NYSE:HPQ), is still one big toxic mess, it's a big disaster lurking for anyone. The worst thing about Hewlett-Packard is, Dow has just named the Palo Alto-based company the biggest loser for 2012 , which is down about 44% year-to-date.
It's one of the largest companies in the world and probably the largest IT services company in the world. Could it really be the next big takeover target?
Some of the industry sees HP as fresh deal meat following the company's Autonomy (OTC:AUTNF) disaster. But while such a mega-deal may make Wall Street investors salivate, even after selling off billions of dollars in assets, HP simply remain too big and too risky to acquire.
Specialization is the name of the game in today's technology space. HP would need to break up into more manageable pieces before any big major tech companies would consider opening its wallet, launching a takeover bid. Selling out is the best exit option for today's troubled companies-it's the last option.
It seems like every two years or so there is talk that HP, arguably the most battered and troubled of the world's tech companies, is the subject of endless talks and speculations. Oracle was rumored to be interested in buying up HP, If Oracle (NASDAQ:ORCL) take the bid it will create the world's most powerful and largest tech company-a conglomerate of some of the most powerful companies on Earth.
But not everyone is buying the takeover talks. Although anything is possible HP is too big to acquire. But HP is now or could be soon to be the subject of a takeover game.
To be sure, HP does have a lot of valuable assets that the major tech players would love to get their hands on, but owning those massive assets, brand names seem like a headache that isn't worth the trouble.
Tech companies, especially Oracle and IBM (NYSE:IBM), are extremely conservative and aren't prone to jump into this kind of acquisition play unless they know exactly they can make serious money on it or makes strategic sense. With a $33.3 billion market cap, and billions of dollars of debt. It's a company of one big headache; no one will risk his resources to take the plunge. No serious tech company not even Oracle would want to take risk.
What exactly Oracle gets here? Technology? Hewlett-Packard has been managing a declining asset since the Autonomy disaster struck; the company's core business-PC is facing an uncertain future due to increased competition in the market and slowing of the PC industry. Oracle won't take this, Oracle buying an empty bag loaded with mess
Currently HP still cleaning up the mess left behind by former CEO Léo Apotheker, and it's getting worse.
Apotheker's left a huge toxic mess to HP before he was fired in 2011 - the acquisition of British software maker Autonomy, a company that accused of massive accounting fraud and irregularities in the months leading up to the companies' merger. The decision to acquire the company has resulted in HP writing off a massive $8 billion; just months after the company had to write off nearly $9 billion related to its 2008 acquisition of EDS (Electronic Data Systems), a technology outsourcing company.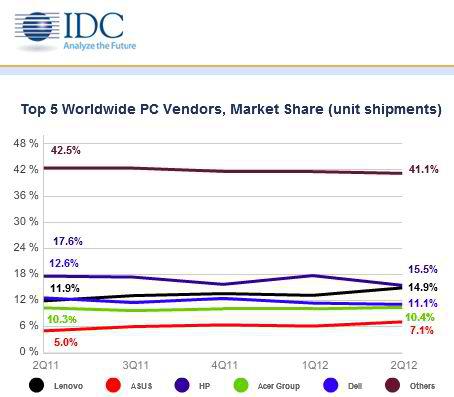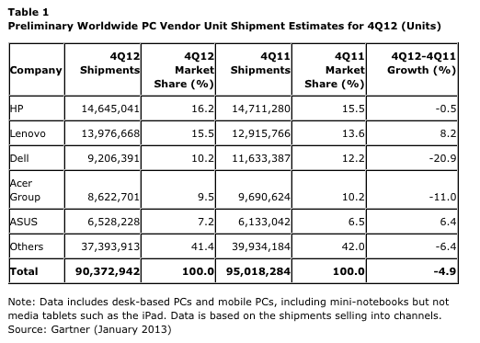 HP has taken a heavy beating in its EDS purchase, the hardware company spent nearly $14 billion to buy EDS, a technology services/outsourcing company. While CEO Mark Hurd was confident at the time that HP would be able to make the services unit a profitable driver of growth and a possible golden goose, it has become a disaster moves for the company, due to under-investment (particularly in higher value-added segments), the company had forced to write down the goodwill from the EDS purchase by $8 billion.
Since 2006, HP has taken a massive $26.1 billion in restructuring charges, write downs and merger-related expense, the company current market cap stand at $23.5 billion. So in just 6 years flat, more money was destroyed on overpriced, ill-conceived acquisition than the entire 73-years-old company is worth today. But it gets even worse. Hewlett-Packard spent a lot of cash on acquisitions, but it has also accumulated about $20 billion of debt since 2006. It's not looking good right now; it's a company full of flaws and financial holes.
The latest figure in the company's quest to destroy shareholder value was an $8 billion write-down tied to the biggest blunder in the company's history, the $11 billion acquisition of British software maker Autonomy . Hewlett-Packard has seen a remarkable fall from grace over the last few years; it almost pushed the company into brink of absolute collapse. However, the fall is justified; the hardware company is faced with declining sales within its PCs, printer division, and servers segments, HP's stronghold the only area of growth HP has seen has been doing well is its software segment. However, this is tainted by the recent announcement of possible accounting irregularities within Autonomy; the company's stock seems to be a destroyer of wealth, and quite possibly a value trap.
Though HP can't stop the slowing of the PC industry, it should be focused on keeping its core businesses-PC and printing business. HP should make market share intact, and stay focus on debt reduction and revenue stabilization. Simply put, the company can't afford another disaster like Autonomy, because "the next Autonomy disaster" could drag the company into abyss. Let me make a suggestion (my own opinion): Hewlett-Packard should move in different direction, change course. Get rid of everything that isn't core or unrelated to its core business. Hewlett-Packard is an overwhelming leader in printing space and a significant player in PC industry, and you know what? It's still a great business; I think they should guard that market and stay there.
Disclosure: I have no positions in any stocks mentioned, and no plans to initiate any positions within the next 72 hours. I wrote this article myself, and it expresses my own opinions. I am not receiving compensation for it (other than from Seeking Alpha). I have no business relationship with any company whose stock is mentioned in this article.