Earnings reports have been trickling in so far this season, but things will pick up big time next week when more than 300 companies release their quarterly results from Tuesday through Friday (the markets are closed on Monday for Martin Luther King Jr. Day).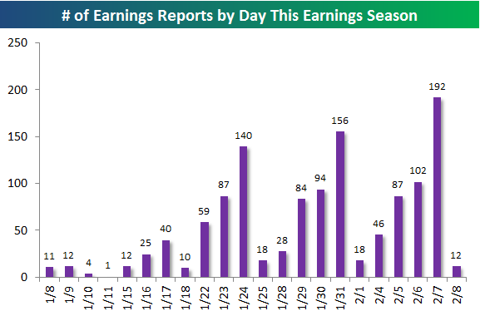 Click to enlarge
Below is a list of the largest S&P 500 stocks that are set to report earnings next week. For each stock, we include its historical earnings and revenue beat rates using data taken from our Interactive Earnings Report Database. We also include each stock's average one-day change on its earnings report days over the last 10 years. (For stocks that report in the morning, we use that day's change, and for stocks that report after the close, we use the next day's change.)
On Tuesday, IBM (NYSE:IBM) and Google (NASDAQ:GOOG) will be the most widely followed reports. Apple (NASDAQ:AAPL) reports on Wednesday after the close, while 3M (NYSE:MMM), Microsoft (NASDAQ:MSFT), AT&T (NYSE:T), and Starbucks (NASDAQ:SBUX) all report on Thursday. Procter & Gamble (NYSE:PG) rounds out the week with its report on Friday morning.
Of the stocks listed below, Johnson & Johnson (NYSE:JNJ), Intuitive Surgical (NASDAQ:ISRG), United Tech (NYSE:UTX), Lockheed Martin (NYSE:LMT), Union Pacific (NYSE:UNP), and Covidien (COV) have the highest earnings beat rates, while Google, Intuitive Surgical (ISRG), and Crown Castle (NYSE:CCI) have the highest revenue beat rates. On the weak side, Verizon (NYSE:VZ), McDonald's (NYSE:MCD), Crown Castle, Stryker (NYSE:SYK), and Honeywell (NYSE:HON) have the lowest earnings beat rates, while Travelers (NYSE:TRV), General Dynamics (NYSE:GD), AT&T, and Procter & Gamble have the lowest revenue beat rates.
In terms of price performance, CSX, Intuitive Surgical, Apple, Halliburton (NYSE:HAL), and Covidien average the biggest gains on their report days, while Baxter (NYSE:BAX), Du Pont (NYSE:DD), Microsoft, and McDonald's average the biggest declines.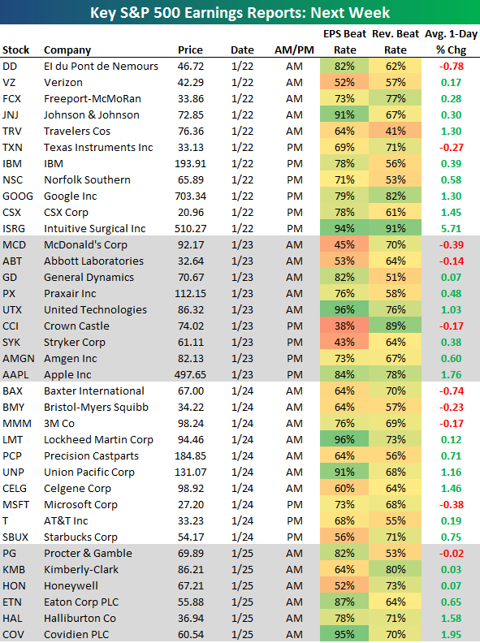 Click to enlarge