So far this earnings season, 101 companies have released their quarterly results. These 101 companies have averaged a one-day change of +0.31% on their report days, which means earnings season has gotten off to a pretty good start. After all, price reaction is the ultimate gauge of an earnings report.
Below is a list of the stocks that have had the best one-day gains on their report days so far this season. As shown, VOXX (NASDAQ:VOXX) ranks first with a one-day gain of 18.26%, followed by Supervalu (NYSE:SVU) at 14.14% and WD-40 (NASDAQ:WDFC) at 9.92%. Other notables on the list of big winners so far this earnings season include Morgan Stanley (NYSE:MS), Goldman Sachs (NYSE:GS), General Electric (NYSE:GE), and Schlumberger (NYSE:SLB).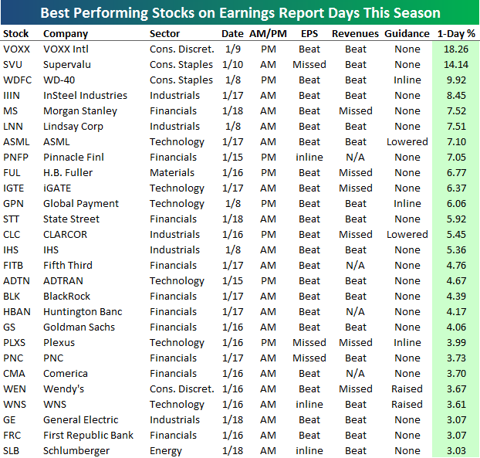 Not all stocks have reacted positively to earnings, however. DragonWave (NASDAQ:DRWI) ranks first on the list of earnings season losers with a one-day change of 27.19%, followed by Mistras Group (NYSE:MG) at -11% and SemiLEDs (NASDAQ:LEDS) at -8.95%. Capital One (NYSE:COF) and Intel (NASDAQ:INTC) are also on the list of losers, as both are down big today following their reports yesterday after the close. A few other big losers have been Bank of America (NYSE:BAC), Johnson Controls (NYSE:JCI), and Citigroup (NYSE:C).