Back in December 6, I wrote an article titled "On Being Forced To Buy." In this article I explained that since the Fed was just about to increase its money printing campaign by replacing "operation twist," there was little one could do but be net long. Sure enough, since then the markets did very little but go up. The SPDR S&P 500 (NYSEARCA:SPY) went from $141.98 to $148, which including a dividend of $1.022 made for a return of close to 5%.
As we sit here now, though, one ought to reevaluate this standing. What to do now? There are risks on the horizon which would usually produce some nervousness in the markets. I'll cite two:
The debt ceiling
It is estimated that the debt ceiling will again be hit during the middle of February, so less than one month away. While ultimately politicians tend to kick this particular can down the road at the last minute, there have been instances where the arm twisting had a market impact, such as during 2011 where all the debate made for a few hairy rides in the market.
Something of a difference, however, stems from the fact that during 2011 the Fed was not printing. When the Fed is not printing, the market can actually drop - something which is rare if not non-existent when the Fed is printing at the current pace of around $1 trillion/year.
Also of note is the possible willingness by President Obama and the Democrats to possibly use the $1 trillion coin shenanigan. This would instantly erase the debt ceiling debate, but the consequences over the markets would be rather unpredictable because of the even more direct "money printing" implications. The likely course would probably involve a US Dollar plunge along with a significant stock market rally, if such solution was employed.
Sentiment
While sentiment of individuals as measured by the AAII is not yet at extremes worthy of caution, institutional sentiment already is. Bank of America Merrill Lynch conducts a regular survey of fund managers, and the latest data from this survey shows sentiment to be at highs not reached since February 2012 and April 2011. Those instances are noted in the chart below.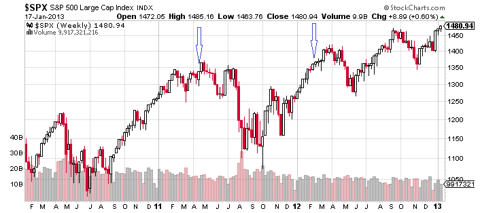 As we can see, excessive sentiment by institutions is often followed by market weakness. The institutions are the prime market movers, if they already are optimistically allocated to the market, few buyers remain to take things higher.
We cannot, however, fail to again point out that the weakness which followed these sentiment levels once again occurred with the Fed mostly in the sidelines and certainly not buying $1 trillion per year.
Conclusion
We continue playing by money printing rules. There are very powerful, approaching catalysts able to increase volatility in the markets, including the debt ceiling debate and excessive sentiment. Given that we are under powerful money printing rules, such approaching volatility is not a chance to short. Rather, any plunges in the markets are a chance to buy. At most one should leave some room in his portfolio to take advantage of any 3-5% corrections. It's very unlikely that the market would be able to go down by more than 7-10% while the Fed is printing $1 trillion per year.
Disclosure: I have no positions in any stocks mentioned, and no plans to initiate any positions within the next 72 hours. I wrote this article myself, and it expresses my own opinions. I am not receiving compensation for it (other than from Seeking Alpha). I have no business relationship with any company whose stock is mentioned in this article.