Just because a stock yields high dividend payments, it doesn't necessarily mean that it is a good investment decision. France Telecom's (FTE) performance over the past few years is testament to this fact. Historically, FTE has reliably given a generous dividend to its shareholders, with yields in the range of 10-16 % pa. Yet, any individual who has invested in FTE over the past few years would have most likely have lost 15-30% of their investment, the result of a sustained decline in stock value.
In light of this now heavily subdued stock price, FTE may present both a modest value and income opportunity. In addition, its above average dividend payments (forecast ~9% pa) provide a respectable margin of safety for the more cautious investor.
Company Background
France Telecom is one of the world's largest telecommunications carries. It provides service to 224 million customers in 33 countries and is the third-largest wireless operator in Europe. It provides:
Local phone service;
Domestic and international long distance;
Data communications;
Wireless;
Multimedia;
Internet access; and
Broadcast and cable TV services.
FTE acquired Orange Plc in 2000 and this is the Group's single brand for Internet, television and mobile services in the majority of countries in which the Company operates.
FTE operates through six reporting regions: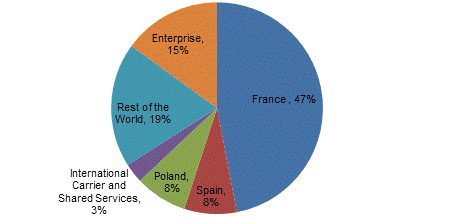 Figure 1 - The Operating regions of France Telcom [data from France Telecom's financial report]
As of June 2012, FTE had 165.7 million mobile customers and 14.7 million broadband internet (ADSL, fiber) customers worldwide.
Investment Thesis
Up until mid-November 2012 (when the stock hit 5 year lows of $10.20), there was significant downward pressure on FTE stocks. This downward pressure was the result of a combination of factors, including sustained intensification of competition, taxes (VAT), unfavorable regulatory measures in Europe and MTRs.
The Companies reported Q3 revenue was down 3.5% Year on Year. Further, FTE's cash flow dipped 7% in the third quarter to $4.8 billion, and FTE is guiding for a further drop in cash flow which the say will be above just $9.35 billion in 2013. [Source: France Telecom Homepage]
According to the group, this reduction in forecast cash flow is the result of the following:
The macro-economic outlook, particularly in Europe, remains marked by very low growth;
In France, despite the resilience of its mobile activities, the Group will continue to suffer the effects of unprecedented competitive pressure, which weighs on the overall value of the market;
at the same time, the regulatory burden will remain similar to that of 2012 at a Group level, with further significant reductions in call termination rates in Poland, Spain and other European countries
In 2014, the Group expects to see a reversal of this trend to a period of growth, supported by significant operational improvements (some of which are listed later in this article).
These factors combined to create angst amongst investors, which was reflected by an approx. 35% decline in stock price over the last 12 months.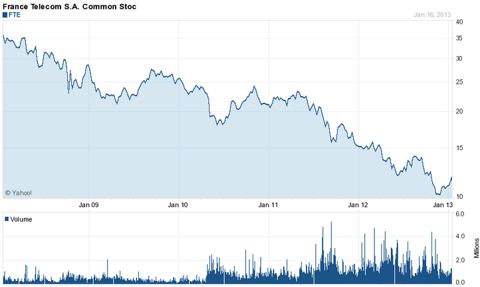 Figure 2: Five year historical share price for France Telecom [Image courtesy of Yahoo Finance]
I believe that any decrease in future reported earnings is already factored into the stock price, therefore limiting the downside of this stock. Further, I believe that this observed drop in stock value was the result of an overreaction by investors due to the combination of factors.
FTE also appears undervalued when compared to its peers, the Company is trading at a discount based on forward earnings estimates. Its P/E, P/S and operating margins all appear more attractive than the industry average. To date, low-cost competition in the French market hasn't completely killed the Company's ability to generate significant cash flow.
| | | | |
| --- | --- | --- | --- |
| MEASURES | FRANCE TELECOM | INDUSTRY AVERAGE | S&P 500 |
| P/E | 6.68 | 12.2 | 13.9 |
| P/B (last quarter) | 0.86 | 1.9 | 9.8 |
| P/B 5-Yr High/ Low | 2.7/ 0.8 | 1.9/1.9 | 9.8/ 2.9 |
| P/CF (NYSE:TTM) | 6.7 | 9.9 | 12.4 |
| Div. (last quarter)/ FY13 Forecast | $1.50/ $1.04 | 4.1% | |
| EV/EBITDA | 3.9 | 6.2 | |
Figure 1: 5 Year historical share price for France Telecom (Data courtesy Yahoo Finance and France Telecom)
Over the past few years, the dividend yield for French Telecom has been impressive (see Figure 3, below). This increase in yield has occurred as the result of FTE's stable payments combined with a plummeting of the stock price. It paid an interim dividend of €0.58/ share (7.2%) on 12 September and payouts to shareholders have been traditionally dependable.
FTE management has stated a commitment to return 40-45% of operating cash flow to its shareholders. [Source: France Telecom Homepage]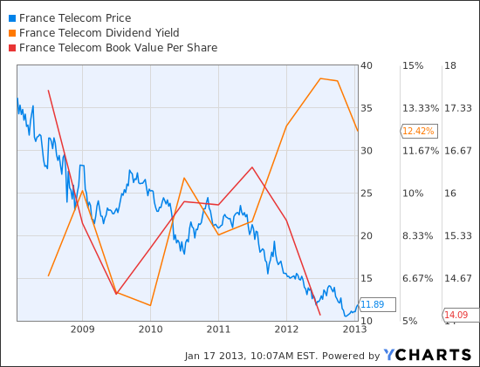 Figure 3 - France Telecoms share price, book value per share and historical dividend yield (data by YCharts)
In October, management announced a reduction in dividend payments of up to 40% for the upcoming year to aid in debt reduction - in a move to avoid credit-rating cuts, has followed rivals (including Telefonica SA (NYSE:TEF)) in cutting payouts to a minimum of $1.04 per share in the next two fiscal years.
FTE dividend yield is simply a function of cash flow and given the forecast of reduced cash flow, a reduction in dividend comes as no huge surprise. Particularly in consideration of the stocks exceptionally high yield over the past year.
However, even when taking this into consideration, FTE still yields a significant ~9% dividend at the current stock price of around $11.9.
Debt presents a significant risk to the business and this risk has been largely managed historically by the strong cash-flow. This move to reduce dividend payments to manage debt is in my mind a responsible one by FTE management. [Source: France Telecom homepage]
France Telecom has in place a 'Conquests 2015' plan which is aimed at regaining the company's profitability. It is now in the midst of the first (or adoption) phase (2011-2013) of this five-year plan. During the second phase of the plan (2014-2015) the company expects France and the Enterprise segments to return to growth. Through cost savings and improving its French business, the Company expects to grow at a three-year CAGR of 0.6% and EBITDA to accumulate to 45 billion euros.
Some of the factors which FTE believe will assist in a return to period of growth during 2014 include:
more favourable revenues, after the significant impact of lower prices for mobile services in 2012 and 2013, particularly in France;
stabilization of EBITDA in France, supported by a strong ambition to reduce direct and indirect costs;
Group-level savings from the Chrysalid programme;
stabilization of personnel costs which will benefit from the impact of natural attrition;
an increased contribution from the Group's growth areas such as emerging markets and new services; and
reductions in regulatory pressure.
Despite the uncertainty and intense competition in Spain, the company's market position in the mobile business is improving and its profitability increasing on strong iPhone sales. Orange continues to see customer growth in its mobile business largely the result of several successful offers and the strong adoption of smartphones. Further, ADSL market share remains healthy and the Livebox (a combined modem and Wi-Fi) router may help boost this.
Recent moves by Orange demonstrate that it is not scared to embrace the popularity of social media; announcing on 21st of November that a service called 'Party Call' would be available to its customers, allowing Facebook users to place individual and group calls to each other via their smartphones with no numbers required. This demonstrates the Company's commitment to transition to the increasingly popular mobile and smartphone market. France Telecom must continue to embrace these trends if it is to hold its market share.
In the Q1 2012, FTE reported a €1.097 billion spend on capital expenditures. This suggests the company is taking advantage of the rapid growth in the emerging economies in Africa and in other countries. It already has a commanding presence in many African countries through its subsidiary, Orange, and it will continue to benefit from these markets. These are good indicators for growth for the future as France Telecom continues to recover from the recession. Its Latin American branch has experienced growth as well since 2011.
Stock Risks
There is significant downward pressure weighing on FTE's stock price, from factors including:
Market share competition: FTE experiences intense pressure from Bouygues (OTC:BOUYY), Telecom Italia (NYSE:TI) and Vodafone Group (NASDAQ:VOD) in its French (domestic) operations, which account for more than half its profit. Further, there is always a number of other carriers coming online. This has resulted in reduced market share and subsequently lower margins and profitability.
Tax (VAT) pressures: In January 2011, the French government increased VAT on triple-play services from 5.5% (previously applied to a major proportion of the triple-pay package) to 19.6% (now applied to the entire portion of the package). I believe that this may have an adverse effect on the profitability of France Telecom; particularly if it is not able to pass this increased cost through to customers - This had a partial impact in the reported earnings.
Reduction of fixed-line services: There is a transitional trend for customers to move from fixed-line services to mobile. France telecom is seeing accelerated erosion in fixed-line phone operation compared to its peers which continues to weigh on the businesses top line.
Regulatory Pressures: In key markets including the UK and Spain, there has been a reduction in mobile termination rates (i.e. fees that operators charge each other to connect calls). This has had an adverse effect on the businesses revenues. Further, some of these rate changes have only recently been implemented (I.e. UK, Polish and Spanish regulars are expected to reduce termination rates by up to 50%).
Pressure from employees: France Telecom has implemented a number of cost-cutting measure (e.g. streamlined and restructured its company operations, infrastructure and organization structure) which have adversely effected its employees; and a series of suicides have impacted its reputation. This has left France Telecom under pressure from workers unions.
Conclusions
I believe that the sustained decrease in revenues the market expects from FTE is already factored into the current stock price, that the market has over-reacted on the combination of factors and that FTE appears discounted in comparison to its peers. Therefore, FTE may present a modest value opportunity.
Not only do I believe that FTE is trading at a discount, but it also offers an attractive dividend yield. This provides a ~9-10% margin of safety to shield against future stock losses during 2013, in the case that stock value continues to erode.
Like always, this investment does not come without inherent risk; mainly due to the sustained downward pressure from increased completion, regulatory and tax pressures. For example, in the last reporting period the Company experienced falling revenues (0.1% year over year), EPS, adjusted EBITA (down 6.7% year over year).
Whilst revenues in its key areas decreased (largely due to the transition from fixed line to mobile and the development of internet browsing on mobiles), it experienced growth from the rest of the world, mainly from Africa and the Middle East. Of note is the recent announcement of the setting up of an Orange operating arm in Qatar, in a joint venture with Sheikh Fahad Bin Ghanem [Al Abdul Rahman] Al Thani
I believe that FTE's growth into developing countries may offset some the downward pressure on both revenue and thus on share price, and present a strong catalyst for future growth.
I anticipate moderate 5-10% gains in the share price of FTE through 2013; plus a comfortable 7-10% dividend yield (>$1.04/share, adjusted for future stock price).
In addition, the minimum committed dividend of $1.04 (~9% yeild) provides a comfortable margin of safety. Put simply, the share price could decrease from its current value of $11.93 to ~$10.90/ share and we would still not have lost any money on our initial investment (obviously ignoring macro factors such as inflation, etc). I do believe, however, that this decrease is unlikely.
Disclosure: I have no positions in any stocks mentioned, and no plans to initiate any positions within the next 72 hours. I wrote this article myself, and it expresses my own opinions. I am not receiving compensation for it (other than from Seeking Alpha). I have no business relationship with any company whose stock is mentioned in this article.