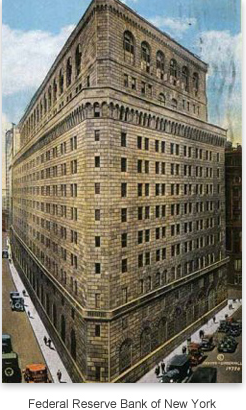 Inside this massive building is a mega-Kinkos machine printing billions of dollars each day. ($4.77 billion just on Friday, which by month's end should total $85 billion.) These dollars are bombarding stock markets with fresh liquidity, feeding bulls against all odds and logic.
Our job is to go with this despite misgivings and all manner of poor news. As a strategist first and technician or timer second, we and most investors must recognize the dynamic at work and adjust to it. Worrying about debt will be for another day, and until it's forced on politicians, bankers and markets. In the meantime, ain't we got fun!
And until this money printing activity stops, this will be the underlying theme until either confidence in the activity is lost, or bulls have to proceed without a net.
Believe it or not, there are pundits today discussing that retail sales increased .5% in November-December. Well, it's the holidays, and what would one expect?
There was other news, like Consumer Sentiment plunged (71.3 vs. 75 expected and prior 80.5), but not much was discussed about that.
Intel (NASDAQ:INTC) earnings were dreadful, and the stock fell over 6%. Since this is an important stock, and its health is a sign of robust economic growth and demand, it's hard to understand it can be so isolated. Also left on the ice-flows this week were two of the country's largest banks, Citigroup (NYSE:C) and Bank of America (NYSE:BAC). But with memories short, bulls can quickly transition to General Electric (NYSE:GE) and Morgan Stanley (NYSE:MS), where earnings were well-received.
The primary good news on the day was that China's growth was better (7.9% vs. 7.8% expected and prior 7.4%). This news helps Asia and emerging markets, primarily where we have our largest exposure.
Headline writers had the ability to spin more headlines, as markets were now at their highest levels since December 2007. This is quite an accomplishment, and just shows what printer's ink can do. This commentary is deliberately short, as what is written here is expressed or featured in every equity chart on the planet to one degree or another.
Volume increased substantially on options expiration. Breadth per the WSJ was modestly positive.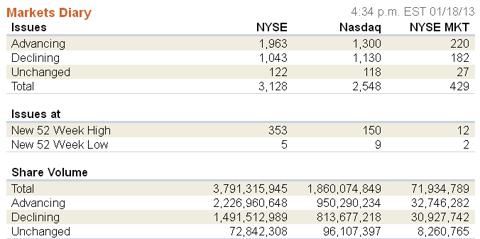 Click to enlarge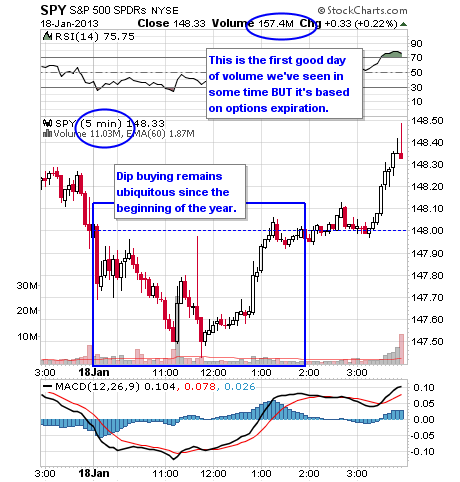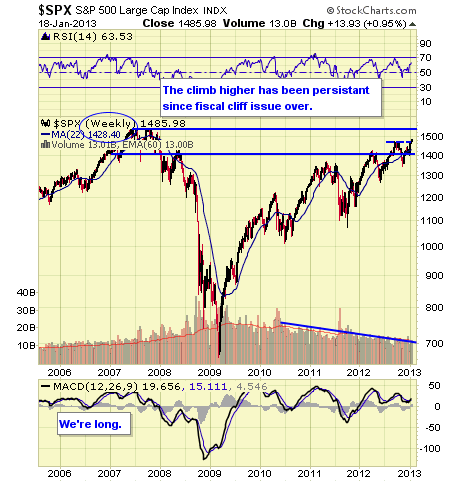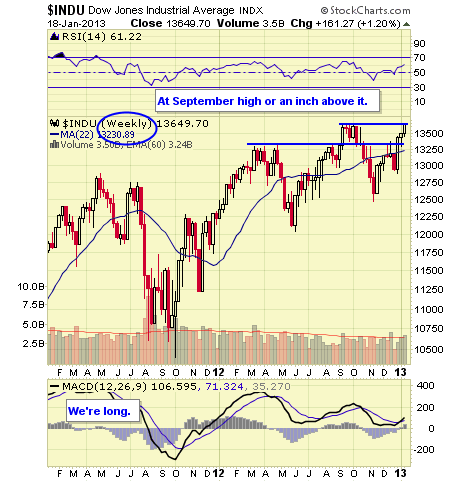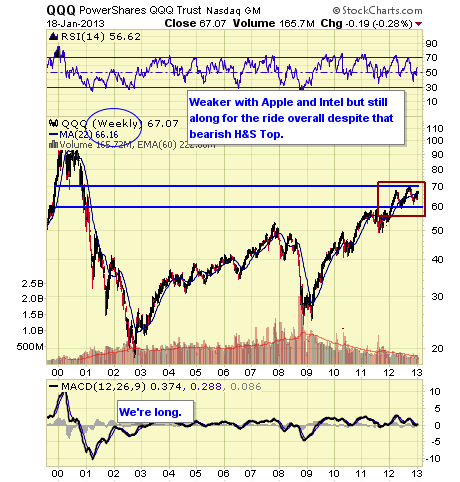 The NYMO is a market breadth indicator that is based on the difference between the number of advancing and declining issues on the NYSE. When readings are +60/-60, markets are extended short term.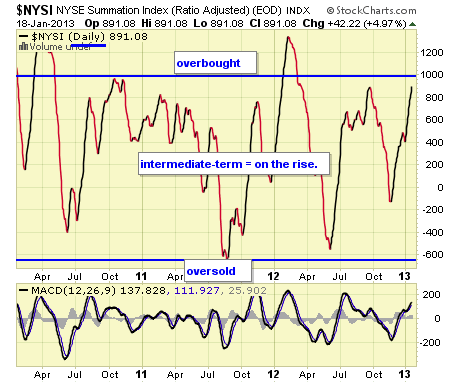 The McClellan Summation Index is a long-term version of the McClellan Oscillator. It is a market breadth indicator, and interpretation is similar to that of the McClellan Oscillator, except that it is more suited to major trends. I believe readings of +1000/-1000 reveal markets as much extended.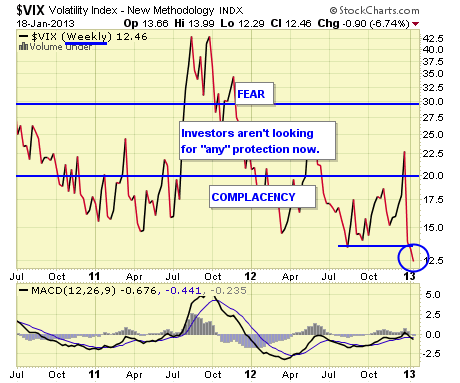 The VIX is a widely used measure of market risk, and is often referred to as the "investor fear gauge." Our own interpretation is highlighted in the chart above. The VIX measures the level of put option activity over a 30-day period. Greater buying of put options (protection) causes the index to rise.
Concluding Remarks
It's a more money than brains market, and perhaps the real dose of the latter is just to sit back and enjoy it.
Disclaimer: The ETF Digest maintains an active ETF trading portfolio and a wide selection of ETFs away from portfolios in an independent listing. Current "trading" positions in active portfolios, if any, are embedded within charts: Lazy & Hedged Lazy Portfolios maintain the follow positions: VT, MGV, BND, BSV, VGT, VWO, VNO, IAU, DJCI, DJP, VMBS, VIG, ILF, EWA, IEV, EWC, EWJ, EWG, & EWU.
The charts and comments are only the author's view of market activity and aren't recommendations to buy or sell any security. Market sectors and related ETFs are selected based on his opinion as to their importance in providing the viewer a comprehensive summary of market conditions for the featured period. Chart annotations aren't predictive of any future market action rather, they only demonstrate the author's opinion as to a range of possibilities going forward.
Disclosure: I have no positions in any stocks mentioned, and no plans to initiate any positions within the next 72 hours. I wrote this article myself, and it expresses my own opinions. I am not receiving compensation for it. I have no business relationship with any company whose stock is mentioned in this article.