Investors furiously bought silver in recent days, but prices remain subdued—for now.
Silver holdings in the iShares Silver Trust (NYSEARCA:SLV) were unchanged on Thursday, after spiking a whopping 18.4 million ounces on Wednesday. The one-day increase was only slightly less than the 20.8 million ounces that the fund added in the 12 months prior to Wednesday.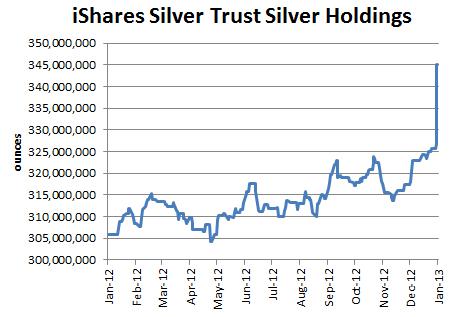 For added context, silver holdings across all silver exchange-traded funds increased by 59.4 million troy ounces over the last 12 months (excluding Wednesday). Including Wednesday's spike, holdings were up 79.4 million ounces over the past year.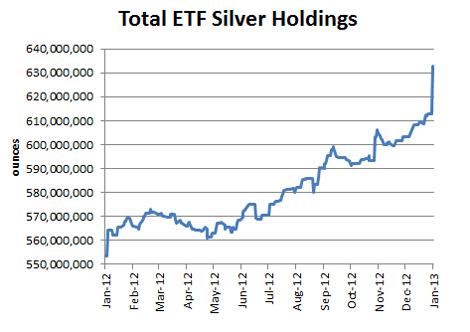 That's roughly 8 percent of annual silver supply, which is around 1 billion ounces.
While many market participants were taken aback by the surge in the iShares Silver Trust's holdings, the impact on silver prices was minimal.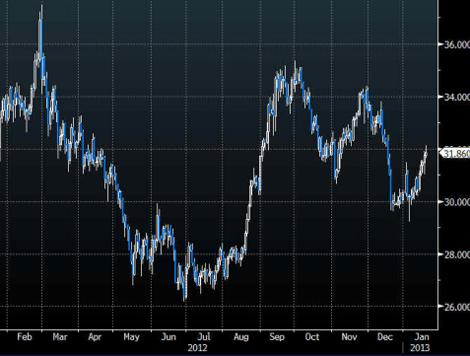 Prices have crept up in recent sessions, but they are well within their recent trading range and essentially unchanged from where they were a year ago. Clearly, the increase in ETF holdings has not translated into higher prices.
Still, the jump in iShares' holdings suggests that investor demand for the gray metal remains strong. Moreover, that demand is not just coming from financial investors. The U.S. mint said it ran out of American Eagle silver coins after selling 6.01 million ounces so far this month.
Though prices remain muted thus far, all this investor demand for silver should eventually translate into higher prices, say analysts.
"Investors appear to be putting their money increasingly into silver ETFs as an investment alternative," Commerzbank said. "It can only be a question of time before the buoyant ETF demand causes the silver price to rise."