Chesapeake Energy (NYSE:CHK) is an oil and natural gas company. The shares have seen a precipitous fall from a 2008 high of $74 per share to an intra-day low of around $10 in December. The stock recently has been flatlining around the $15 level.
So should you be bargain hunting here on CHK? In my analysis, NO, not over the short-term. I see several reasons for possible further downside in the shares, most related to its recent failures to react positively to attempts by pundits to rally the stock, and possible balance sheet/management risks. If a downtrending stock is unable to rally on good news or positive spin by analysts, there is likely possible downside ahead in my view. I see short-term downside potential to the $10 area and possibly lower.
Let's examine a few recent events which failed to cause any significant rally in the shares and/or are possible negatives:
The shares were upgraded by a major brokerage house on December 8th and have failed to hold any gains or make headway from that upgrade -- they have slid back down to try to hold support at the 15 level.
CHK shares have also been bullishly hyped repeatedly by a major investment website recently, as well as mentioned positively by a prominent TV pundit from a major financial news channel several times -- yet the stock is failing to rally, and keeps testing the 15 level.
Debt - The company has $14.53 Billion in debt, according to my data, which shows a Debt/Equity ratio of 0.87. The company previously announced that it may issue 50 million shares to shore up its capital, which could be up to a 17% dilution in the shares -- they have also had asset sales and major cuts in capital spending. Further dilution of the shares and debt re-structurings are possible.
The powerful CEO of the company, Aubrey McClendon, was forced to dump virtually all of his shares in the company to meet a margin call, losing a paper gain of as much as $1.92 Billion, according to my statistics. This may indicate a lack of good financial planning for his personal financial management, and raises questions as to the prudent financial management of the company's assets.
The stock has not been rallying despite the seasonal effect of a cold Winter that is often thought to help natural gas related companies -- whether this axiom is true or not, the fact is the stock is not rallying, and looks to want to break sharply below 15, in my view.
click to enlarge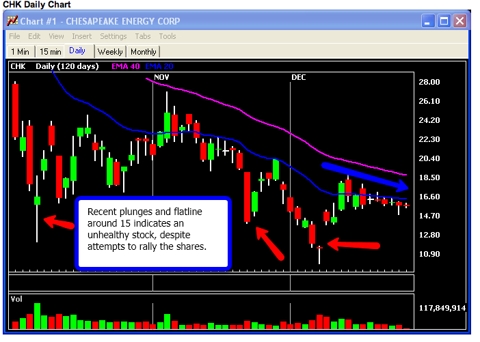 Click to enlarge
Bottom Line: Combine the possible risks with non-positive reactions to attempts to rally the shares -- and you have a recipe for a stock that may face another run from the short-sellers. While a downward plunge in CHK shares is not certain, in my view the shares are acting "sick" and look likely to head lower.
Disclosure: Moby Waller has recently recommended a bearish options trade on CHK to his Advanced Options Strategies subscribers.