In my previous article, I pointed out an opportunity in a small-cap company called QLogic (NASDAQ:QLGC) in the field of high performance networking products. My thesis was essentially the following:
The company has strong valuation support with $484M in cash, no debt, and at the time a market capitalization of $

900M.

As the cloud and data-center markets continue to grow, the need for the firm's products would also

benefit.

The weakness in the stock was, in my view, very

much based

on the weak macroeconomic environment, and any improvement there would prove to be a nice upside catalyst.
The stock and the company have performed quite well since the article was published on December 20, 2012, with shares returning 12% from the publication date: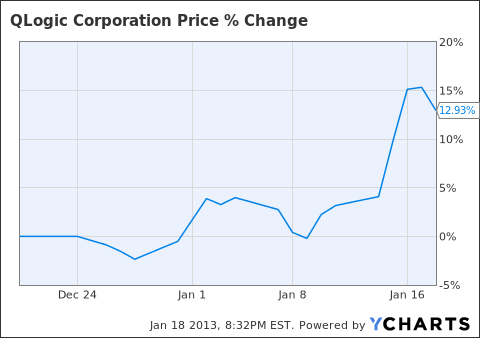 data by YCharts
The outperformance in the stock over the last several days has been driven primarily by a very nice, positive catalyst: an upside pre-announcement!
The Pre-announcement
The previous guidance that management had issued was revenue of $112 - $118M. The analyst expectation for the quarter was $115.45M at the midpoint on a range of $113.6 - $119M. Analysts additionally expected EPS of $0.17 on a range of $0.16 - $0.19.
QLogic announced preliminary results of $119M in revenues and $0.19 - $0.20 EPS, handily exceeding the high end of the analyst estimates. Naturally, this is excellent news, and this sent the stock up quite nicely.
Are shareholders at the beginning of a huge ride, or is it time to take some profits here and call it quits?
What's Next?
Nothing stings more than a round trip -- you know, when you were sitting on a huge paper gain that has now suddenly evaporated or even turned negative. It's happened to myself and many others time and again because we forget the simple rule: take profits when you can!
As per my previous article on the stock, I believe the stock could run to anywhere from $12.6 to $16.8, with the midpoint sitting at $14.7/share. The assumption here is based on the $0.84/share average analyst estimate for CY2013 EPS and a multiple of 15-20 times earnings. The "rich" multiple is actually much less so when the cash position of $5.22 is backed out. This gives us a P/E ex-cash range of 7.38 - 13.8, which is quite reasonable.
That being said, if you are long from the $9-$10 level, it's not a bad idea to sell a portion of your position to lock in profits. The options are not particularly liquid, so selling covered calls is a tough way to lock it in. There is always the risk of selling "too early," but should the overall markets take a breather from their current sugar-high, there will probably be an opportunity to buy back more cheaply. Further, the pre-announcement, while positive, still doesn't tell the whole picture about what kind of full year guidance the company will give at the report, so the Street may be unhappy with the actual earnings call.
However, there is good reason to be long-term optimistic on shares of QLogic at this point:
Data-center growth: At Intel's (NASDAQ:INTC) earnings call, the company forecasted that its datacenter group would return to double-digit earnings growth, with strong growth in storage and networking, QLogic's operating segments. This is due to the buildout of the cloud and should ultimately be a tailwind for the company throughout

2013.

Upcoming Product Refresh Cycle: The company is set to refresh its main product lines during 2013, which could further catalyze

sales.

Valuation Still Compelling: The company still has a mountain of cash and is still nicely profitable and cash-flow positive. It also continues to buy back shares with the majority of its FCF, which is nice from an "EPS growth" perspective.
Disclaimer: I take no responsibility for the outcome of the execution of any trade mentioned here. The information provided here is solely for informational purposes. Do your own due diligence, and consult with your financial adviser before making any trades.
Disclosure: I am long QLGC, INTC. I wrote this article myself, and it expresses my own opinions. I am not receiving compensation for it (other than from Seeking Alpha). I have no business relationship with any company whose stock is mentioned in this article.