INTRODUCTION:

At the writing of our last Intel article, the stock was trading at $26.68. The stock has been backtracking ever since, trading at $21.25 at the time of this writing. So what, if anything, is wrong with Intel (NASDAQ:INTC)? We'll break down the discussion as follows in an attempt to find answers:
Performance

Catalysts

Financials & Valuation

Conclusion
PERFORMANCE:
At the time of our last article, Intel raised the dividend and guided to EPS growth in 2012 that supported higher valuations. After all, who besides management is in a better position to understand their customer trends, suppliers, segment trends etc? Based on this, many estimates were north of $30 per share. What went wrong?
Intel announced 2012 results on January 17 along with 2013 guidance. We've recorded guidance over the last year along with new guidance as shown below.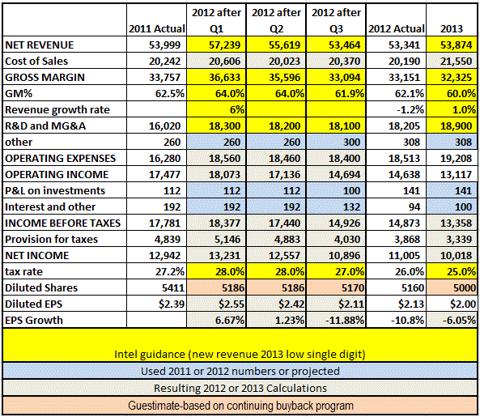 The recurring theme is the downward revisions before getting 2012 close after the Q3 guidance. What this tells us is management has limited visibility past one or two quarters.
The company issued the following guidance for 2013:
Revenue: low single-digit percentage increase.

Gross margin percentage: 60%, plus or minus a few percentage points.

R&D plus MG&A spending: $18.9 billion, plus or minus $200 million.

Amortization of acquisition-related intangibles: approximately $300 million.

Depreciation: $6.8 billion, plus or minus $100 million.

Impact of equity investments and interest and other: net gain of approximately $100 million.

Tax Rate: approximately 25%.

Full-year capital spending: $13.0 billion, plus or minus $500 million.
Due to the difficulty of forecasting long-term economic growth in the present environment, we defined "low single-digit percentage revenue increase" as 1%. While this appears to be a low bar, the company has its work cut out to meet this guidance. Q1 revenue is projected at $12.7B, $200 million less than Q1/2012. Gross margin is projected at 58%, 2% less than the overall 2013 guidance. Intel is already losing ground and will be playing catch-up going forward.
The largest segment, the PC Client Group, has been experiencing soft demand pushing down the operating income while the Data Center Group has been holding its own, as shown below.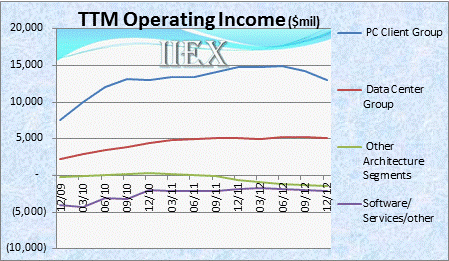 Combine this with lower gross margins and the overall EPS and operating income are trending down at a higher rate than revenue.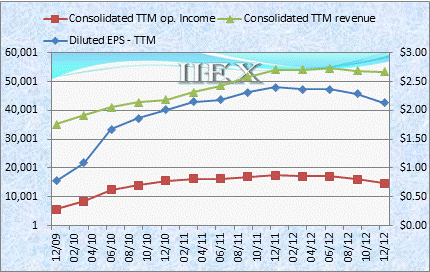 Detailed quarterly data used in this article can be found here.
CATALYSTS:
What are the catalysts that will bend the curve upward? An improvement in macroeconomic conditions would help, but conditions could remain weak through 2013. Based on the weak Q1 guidance, management is expecting some improvement in the back half of the year. Stacy Smith - Chief Financial Officer, stated at the January 17 conference call:
First and foremost, it comes down to, if you consensus GDP estimates, the consensus today is that there is a pretty significant strengthening in the worldwide economy over the course of the back half of this year.
Hopefully this is not the driving force for guidance since it is not in their control. There is more than enough economic uncertainty as to how things will play out in 2013 especially considering the challenges in the U.S.
The weakness in PCs is not just due to a weak economy. Tablets have been a factor as reported by Gartner in its January 14 release noting:
"Tablets have dramatically changed the device landscape for PCs, not so much by 'cannibalizing' PC sales, but by causing PC users to shift consumption to tablets rather than replacing older PCs," said Mikako Kitagawa, principal analyst at Gartner.
Gartner also noted that new Windows 8 products are coming to market, and this could drive churn within the installed base. Windows 8 could be positive going forward. There has been an explosion of innovation around Microsoft's (NASDAQ:MSFT) Windows 8 operating system allowing the first real choice to Apple's (NASDAQ:AAPL) iPad. Windows touchscreen devices that did not exist a year ago are starting to trickle out or planned in the near future. Here's a sampling:
Paul Otellini - Chief Executive Officer, noted the following in the January 17 conference call:
At CES last week, I was struck by our industry's renewed inventiveness. PC manufacturers are embracing innovation as we are in the midst of radical transformation of the computing experience with the blurring of form factors and the adoption of new user interfaces. It's no longer necessary to choose between a PC and a tablet. Convertibles and detachable, combined with Windows 8 and Touch, provide a two for one, no compromise computing experience. Ultrabooks have also served to accelerate the trend towards thinner and lighter notebooks. For example, the volume of systems less than one-inch think grew 18-fold last year in the U.S., and we expect to see the same trend continue around the world. There are now 10 Clover Trail tablets shipping today with several more launching in the coming months.
This could fuel growth as Windows 8 devices continue to make inroads.
The massive capital spending may pay off longer term through reduced costs combined with longer-term macroeconomic recovery, although it is generating investor angst in the short term.
It's still early, but 2013 could be the year for transition.
FINANCIALS & VALUATION:
We'll examine trends based on management's financial track record to highlight longer-term trends, incorporating the 2013 guidance. The annual data used in this analysis can be found here.
EPS TRENDS: The following graph for EPS and cash trends are arrived at by calculating the statistics for a trend line using the "least squares" method. This determines the line that best fits the historical data and consensus estimates.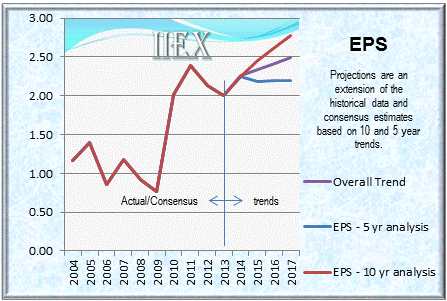 The above represents the following trends:
| | |
| --- | --- |
| Analysis Period | EPS Growth Trend |
| 5 year | 0.7% |
| 10 year | 8.93% |
| Long term used | 3.6% |
CASH TRENDS: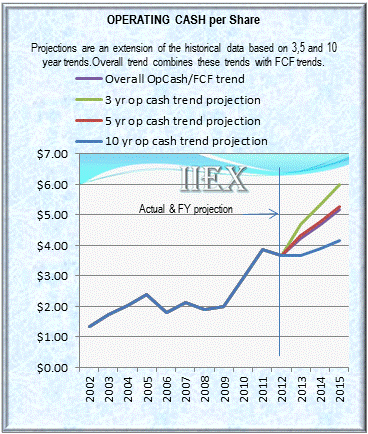 The above represents the following trends:
| | |
| --- | --- |
| Analysis Period | Trend |
| 3 year | 17.8% |
| 5 year | 12.5% |
| 10 year | 5.6% |
| Long term used | 10.7% |
VALUATION: The following fair value analysis is based on management's longer-term financial performance as measured by the previous data. Fair values are based, in part, on the following: Discounted cash flow, a modified Graham's intrinsic value formula and a P/E analysis. The valuation model consists of two parts.
The discounted cash flow and the modified Graham's intrinsic value are blended to arrive at a fair value.

A P/E analysis based on historical adjusted values.
Fair value used is the minimum value of the two parts.
Part 1: Discounted cash flow and the modified Graham's intrinsic value.
An estimated long-term EPS growth rate of 3.6% and long-term cash per share growth rate of 10.7% were calculated from the data described above. Analysts are more optimistic according to data presented at Nasdaq.com, projecting a five-year EPS growth rate of 9.7% as of this writing.
Running these projections through our pricing model, excluding the P/E analysis, produces a fair value of $23. Needless to say, the result is sensitive to changes in the growth rates as illustrated below.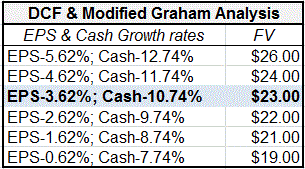 Part 2: P/E Analysis
The model looks at current and past periods to calculate a limiting P/E value. This produces a maximum allowable P/E of 12 yielding a fair value of $24. The P/E is not the controlling factor in this case.
Final fair value is the minimum of the two methods or $23.
CONCLUSION:
The stock closed at $21.25 on Friday, January 18, 2013, trading at a 7.6% discount to fair value; not a large margin of safety. However, there is another attribute that makes INTC attractive; the dividend along with the dividend history as shown below.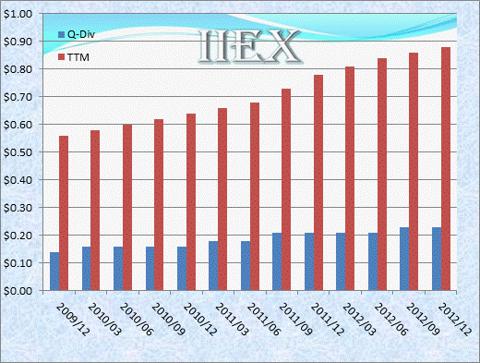 The company generates enough cash to support massive capital expenditures ($13B in 2013) with enough free cash flow left to support the dividend and share repurchases.
So what is wrong with INTC? Nothing based on the fundamental analysis presented above, but the low expectations, massive capex and PC market visibility appear to be spooking investors. If macroeconomic conditions improve, if not in the second half of 2013 as hoped for by management but in 2014, INTC is paying the investor an attractive yield of 4.1% to wait. This is not an exciting stock for those looking for growth. It may be a better fit for the dividend investor.
Disclosure: I am long INTC. I wrote this article myself, and it expresses my own opinions. I am not receiving compensation for it (other than from Seeking Alpha). I have no business relationship with any company whose stock is mentioned in this article.