The economy is a mess and nobody knows how long it will stay that way. So rather than looking at who beats estimates by how much (the usual favorite metric among investors), the big issue is staying power - which companies are most likely to be able to withstand a potentially prolonged flat-line economy and still be relevant when conditions finally improve. One potential clue is a balance sheet with zero debt. Such firms won't be admired by academic capital structure theorists, but in times like these, they might garner respect from Wall Street, especially if their stocks are bargain priced.
The Debt-free Bargains screen
After establishing a basic universe (no OTC or ADRs, no Finance stocks, Market Cap at least $250 million and Price at least $5), this screen uses the following rules:
Total debt equals zero. This is the core theme. It's measured as of the latest available balance sheet.
Trailing 12 month EPS above zero.
Quick Ratio of at least 2.00. These tests assume that profitable and reasonably liquid companies have a better chance of maintaining strong balance sheets. Liquidity is especially important nowadays, since it's not clear how easily companies can get new borrowings on reasonable terms if they decide they want to take on debt.
Price/Book less than or equal to 1.25. This basic valuation test is less intense than the one in the book-value bargains screen but it's still conservative. After eliminating the smallest least liquid stocks, the average Price/Book ratio is 2.78; the market cap weighted average is 2.67 and the median is 1.5.
Screen performance
After looking at two other deep-bargain screens geared toward a depressed market (book-value bargains and cash bargains), I know the first question that needs to be tackled is how many stocks we're likely to see in lists created by a screen like this, how much insight can be gleaned from backtesting, and whether it would be practical to implement such a strategy on a purely rules-driven basis.
As it turns out, though, this screen produces more testable lists. That's not to say we always see an abundance of passing companies. But since mid-2002, we have had at least five passing companies in 53 out of 84 trials. For much of the past year, the lists have been in double digits. Whether or not this gives me enough confidence to rely on the rules alone, as opposed to individual-company fundamental analysis, is borderline. So I'll look at the screen as is, and again by applying a rule that when more than five companies make the list, I'll sort and narrow down to five.
Figure 1 shows the results of the backtest I did on Portfolio123 for the full screen from 3/31/01 - 12/22/08.
Figure 1 - 3/31/01 - 12/22/08 backtest, all passing stocks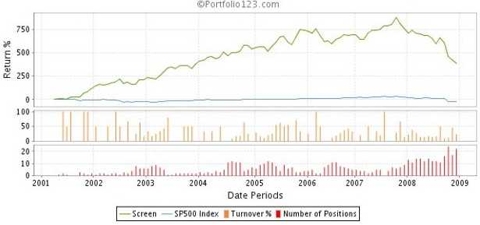 That's not bad. I notice the dip in 2008, but it seems more in line with the market than was the case for other deep-bargain screens.
Figure 2 likewise covers 3/31/01 - 12/22/08, but limits the results to the five best stocks sorted based on 5-year relative (company versus industry average) return on investment (ROI).
Figure 2 - 3/31/01 - 12/22/08 backtest, top 5 based on 5-year ROI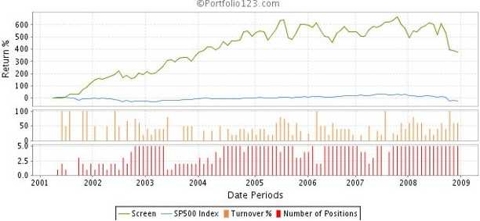 The five-year sort metric, focusing as it does on companies with longer-term track records of superior performance, clearly added a defensive quality to the protocol and reduced our losses in 2008.
Figure 3 shows what happens when I use trailing 12 month (TTM) relative return on investment as a basis for sorting.
Figure 3 - 3/31/01 - 12/22/08 backtest, top 5 based on TTM ROI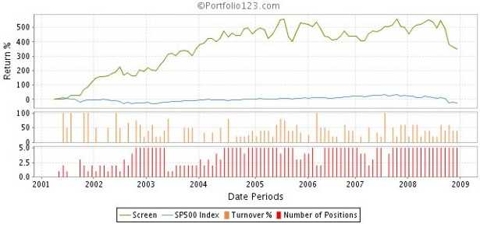 It's very hard to say which version of ROI produces better recent performance. So here are some one-year tests. (Note that the 2008 performance won't precisely match what we saw in Figures 2 and 3 since the screen-run dates may not fall out on the exact rebalancing dates used in the tests that started 3/31/01.)
Figure 4 shows the latest-year result when we use the five-year average ROI.
Figure 4 - 12/22/07 - 12/22/08 backtest, top 5 based on 5-year ROI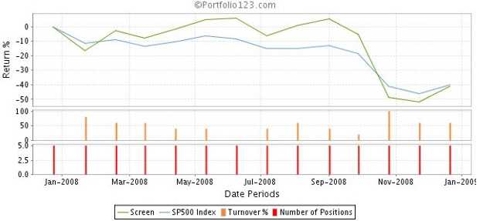 Figure 5 shows the result of the latest-year backtest using TTM ROI.
Figure 5 - 12/22/07 - 12/22/08 backtest, top 5 based on TTM ROI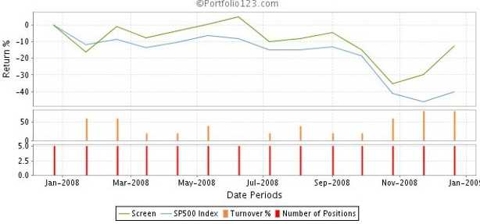 The recent upward blip in the TTM version is quite conspicuous. I checked the companies on the list and saw nothing that I'd dismiss as an aberration. So clearly, TTM ROI wins out in the most recent periods. I wouldn't say it's a statistically convincing victory. I see little substantial performance differences in Figures 2 versus 3 and in most months from Figures 4 and 5. I could compare the specific numeric results, but I think that sort of hair-splitting would amount to little more than data mining.
So statistically speaking, I'm going to call it a tie. For purposes of actual stock-picking, I'm going to use the TTM version of ROI. While it may not be my first choice if I'm adopting a long-term orientation, it does have a "what have you done for me lately" quality that seems a worthy tie breaker right now, given that we still have no idea how long it will take for economic conditions to improve.
Naming names
As noted, I wouldn't argue with anyone tempted to simply buy the list based only on the rules. But then again, with the economy so bad, I likewise wouldn't diminish the value of one-on-one examination.
Any sort of fundamental study needs to be done in the proper context. All companies face abysmal earnings prospects for the foreseeable future. One who would dismiss a company for that reason probably shouldn't be pursuing a deep-value investing strategy at all.
Assuming one is willing to accept that situation and buy in bad times (a potentially great strategy since we know how vigorously good cyclical stocks can soar at the first hint of recovery, but risky since we don't know when that will start), here are the final five debt-free bargains with the best trailing 12 month return on investment:
As you can see, the last two calls, KFY and MEI, were very difficult. Besides the merits of each situation, my decision to "go" is also influenced by the backtests, the fact that I believe this screen would be acceptable for use in a buy-the-list strategy and that companies with severe baggage like that are par for the course when one seeks liquid, profitably, debt-free companies with bargain-priced stocks. There have to be reasons why other companies in the backtests made it onto a screen like this. Presumably, Wall Street knew about all the baggage. (Whatever one may think of the current market culture, it's hard to deny there's an abundance of information.) And we see from the backtests that the market has, on balance, managed to look over the valleys when the kinds of fundamentals sought by this screen are present.