By: Brendan Gilmartin
Google (NASDAQ:GOOG) is scheduled to report 4Q earnings after the close of trading on Tuesday, January 22. Results are usually available in the minutes after the closing bell with a conference call slated to get underway at 4:30 p.m. EST. The S&P E-Mini, NASDAQ 100 E-Mini futures contracts, and PowerShares QQQ (NASDAQ:QQQ) tend to see active trading off the results.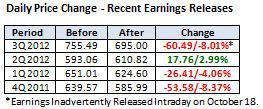 Outliers & Strategy
Google is expected to earn $10.54 per share (on a Non-GAAP basis) on revenue (ex-TAC) of $12.27 bln. The high estimates on the Street are $11.91 per share and $12.72 bln, respectively. (Source: Yahoo! Finance)
Google reported on January 18 that financial results from Motorola Home will be presented as a separate line item in our 2012 consolidated statements of income. The Non-GAAP EPS figure is not seen being impacted by this accounting item.
Recent News
01/18: Nomura Securities raised the price target on Google form $840 to $860, according to a post on StreetInsider.com. The firm also maintains a Buy rating, based on its long-term position in the ad markets, particularly in desktop and mobile.
01/17: A report from Evercore Partners suggests that Google may not meet Street's expectations for q/q ad growth, due to softness in desktop search, according to StreetInsider.com. The report suggests increased mobile usage is in part to blame.
01/02: Oppenheimer lowered its 4Q earnings estimate on Google from $11.20 per share to $9.62, according to a post on Barron's Online, based on the decision to sell its own tablet computer hardware and the resulting cost impact on margins and traffic acquisition costs (NYSE:TAC). The firm has a Perform rating and a $715 price target.
12/19: ARRIS Group and Google announced that ARRIS and Motorola Mobility, a Google subsidiary, have entered into a definitive agreement under which ARRIS will acquire the Motorola Home business from Motorola Mobility, for $2.35 billion.
Technical Review
Despite the broader market advance, Google shares have been retreating over recent weeks, losing about 5% since peaking near $740 at the start of the year. The shares are now hovering precariously above the 50-Day SMA near $700 - a key level to watch if earnings disappoint. The next support level is $680, with downside risk to $660 - just above the 200-Day SMA. A strong earnings release could push Google back toward the recent high near $740. (Chart courtesy of StockCharts.com)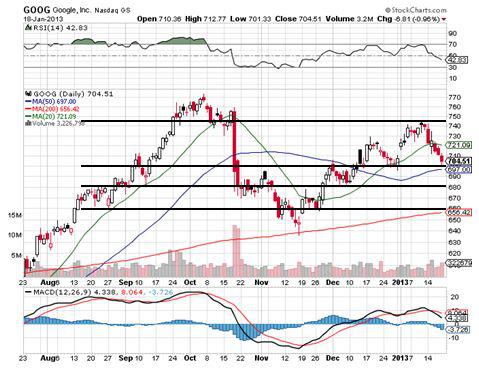 Summary
Google shares have come under pressure ahead of Tuesday's earnings release stemming from concerns over slower ad growth on the desktop and increased mobile usage. But with the shares having retreated over the past couple weeks, expectations have also subsided. Google is expected to deliver Non-GAAP Earnings of $10.54 per share. With the high estimate on the Street close to $12.00 and the memory of last quarter's steep sell-off in reaction to disappointing earnings, Google is in a good position to surprise the Street as it offsets potentially slower desktop ad growth with increased mobile usage, while Droid smartphones gather increased market share. A solid beat on earnings of >$11.00 may therefore be enough to propel Google shares back toward recent highs. If history is any guide, however, a miss could prove costly for the stock which is currently holding key support near $700.
DISCLAIMER: By using this report, you acknowledge that Selerity, Inc. is in no way liable for losses or gains arising out of commentary, analysis, and or data in this report. Your investment decisions and recommendations are made entirely at your discretion. Selerity does not own securities in companies that they write about, is not an investment adviser, and the content contained herein is not an endorsement to buy or sell any securities. No content published as part of this report constitutes a recommendation that any particular investment, security, portfolio of securities, transaction or investment strategy is suitable for any specific person.
Disclosure: I have no positions in any stocks mentioned, and no plans to initiate any positions within the next 72 hours. I wrote this article myself, and it expresses my own opinions. I am not receiving compensation for it (other than from Seeking Alpha). I have no business relationship with any company whose stock is mentioned in this article.