Citi (NYSE:C) reported 4Q12 GAAP EPS of $0.38. Excluding $1.0 billion in severance costs ($0.21 per share) and DVA loss of $485 million ($0.10 per share), operating EPS of $0.69 was still less than the consensus estimates of $0.96. This is Citi's first miss in the last four quarters.

Click to enlarge
Source: Yahoo Finance
Despite improving credit metrics Citi has yet to release mortgage reserves, citing continued political and macro uncertainty. However, the three consecutive quarters of improvements in home prices and continued declines in the unemployment rate seem to counter this conservative argument. We expect mortgage reserves releases to occur in 2013 as pressure mounts on Citi.
Excluding CVA/DVA and minority investments, consolidated revenues declined 4% sequentially but increased 8% Y/Y to $18.7 billion. Citicorp's revenues declined 4% to $17.6 billion, while Citi Holdings' revenues of $1.0 billion showed an increase of 6%.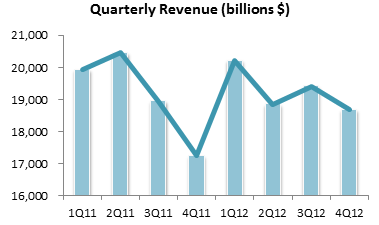 Global Consumer Banking ("GCB") revenues increased 4% Y/Y and 1% Q/Q to $10.25 billion. Stronger results in EMEA, Latin America, and North America drove the increase in revenue. Latin America revenues were up 7% Y/Y, EMEA 12% Y/Y, and North America 3% Y/Y.
Driven by seasonally lower market levels and lower FICC trading results Securities and Banking ("S&B") revenues witnessed a sequential decline of 14%. Excluding CVA/DVA loss of $510 million in S&B, core trading of $3.2 billion declined 62% Y/Y and 25% Q/Q. Transaction services revenues were up 1% Y/Y and flat sequentially.
Core operating expenses, excluding $1.3 billion of litigation expense and $1.0 billion in repositioning charges, were $11.5bn in 4Q12. The management believes this an indicative base for quarterly operating expenses going into 2013. Going forward, Citi Holding expenses should decline as assets decline. Citi expects to continue to pursue ongoing reengineering programs. Management expects to see $900mn of expense savings in 2013 related to Citi's previously announced repositioning actions, with full-year expense savings of $1.2bn beginning in 2014. However, management indicated that these savings will be offset by volume-related costs, as it seeks to grow client volumes in the low interest rate environment. Overall, management expects core operating expenses in 2013 to be lower than 2012 ($46.3bn). Legal costs can be volatile but 4Q12 will not be the new norm.
Net interest margin - Citi's net interest margin was 2.93% in 4Q12 (2.88% in 2012). The 7bps quarterly improvement was driven by improvement in Citi's trading book and lower funding costs, partially offset by lower loan yields. Net interest revenue also increased as growth in Citicorp NII offset the ongoing wind-down of Citi Holdings. Citi expects its 2013 net interest margin to approximate the 2012 level, with some quarterly fluctuations.
Capital - Tangible book value declined 3% Q/Q to $51.19 due to the dilutive impact of the issuance of 96 million shares of common stock. The Basel I capital ratios held stable Q/Q with the Basel I Tier 1 common ratio stood at 12.7% and the Tier 1 ratio stood at 14.1% as of year-end 2012. The estimated Basel III Tier 1 common ratio improved 10bps to 8.7% as of December 31, 2012.
YTD Citi is up 5.3%; compared to Citi Wells Fargo (NYSE:WFC) is up 2.2%, Bank of America (NYSE:BAC) is down 4%, whereas, JP Morgan (NYSE:JPM) has been the best performing stock among these large-cap banks YTD. JPM is up 5.7% in 2013.

Click to enlarge
However, 2012 was a much different story. Last year BAC was the best performing stock among these four large-cap banks. BAC gained more than 100% last year. Citi was the second best performer; the stock increased slightly more than 50% last year. In comparison JPM gained 28% in value last year and WFC increased 21%.

Click to enlarge
Citi has Price-to-earnings ratio of 16.9 compared to the industry average of 18.8. It has a PEG ratio of 1.1 and a forward P/E of 7.9, in comparison S&P 500 has a forward P/E of 13.3 Citi has a price-to-book ratio of 0.6 and price to sales ratio of 1.8, both lower than the industry averages of 0.8 and 2.0 respectively.
While 4Q was seasonally weak, a number of non-core items are expected to subside in 2013. Moreover on its first earnings call the new CEO Mike Corbat sent a strong signal to investors, suggesting further expense levers, aggressive wind-down of Citi Holdings, and a commitment to a higher stock price by earning a return on equity that does not "destroy shareholders capital".
We believe, going forward, Citi's presence in the emerging markets and the diverse range of products it offers should prove beneficial and provide it with a source of additional growth opportunities at attractive returns. Moreover, the housing market in U.S. is showing signs of improvement and the U.S. remains one of the strongest economies among the developed world.
We also believe the recent restructuring actions could be the beginning of Citi's review of expenses and resource allocations, and given the increasing focus on efficiency, more actions are expected in future. We have a buy rating on Citi. It has run down its legacy problem assets and moved toward a more customer-driven model, which should reduce its risk and free up capital. Citi's emerging markets presence provides another source of growth for the company.
For our analysis on Citi's growth opportunities in emerging markets, please read our earlier published article.
Disclosure: I have no positions in any stocks mentioned, and no plans to initiate any positions within the next 72 hours. I wrote this article myself, and it expresses my own opinions. I am not receiving compensation for it (other than from Seeking Alpha). I have no business relationship with any company whose stock is mentioned in this article.