In this article, I summarize the analyst expectations for ARM Holdings (NASDAQ:ARMH), give my view on what 2013 for the company is likely to look like qualitatively, and then my view on what kinds of reactions could be expected based on the different potential outcomes of the earnings report and full year 2013 guidance. My view is that the stock will move quite violently in either direction depending on the earnings report on February 5, 2013. Will it be a pin to pop the bubble, or will it push the stock to new, untold heights?
Analyst Estimates For Q4 & Full Year 2012
For the current quarter, the average estimate is $238M in revenues and $0.19/share in EPS. These figures represent 10% and 11% growth respectively. For the full year, the average estimate is $895M in revenue and $0.70/share in earnings. These come out to increases of 13.6% and 16.6% Y/Y, respectively.
Analyst Estimates For Q1 2013 & Full Year 2013
The guidance to look for with respect to Q1 2013 will be $243M or a 17% increase Y/Y in sales and earnings of $0.20/share, a 25% Y/Y increase. For the full year of 2013, sales are expected to be $1.10B with earnings of $0.88/share, or 16.3% and 25% increases, respectively.
Should these targets be hit, ARM would be trading, at current levels, at 60 times trailing twelve month ("TTM") earnings and 46 times expected 2013 earnings, a little closer to earth than today's 70 times earnings.
What Drove The Stock Up?
It is clear that the company is richly valued, but at the same time, the prospects of double-digit revenue and earnings growth is quite attractive, so investors seem willing to pay quite handsomely for this growth. However, with a high price, momentum stock such as ARM, expectations are everything.
After the last earnings report, in which the company met estimates across the board and issued very vague guidance ("in line with current market expectations"), the stock has been on a meteoric tear.
(click to enlarge)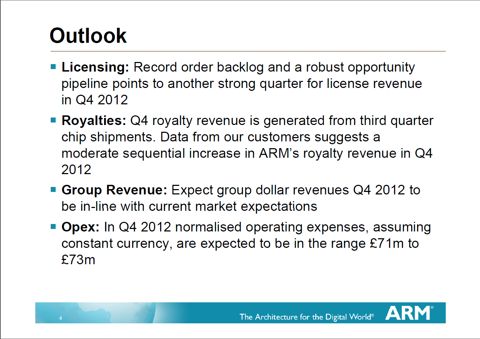 Click to enlarge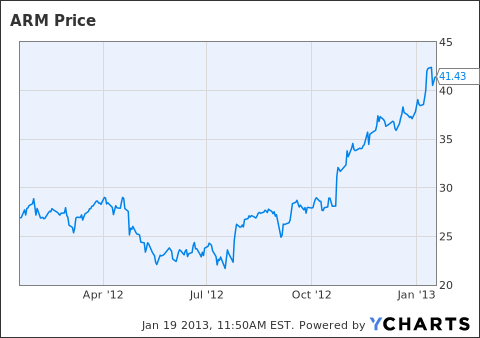 data by YCharts
I suspect that the stock's rise has been driven by the following major factors:
Momentum: With a growth stock like ARM, it is easy to keep the momentum going. The story behind ARM is quite unique (a monopoly in the CPU IP licensing market), so as long as sentiment is good and the momentum is there, the valuation metrics are more-or-less arbitrary.
Server Hype: The earnings report coincided nicely with the ramp up in hype around ARM's attempt to generate licensing revenue from the lucrative server processor market. The company announced its very first 64 bit core designs: the Cortex A53 and A57 as well as some licensees.
Windows On ARM: Microsoft released its "Windows RT" for the ARM instruction set architecture. There was widespread belief that this would help the ARM chip vendors such as Nvidia (NASDAQ:NVDA) and Qualcomm (NASDAQ:QCOM) meaningfully take share from Intel in the PC space. With Surface RT sales doing badly, and with Samsung "calling it quits" on its own Windows RT tablet, it is unlikely that this OS will see much traction in light of the Intel/AMD tablet chips that will run full Windows 8.
Safety: The company's business model is very "risk free" from a number of perspectives. Its licensees do all the hard work, and as adoption of its IP increases, the more "locked in" the licensees are.
The company has stated that revenue in servers will not be material until 2016, so it is likely that investors are projecting fairly robust growth to kick in at around that time frame. I believe, however, this gold at the end of the rainbow is likely to prove to be somewhat unsatisfying. Here is my math:
Assume the very best case scenario: Intel (NASDAQ:INTC) stops making server processors, IBM (NYSE:IBM) and Oracle (NYSE:ORCL) decide that big-iron server chips are a terrible idea, and a horde of small ARM-oriented startups take the entire server pie. Intel's server revenues came in at $10.6B in 2012, so let's assume a $15B pie by 2016 and ARM collects a 3% royalty off of all of it. That would be $450M in incremental revenue. This is a healthy 50% increase from 2012 revenues, but the growth from that point is quite limited.
ARM, on the back of this fanfare, gained over $4.5B in market capitalization, or 10 years' worth of total-market-share-dominance in the data center, further highlighting the completely irrational movement in the stock
However, Intel is not likely to lose significant share given how well it has dealt with competition in this space in the past (does anybody remember how MIPS (NASDAQ:MIPS) had a 64 bit architecture before Intel did? Or when AMD (NASDAQ:AMD) was taking share?), and the niche big-iron players (IBM, Oracle) will keep doing their things (although they actually seem to be losing share to Intel).
What Will Happen In Either Case
If ARM blows away the analyst estimates, then I suspect that we will start seeing some upward revision in the analyst price targets. Right now, the consensus price target from the sell-side analysts is actually $38.63 according to Yahoo! Finance, which means that the stock is already somewhat stretched.
However, if ARM merely comes "in-line" or perhaps even "misses", then analysts will start the downgrades, citing "valuation concerns". They will also probably start emphasizing the threats from both Intel and Imagination Technologies (which bought MIPS) as longer term threats to the valuation.
The point is: it is very easy to construct an extremely bearish or bullish case based on the sentiment, depending on what you want to focus on. That sentiment will largely determined by how well the company performs at this earnings report, and there will be a big move either way. How big of a move? Let's look at the options chain for the stock:
(click to enlarge)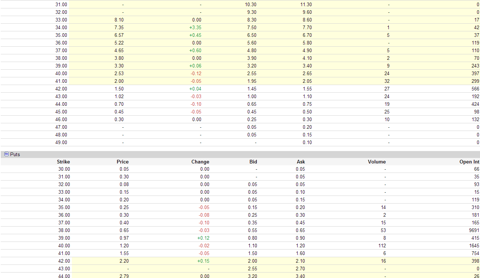 Click to enlarge
There seems to be a lot of interest in the February $38 puts with 9691 contracts outstanding. The contracts are trading at $0.65/each, meaning these investors expect the stock to close below $37.35 by expiration. On the call side, there seems to quite a hefty premium for even the $43 calls ($1.02/contract), although there isn't a particularly huge amount of open interest in those strikes.
So, what's an investor to do?
If You're Long...
If you are fortunate to have benefited from this run up and want to lock in profits before the earnings, then you have a couple of options:
Sell out-of-the-money covered calls. This will lower your cost basis, and in the very worst case, you sell your stock AND collect a premium at a higher price than it sits at today. This doesn't protect your downside in the case of a nasty gap down
Sell the stock. This is obvious.
Options Collar: Sell out of the money calls at a price you wouldn't mind selling your shares at and then use the premium to buy puts at a price that you would have "stopped" yourself out of to lock in profits in the case of a gap-down. This essentially limits the range of positive/negative outcomes for you.
Buy Protective Puts: Outright buy puts at a strike that you wouldn't mind locking your profits in at. This allows you to guarantee the right to sell your stock at a pre-determined price. So if you buy $40 puts and ARM gaps down to $25, you will be able to sell your shares at $40 to the guy who wrote you the contract. The risk here is that if ARM goes to $50, then you paid for some worthless puts (but benefit nicely from the upside move)
If You're Short...
If you think the bubble will pop, and have therefore initiated a short position in the stock, then you can do the following:
Buy Protective Calls: If you are short at $40, and the stock goes to $60, then you need to buy the stock at $60 to cover. The idea of buying protective upside calls is that you can, for example, buy $43 calls for $1.02/contract, limiting your downside to having to cover at $44. If the stock gaps down to $20, then you win on the equity short, but you're out $1.02/share for the insurance
Sell Puts: Suppose you're short at $40, and the stock is currently trading at $41.34. Then you can lower your cost basis by selling, say, the $39 March puts. This gets you premium of $1.85/share, and forces you to cover at $39. In the case the stock doesn't go below $39 by expiration, you still made the short profitable by making it as though you were short at $41.85 via the premium
Not Positioned Yet?
You're not yet positioned, but you want to make a directional bet. Well, here are some options (this is not exhaustive):
You Think ARM Is Going To The Moon...
Buy the stock outright, and perhaps buy a protective put to limit your downside against what could be a very violent move
Sell Puts at a strike price at which you would be happy to buy. Best case? The stock rockets up and you pocket the premium. Worst case? You are forced to buy the stock at strike - premium.
Sell Puts, Buy Calls: For example, you wouldn't mind buying ARM at $40, and think it's going above $45? Sell the February $40 put for $1.20 in premium (which could force you to buy the stock at $40) and then buy 2 $45 calls for $0.45 each. You net $0.30 in cash, and if ARM goes to, say, $50, you make a lot of money on the $45 calls AND got to keep some nice premium. The risk, of course, is that if ARM goes to $30, you are now obligated to buy the shares at $40 and blew away your premium on calls that expired worthless.
Bull Call Spread: For example, buy the $40 calls for $2.53 and then sell an equivalent number of the $43 calls for $1.02. If ARM goes to $45 by expiration, then those $40 calls will be worth $5 and the $43 calls will be worth $2, meaning your initial $1.51/contract outlay is now worth $3/contract, and you've doubled your money. Worst case loss is the initial $1.51/contract outlay if both options expire worthless.
I don't like the idea of buying calls outright here as they are quite expensive, but that, too, is an option.
If You Think ARM Is Going Down...
If you think the stock is poised for a downside delcine, then you can do some of the following things:
Buy Puts: If you believe that the massive run from the last earnings report is unwarranted, then it could be profitable to just buy some puts. For example, if you buy the $38 puts for $0.65 and then the stock craters to $35 by expiration, then your $0.65 investment becomes worth $3, nearly quadrupling your money.
Bear Put Spread: This is the mirror of a bull call spread, except with puts. For example, you can buy the February $39 puts for $0.97 and then sell the $35 puts for $0.25. The worst case is that you lose the initial capital outlay of $0.72, and the best case is that ARM closes at (or below) $35. At that point your $39 puts will be worth $4.00 + (35 - close price) and your $35 puts will be worth ($35 - close price). This means your initial investment of $0.72 will be worth $4.00, or nearly quintupling your money.
Short The Stock: Not the best idea. The market can remain irrational longer than you can remain solvent. With the options strategies, the downside is definied/limited, but if you short at $40 and the stock goes to $60, then you lose. Hard.
Don't Know The Direction?
You think ARM is going to move like crazy, but you're not sure in which direction. In this case, I recommend either of the two following options:
Strangle: Buy both a call option and a put option on the stock, with the same expiration date. These can be at different strike prices. So for example, if I think ARM either goes above $5 or goes sub $35, I would buy the $45 calls for $0.45/contract and then also buy the $35 puts for $0.25. My initial capital outlay is $0.70, and I benefit in the case of a violent move in either direction
Straddle: Similar to the strangle, but you buy the call and the put at the same strike. For example, I would buy the February $43 call for $1.02 and then buy the $43 put for $1.55. This leaves me with an initial capital outlay of $2.57, and if the stock doesn't move much by expiration, I'm out the entire thing. But if ARM goes to $50, then my $43 calls become worth $7 and my $43 puts become worthless. If ARM goes to $35, then my $43 puts become worth $8 and my calls become worth $0.
Disclosure: I am long NVDA, INTC. I wrote this article myself, and it expresses my own opinions. I am not receiving compensation for it (other than from Seeking Alpha). I have no business relationship with any company whose stock is mentioned in this article.
Additional disclosure: I am long ARMH puts.