Facebook (FB) recently introduced its new search tool that will allow its users to search their friends' profiles for information that they may find interesting; from movies to restaurant recommendations. This feature, which may put Facebook head-to-head with Google (GOOG) in general and Yelp (YELP) in particular, is one of the biggest developments in online search. However, it is only limited to the information that is present on the social network itself.
This new feature is a hybrid of searching the internet and in-site search, as it provides the user with an array of information Facebook has been collecting in the form of photo and personal data for over 955 million monthly active users. Providing so much information not only takes the social network to a whole new level, but it is also Facebook's first step into Google's territory. According to the social network, users will be able to search for complex queries linked directly to their friend's profile. In other words, they will be able to find out all the information that they need on the social network, and they may not even have to refer to Google.
Facebook will be sending users to Microsoft's (MSFT) Bing for queries that may not be available in Facebook's domain. Even if a small percentage of almost a billion people present on Facebook visit Bing, it will increase Microsoft's market share. According to comScore's recent data, Microsoft's market share in the U.S. increased to 16.2% - which represents 2.7 billion explicit core searches - for the month of November.
Although Facebook is heating up the competition for ad-revenues, I don't see any 'significant' threat to Google's revenues, at least in the medium term. Google gets a major chunk of its annual revenue from selling ads. According to eMarketer, in 2012, Google earned $13 billion in ad revenue only in the US, which makes a good portion of its total revenue of $40 billion. Moreover, comScore's data also shows that Google is slowly moving towards 70% market share. The information that is available on Google is unmatched, last year's modification allowed people to get detailed information about people and places and other direct answers, in addition to just links.
Google's social network, Google+ was integrated with Google's web-search service. This allowed users who seek information on a particular topic to get recommendation from their Google+ contacts. However, Facebook has a much bigger social network after it spent years encouraging users to add photos and all sorts of information to their profiles. Google+ has 135 million monthly active users but compared to Facebook's (almost) one billion users, Google+ is a very small player.
Currently, the new "Graph Search" is still in the testing phase, with access to only a limited number of users. The new development at Facebook's end will bring challenging times for internet firms like Yelp. The social networking giant has already put a dent on Yelp's stock through Facebook "Nearby." What Yelp does is that it gets recommendations from random people, which will always be overlooked when someone you know recommends the service.
The shares for Yelp have declined by 7% in the wake of the new announcement by Facebook. If the new "Graph Search" goes according to plan, it may well be a turning point for Facebook in terms of advertising revenue. The Facebook graph search will help advertisers with more personalized advertising opportunity.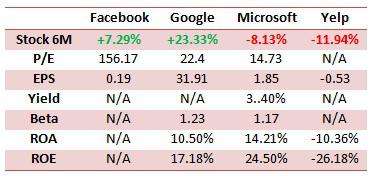 Facebook's shareholders weren't particularly impressed with the news, probably because they were expecting an even bigger development (a smartphone or a search engine maybe). In the last five days, the company's stock fell by more than 3.7%. Meanwhile, Yelp's shareholders are getting increasingly wary of Facebook's strategy. Since Facebook's announcement, Yelp's stock has fallen by 7.74%.
Yelp's stock was currently trading at $20.27. Not surprisingly, analysts at Northland have downgraded it to underperform and set a price target of $19.27 on the stock. On the other hand, Bank of America Merrill Lynch has recently raised Facebook's stock price target from $31 to $35 and I believe others will follow. MarketWatch gives an average price target of $31.77. Since Facebook's results are due at the end of January (in which the business is expected to show an increase in earnings), coupled with the new development of Facebook Graphs, the current dip has taken the stock down to $30.14 which is an opportunity for a 'buy'.
Disclosure: I have no positions in any stocks mentioned, and no plans to initiate any positions within the next 72 hours.
Business relationship disclosure: I would like to thank my colleague Mr. Safiuddin Razi, staff writer at Half Bridge Business Review for his support in writing this article. I am not receiving compensation for it (other than from Seeking Alpha). I have no business relationship with any company whose stock is mentioned in this article.