On January 17th, NPR's All Things Considered ran a story called "Homebuilding Is Booming, But Skilled Workers Are Scarce." It was yet another story adding to the evidence that the tightness of the market for construction labor is increasingly weighing on the outlook for homebuilders (I last directly addressed this four months ago in "Shortage of Labor in Some Housing Markets"). There were some very choice quotes in this piece that motivated me to dig one more layer deeper into the data.
David Crowe, chief economist of the National Association of Home Builders, asserts the following:
I have heard many reports from builders who say they can't hire enough people, they can't find subcontractors, they're unable to get the labor necessary to build homes that they do have on order - even at the low level of building that's occurring right now…
Crowe goes on to say that labor is tight throughout the housing supply chain. The immediate implication is that if housing activity picks up even a modest amount, the pressure on the supply chain could become intense. Prices would quickly rise and serve as a strong brake on housing activity. Indeed, Mike Holland, regional president for construction firm Marek Brothers, notes: "We can't get this industry working too fast too quickly, or prices would go out of sight…"
Suggestive evidence can be seen in the rising wages of construction workers despite flat overall employment levels. The wage data from the St. Louis Federal Reserve is for residential and non-residential construction workers, but I believe it is safe to assume that wage pressures are directionally consistent across job types. I look at non-seasonally adjusted numbers so I can contrast the cycles in the data.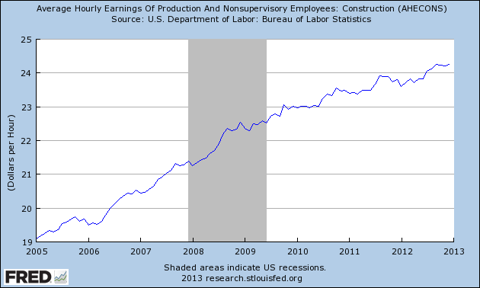 The recession did not stop the steady rise in average hourly wages for non-supervisory construction workers
Source for chart: St. Louis Federal Reserve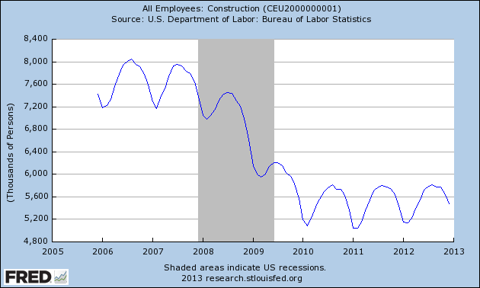 All construction employment fell quickly during the recession but has stabilized ever since
Source for chart: St. Louis Federal Reserve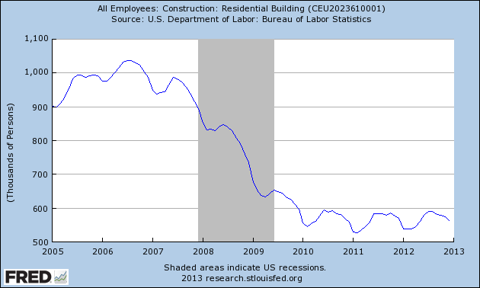 Same pattern when focusing just on employment in residential construction
Source for chart: St. Louis Federal Reserve
Holland says that the labor shortage is exacerbated by a reduction in training programs offered by housing companies. Jan Maly, CEO of a specialty contractor in Houston, claims that 60% of applicants do not pass drug tests and background checks. This claim struck a chord as it reminded me of a recent podcast on EconTalk featuring Becky Pettit of the University of Washington who, amongst many depressing topics, discussed the increasing percentage of adults with "low levels of education" who end up incarcerated or under the supervision of the penal system:
…from 1925 to about the early 1970s the prison population was very stable and at about 1 tenth of one percent of the population….what's happened over the last 35 years or so is that there's been this dramatic increase so that by 2008 that number was about 750 per 100,000…One in one hundred American adults is in prison or jail on any given day. If we include people who are under other forms of justice supervision [parole, probation], it's 1 in 31…

…people with low levels of education have historically been overrepresented in the criminal justice system, but that has increased quite dramatically over the last 35 years…one of the key features of this growth over the last 35 or 40 years is that those with low levels of education are more likely to be in prison or jail…
Of course, we cannot know how many of the men who fail background checks could cut it as construction workers; we also do not know the mix of the 60% who fail due to drugs alone. However, the demographic implications are important. Given existing trends, the prospects for an easing in this aspect of the labor shortage is not likely to change anytime soon. However, clearly, the high number of disqualifications was not as big a problem during the housing boom. Another element of the labor shortage is the departure of Mexican migrant workers from the pool.
The article states generically that many construction workers have returned to their home countries. Mexican migrants represent some large proportion of that number. According to the Pew Research Hispanic Center in "Net Migration from Mexico Falls to Zero-and Perhaps Less" (May 3, 2012), "Mexican-born immigrants are more likely than other immigrants to work in the construction, agriculture or mining industries (23% vs. 6%)." In 2012, net migration from Mexico dropped to near zero with the stagnation in construction jobs receiving a good portion of the blame (even if somewhat by correlation):
The standstill appears to be the result of many factors, including the weakened U.S. job and housing construction markets, heightened border enforcement, a rise in deportations, the growing dangers associated with illegal border crossings, the long-term decline in Mexico's birth rates and broader economic conditions in Mexico…

…Immigration from Mexico dropped after the U.S. housing market (and construction employment) collapsed in 2006. By 2007, gross inflows from Mexico dipped to 280,000; they continued to fall to 150,000 in 2009 and were even lower in 2010.
Given the mix of factors driving net migration toward zero, it is far from clear how easily this flow can or will reverse anytime soon. For example, if economic opportunities in Mexico are now much stronger, then it may take a significant upturn in the housing market to ignite the return of workers able and willing to go back into construction. If a notable portion of failed background checks is due to immigration status, then a reversal in flow is not likely to help unless it occurs through legal immigration like official job programs. (Pew estimates that about 51% of all current Mexican immigrants are "unauthorized.")
Overall, it appears that the tightening labor conditions in the housing market will not ease quickly or readily. Homebuilding sits right at the crossroads of changing demographics that are currently working against the industry. I have stated that 2013 will be the year to watch for the sustainability of housing demand which is bouncing off the bottom. Apparently, this will also be a year for monitoring the margins of homebuilders as/if demand strengthens.
The charts below compare gross and net profit margins across various homebuilders including current values versus 5-year averages. Notice that across the board, homebuilders have greatly improved margins since the housing bubble burst. However, there is much greater disparity in net profit margins than gross margins. I suspect the homebuilders with the strongest net profit margins - Toll Brothers (NYSE:TOL), D.R. Horton (NYSE:DHI), and Lennar (NYSE:LEN) - will be the most resilient in the face of rising cost pressures. Only TOL appears on my list of top five picks to buy in a pullback (see "Picking Homebuilder Stocks For 2013"). Clearly, I may need to revise my list if industry margins do get squeezed this year.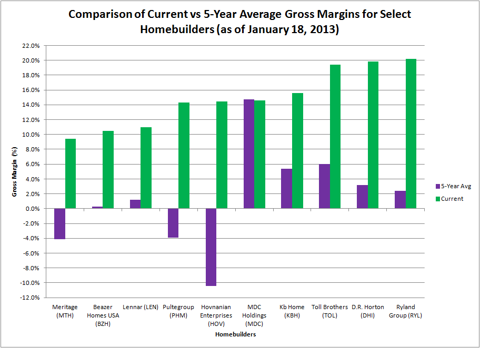 Comparison of Current vs 5-Year Average Gross Margins for Select Homebuilders (as of January 18, 2013)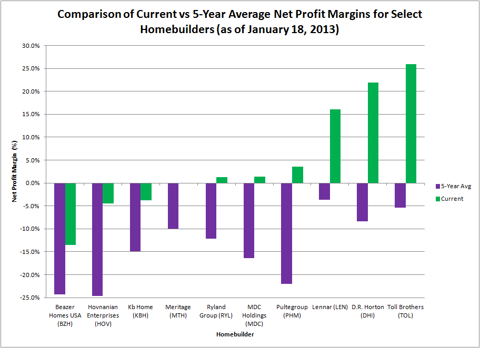 Comparison of Current vs 5-Year Average Net Profit Margins for Select Homebuilders (as of January 18, 2013)
All data from MSN Money (profit margins)
Be careful out there!
Disclosure: I have no positions in any stocks mentioned, and no plans to initiate any positions within the next 72 hours. I wrote this article myself, and it expresses my own opinions. I am not receiving compensation for it (other than from Seeking Alpha). I have no business relationship with any company whose stock is mentioned in this article.