With earnings season underway, the markets are running with the bulls, as we saw upward price moves in a variety of risk assets and sectors. There were a few laggards, to be sure, but the overall picture was of a market that likes what it sees. Let's dig into the details.
Economy: The last week's economic data was a mixed bag of good, bad, and a little bit of ugly. On the positive side, December retail sales came in better than expected, with autos a particular bright spot. Inflation remains nowhere to be seen with CPI flat and PPI actually negative (Core PPI, which excludes energy, was up ever so slightly). Also positive, industrial production and capacity utilization were just a shade ahead of expectations, and initial unemployment claims were lower than forecast.
On the bad side, January Michigan consumer sentiment was down from December, and well shy of expectations. Ugly might be better to describe the Empire manufacturing and Philly Fed numbers, both of which printed well into negative territory when positives were expected. New orders and order backlogs both contracted, and the average workweek fell quite sharply. The data put some short term uncertainty into a picture of ongoing slow economic growth.
Stocks: The S&P 500, Dow Industrials and Russell 2000 all gained in the neighborhood of 1% or better, and all three posted new highs. We had a Dow Theory buy signal as the industrials confirmed the breakout in the streaking transports, which are up more than 7% in 2013. Among the major indexes, the laggard was the NASDAQ, held back again by Apple (NASDAQ:AAPL), which went to a new near term low Tuesday, and closed the week exactly at $500.
Most of the S&P economic sectors were positive, led by energy and industrials - both up better than 2% - and consumer discretionary, which came just behind. The only losers were the slumping telecoms, which dropped nearly another 2% on the gloomy outlook delivered by AT&T (NYSE:T), and the tech sector, where Intel's (NASDAQ:INTC) poor Q4 numbers resulted in a 6% drop in the shares, adding more pressure to a weak tech outlook.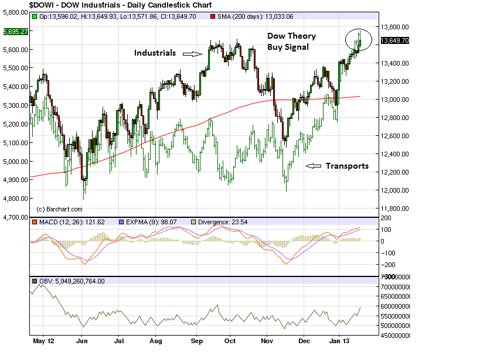 Turning to global markets, ten of our twelve major country equity indexes posted weekly gains, led by the Shanghai Composite with a 3.3% advance. Japan's Nikkei eclipsed the February 2011 pre-tsunami high. The losers for the week were Germany's DAX Composite, as data showed the German economy contracted in Q4, and Korea's KOSPI index.
At this point we have a confirmed breakout, and although the market is starting to read overbought, it is not dramatically so. The VIX has been swinging wildly, and last week plunged to multi-year lows. There are some nagging worries, and my sense is that we could get a correction at any time, but the trend continues to be up, with economically sensitive sectors, small caps and emerging markets leading the way. It's hard to make a case for not being bullish here.
Bonds: Treasury yields chopped around a fair bit but ended little changed over the course of the entire week. The long bond came back to test 3% and briefly traded with a 2 handle Wednesday and Thursday, before closing at 3.03%. Inflation, as noted above, remains benign, and the bond market remains calm.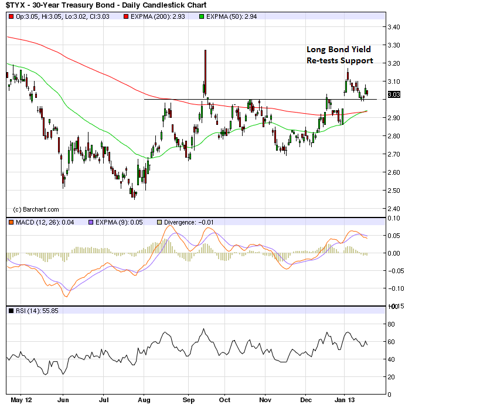 Corporate bonds continued a recent trend of narrowing spreads between investment and lower grades, as investors continue to pile into junk while investment grades sell off modestly. Municipal bonds continue to rally off the December low. Overall, the picture in bond land continues to be relatively steady.
Commodities: As with the major equity indexes, we saw the S&P GSCI commodity index extend its recent rally, as oil pushed up to $96 a barrel. Oil is now in a price zone that was resistance last summer, and volume dropped off on the way up, so there has to be some question as to whether this move has legs. Gold tried to follow to the upside, testing its 50 day moving average Thursday and Friday - and failing both days. Look for gold to make another run at the 50 day, and the nearby $1,700 level. Whether it can get through could set the tone going forward.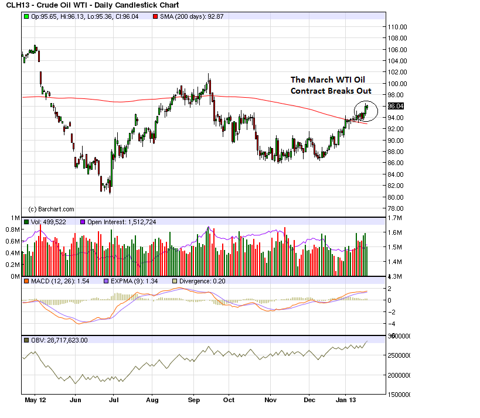 Copper also tested its 50 day from the top side, and held. Copper seems to run into strong resistance at $3.70 and like gold, shows little indication of momentum in either direction. The grains and some of the softs extended their rallies after slumping through the latter part of 2012, except for sugar which continues to make new lows.
Currencies: The normally sedate currency markets have been a rather exciting place of late. The dollar index, which had pulled back sharply the previous week, traded with a modest upward bias, closing back above 80. The euro pulled back slightly after making a new high just under $1.34 Monday. For the second consecutive week the plunging yen put in a counter trend bounce before moving to new lows. Most interestingly, the Swiss franc pulled back, and is showing real separation from the euro.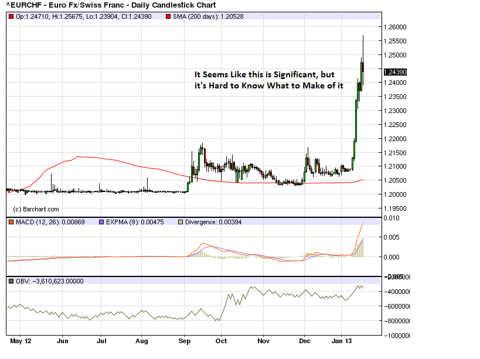 While this is no doubt a relief to the Swiss National Bank, which has bought huge amounts of euro-denominated assets in its effort to maintain the floor of 1.20 CHF to the EUR, it is difficult to know what to make of it. The preponderance of commentary seems to suggest that the move in the franc is signaling a reduction of the flight to safety trade in Europe. This is difficult to square with the reality that nothing much is resolved, and the larger eurozone economies continue to struggle to generate any kind growth.
Key Takeaways:
With new highs on several major indexes and volume building on the way up, my outlook for equities remains bullish - but we could see a minor correction at any point
Oil is breaking out, but gold is approaching a point where it should soon break out - or break down
The currencies are really moving around, so investors would do well to pay attention
Disclosure: I am long INTC. I wrote this article myself, and it expresses my own opinions. I am not receiving compensation for it. I have no business relationship with any company whose stock is mentioned in this article.