Introduction
Approximately 7 months ago, I wrote an article about Philip Morris (NYSE:PM), detailing the company and 3 potential catalysts for long-term growth. Much of this thesis still holds. The company remains strong due to Philip Morris' continued pricing power, growth in areas with lower taxes, and other attributes. However, a few very noteworthy items have changed. The company's free cash flow has declined and it may remain stunted for some time. More significantly, valuations have become too rich. Consequently, while Philip Morris' long-term prospects are strong, it is currently priced too richly, and below average returns are likely.
Continued Strengths
The idea of geographic shift driving bottom and top line growth is still valid. This can be illustrated by the company's 2012 vs. 2011 results for 9 months (left columns) and 3 months (right columns) from the company's most recent 10Q:

At first glance, it appears that excise taxes and net revenues have risen or fallen hand in hand. However, this ignores the fact that over both the 1st quarter and 3rd quarter time frames, excise taxes on its products have increased in certain areas. The shift to lower excise tax areas offsets these increases.
Asia and the Eastern Europe, Middle East and Africa (EEMEA) markets remain strong. Over the past 9 months, the Eastern Europe, Middle East and Africa market increased operating income 13.0% or $323MM thanks to boosts from price increases ($365MM) and favorable volume and mix ($233MM). Asia had operating income increase 7.1% or $268MM over the past 9 months, primarily due to price increases totaling $393MM. Volume/mix and actually hurt Asia, but this was primarily due to the "Japan Hurdle," which when one excludes, shipment growth volumes in Japan go from -10.5% to 3.0%. In many of these countries, Philip Morris already has significant market share. For example, in Indonesia its market share is 34%, and market share in Russia is 26.3%. Similar figures exist for the other markets. There is certainly room to increase market share, but it appears that the main drivers of growth for the company in these regions will be continued pricing power and overall market growth.
Shift towards premium cigarettes has continued. Parliament volume grew disproportionately, up 10.7% yoy. Lark volume is down 16%; however, this is primarily due to the steep fall due to the Japan hurdle. While higher pr­­ices do imply larger excise taxes, net they do provide a boost to the bottom line.
An apparent risk of the company is exposure to various currencies; however, the impact of currency changes is not as great as it appears upon first glance. For example, changes in currency, namely strengthening of the dollar, hurt the company's net revenue after excise taxes by $1.2B over the first 9 months. But the strengthening of the dollar decreased cost of sales by $474MM, and SG&A by $253MM, so that operating income was only negatively impacted by $496MM, according to the 10Q. After applying the company's recent tax rate of 30%, net income was impacted by less than $350MM or a little more than 5%. While this is not a negligible amount, it shows that intrinsic features of the business naturally hedge against currency risk.
Cash Flow Difficulties
The statistics above imply that operating income grew 7% yoy on a currency neutral basis vs. the stated 2% yoy. However, more recent results are more negative because operating income declined over the past 3 months by 1.5% including currency or increased only 2.5% on a currency neutral basis. If these results were to continue, the company's bottom line will grow much slowly.
These poor recent results are largely the result of deterioration in Europe. Over the past 9 months, revenue and operating income have fallen over 10% in this region; these drops are even over the past 3 months. Over the long run, Europe will stabilize as people will continue to smoke cigarettes. Over the short and intermediate term, this weakness, which shows no sign of reversing soon, caused free cash flow ttm to fall from $10.35B last year to $7.684B currently. Growing dividend payments and share buybacks, the main ways PM has rewarded shareholders, are only sustainable if the company grows its bottom line. This is especially true given that the company paid out more in dividends and share buybacks over the past 9 months than it generated in FCF.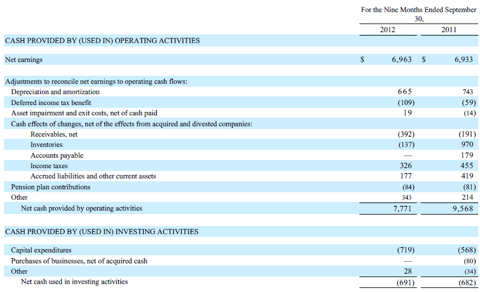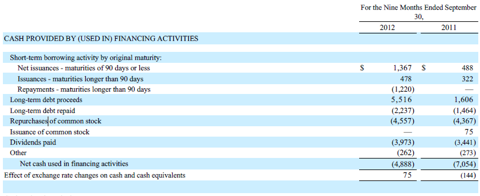 In fact the company's FCF was approximately $1.5B less than this amount. To meet this shortfall, the company increased its net debt issuance to over $3B for the past 9 months. This contrasts to a net debt repayment in the same period during the prior year. In the first 9 months of 2011, however, the company's FCF was over $1B greater than its dividend payments and share buybacks. This excess amount of FCF allowed the company to raise its dividend over 10% in September. However, if the company's lackluster results continue, PM may not be able to increase the dividend. If PM did without achieving bottom line growth, PM would have to issue more debt to reward shareholders, an unsustainable cycle.
For most companies, the lack of a dividend increase in 9 months would not be a big deal; but for a security that has gained popularity for consistently increasing dividend payment to owners attracted by income potential, no increase of dividend payments could shake investors' confidence and send the stock down.
The company claims that "The unfavorable movements in working capital were due primarily to the following: more cash used for inventories ($1.1 billion), primarily due to the planned replenishment of tobacco leaf and clove inventories and higher finished goods inventories (primarily related to forestalling attributable to tax-driven price increases)." What the company doesn't clarify is that this $1.1B change is relative to the results of the year before, in which inventories boosted cash flow by over $900MM. In reality, inventory growth has only hurt the company's cash flow by $137MM so far this year. Even if it were a $1.1B impact, this still would not close the difference between FCF, and dividend and buyback payments. Furthermore, for a company that over the long term ships more tobacco, inventories should grow.
Consequently, FCF, which has not been significantly artificially impacted by recent changes in working capital, will likely grow slowly due to European weakness. This, combined with current overextension of shareholder rewards, poses problems to future dividend growth which could drive investors out of the stock and the price to fall.­
Valuations
Evidence that investors have piled into the stock can be seen quantitatively and qualitatively. If one looks at PM's home page for Seeking Alpha, or other sites, dividend is one of the most commonly associated terms with Philip Morris as seen below: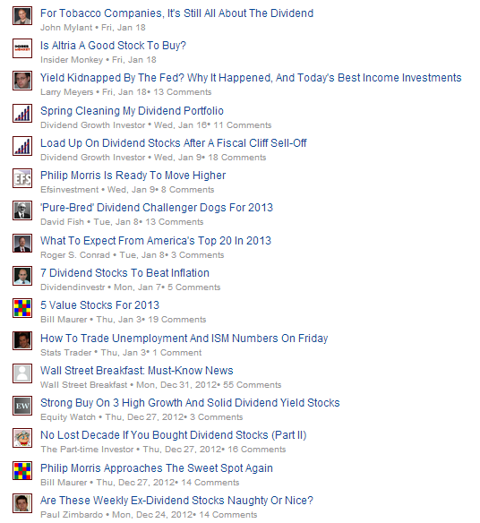 source: PM Seeking Alpha Home Page
The fact that there is so much discussion about PM's dividend implies this investment idea has already played. This hype has caused PM's valuations to rise as seen by the historical P/E ratio of PM and its competitors (Lorillard (NYSE:LO), Reynolds American (NYSE:RAI), Altria (NYSE:MO) and British American (NYSEMKT:BTI)):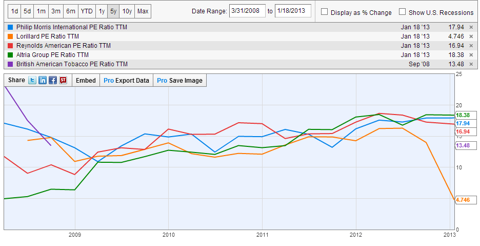 Source: ycharts.com
There was a glitch in this graph and Lorillard is actually trading at a P/E ratio of 13.82 as of 1/18/13. This chart illustrates a couple of ideas. Valuations of the industry as a whole have steadily risen over the past 5 years from approximately 13-14 in the beginning of 2010 to about 16-17 today. Part of this could be attributed to the revival of the economy; however, this largely occurred from 2008 to 2010. There have been no major changes in the industry that would warrant all the companies receiving valuations that are 20+% higher. While there could be other explanations, the only readily apparent and plausible explanation is that investors have fled to high dividend stocks because of the low yields currently offered by treasuries to achieve current income in volatile times, and because some investors believe high dividends indicate a strong company, a highly flawed premise. Investors may have also fled to PM in particular because it is so well known. It is difficult to predict when this yield pig behavior will change; however, a significant run up in the valuations of dividend paying stocks to this degree is unlikely because of prior valuation expansion, making future returns lower than past returns. Furthermore, the recent increase in dividend taxes could accelerate a shift out of dividend stocks.
Further evidence of the richness of PM's valuations comes in the graph of its historical FCF yield over the past 5 years.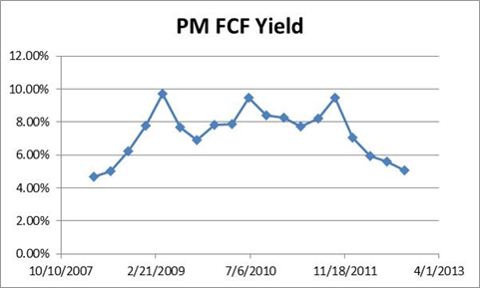 If even one were to take the company's generous $1B estimate of negative impact of inventory on working changes and add that back, the FCF yield is still below 6%, well below average over the past 5 years. For a mature company whose value is derived from its ability to pursue buybacks and pay dividends, a historically low FCF yield is concerning. In fact given the recent struggles to generate FCF that are likely to continue, the company should likely trade at a discount to historical levels.
Finally PM appears expensive on a relative basis as illustrated by the chart below: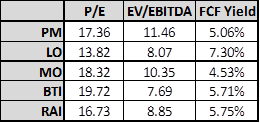 Sources: ycharts.com; yahoo finance
PM is the most expensive on an EV/EBITDA and FCF yield basis. The EV/EBITDA metric is important for this industry given that these companies generally do carry appreciable amounts of debt. One could argue that PM should command a premium to competitors. This implies that PM would represent a strong investment when it is trading at a discount to peers; given that this premium already exists there is no valuation gap to close. Since the industry as a whole is trading at a historical premium, valuation compression is much more likely, making Philip Morris an asymmetrical bet with greater downside than upside.
Conclusion
Philip Morris remains a strong company. PM is poised to take advantage of secular trends such as shifts towards lower tax areas and brand tradeups, while still leveraging its impressive infrastructure and pricing power. This performance along with the company's dividend payments has encouraged investors to pile into the stock, driving up valuations. Consequently, the stock has become expensive on a historical basis and relative to peers. These high valuations could be unsustainable, especially if recent weakness in the company's ability to generate cash flow prevents the company's typical dividend increases. While PM represents a poor short because long-term prospects remain positive, the stock's current valuations likely sets the company up for below market returns in the future, making other equities better investments.
Disclosure: I have no positions in any stocks mentioned, and no plans to initiate any positions within the next 72 hours. I wrote this article myself, and it expresses my own opinions. I am not receiving compensation for it (other than from Seeking Alpha). I have no business relationship with any company whose stock is mentioned in this article.
Additional disclosure: I recently sold my position in Philip Morris.