NuPathe, Inc. (PATH), the Conshohoken, PA based biotech company received FDA approval for Zecuity on January 17, 2013. This marks the company's first FDA approved product. Zecuity is a transdermal patch which delivers sumatriptan for the acute treatment of migraines with or without aura in adults. Zecuity has been shown to provide relief of migraine headache pain and migraine-related nausea. Zecuity is the first and only FDA-approved migraine patch.
Investors who got in on the IPO in August 2010 are probably experiencing investing headaches as the stock made its debut at $10 and is now trading at only $3.30. This raises the question of how to value NuPathe's stock. Was the IPO overpriced and does the market have the current price at a fair or undervaluation? Let's dig into the details to arrive at this answer.
Zecuity was approved based on Phase 3 studies that included 800 patients using over 10,000 patches. The trials demonstrated that Zecuity was proven safe and effective at treating migraine and relieving its related symptoms (headache pain, migraine-related nausea, and sensitivity to light and sound) two hours after patch activation.
Zecuity is a single-use battery powered patch that is applied to the upper arm or thigh during a migraine. Once the patch is attached, the transdermal delivery is initiated when a button is pressed. The microprocessor within Zecuity monitors skin resistance and adjusts drug delivery accordingly to ensure a 6.5 mg dose of sumatriptan over four hours. Sumatriptan is the most widely prescribed migraine medication with minimal patient to patient variability.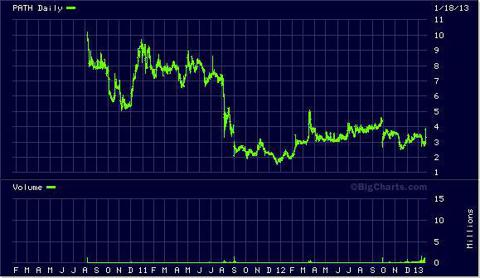 To understand NuPathe's valuation, we need to get a grasp on the potential market size for Zecuity. More than 37 million people suffer from migraines in the United States. Sixty-three percent have one or more migraines per month. Seventy-three percent of migraine sufferers reported nausea as a symptom, while 29% reported vomiting as a symptom. The high amount of migraine patients suffering from nausea is good for NuPathe as Zecuity is effective in relieving that symptom. Many patients may now be more inclined to use the patch over an oral pill for this reason.
I think it would be wise to make a conservative estimate of the actual market penetration rate to gauge Zecuity's market potential. First, since 73% of migraine sufferers experience nausea as a symptom which is addressed by Zecuity, that brings the 37 million sufferers down to 27 million. I'll estimate that Zecuity will account for 5% of the 27 million U.S. migraine sufferers. This gives us an estimated market size of 1.35 million.
The actual price of Zecuity is not currently known. However, the costs are known for the nasal spray form of sumatriptan which would be the closest competition for Zecuity. Patients pay more for the nasal spray if they experience nausea when taking the less expensive pill form. The average monthly cost for a migraine patient taking two doses of the nasal spray form of sumatriptan per month is $100. Therefore, I'll use that figure as a realistic price for Zecuity. If the annual cost is $1200 per patient multiplied by the market size of 1.35 million, then the potential peak revenue is about $1.62 billion.
The caveat is that NuPathe is seeking a partner company to commercialize Zecuity. This means that NuPathe will most likely end up receiving a royalty rate for Zecuity's sales. Although this rate is to be determined, we can estimate that NuPathe will receive 10% of Zecuity's sales. This provides peak sales of $162 million for NuPathe. If the company had a market cap of $162 million, it would have a stock price of $10.98 based on 14.75 million shares outstanding. Therefore, it appears that the company's IPO was priced for future peak sales, which didn't leave much room for price appreciation.
It would be different if NuPathe had one or more product candidates in development Phases 1, 2, or 3. However, its two products under development are still in the pre-clinical stage of development and could be many years away from being approved. Those drugs, NP201 for Parkinson's and NP202 for schizophrenia and bipolar disorder, cannot be used to value the company at this time. Knowing this, it appears that the IPO was overpriced at $10.
On the other hand, the current price of $3.30 looks attractive as the stock is trading at less than a third of my estimated peak sales price of $10.98. Zecuity is currently expected to be launched in the fourth quarter of this year. Therefore, 2014 is on target to be the first full year of sales for Zecuity. The average analyst 12-month price target for NuPathe is $6.50. That price would give NuPathe a market-cap of about $96 million. With an FDA approval for Zecuity under its belt, NuPathe looks like a buy at current levels.
Disclosure: I have no positions in any stocks mentioned, and no plans to initiate any positions within the next 72 hours. I wrote this article myself, and it expresses my own opinions. I am not receiving compensation for it (other than from Seeking Alpha). I have no business relationship with any company whose stock is mentioned in this article.