Oceana (OTC:OCGPF) is an Australian based gold miner with producing mines in New Zealand and a newly constructed mine in the Philippines, Didipio, which is in the commissioning stages. The company recently released its fourth quarter and annual production figures and results illustrate the importance of the Didipio project to the company.
On a quarter-over-quarter basis total production increased by 16.8 percent from 65,750 in Q4-2011 to 76,844 ounces in Q4-2012, however, full year production decreased by 7.7 percent from 252,499 ounces in 2011 to 232,909 in 2012. The annual declines in production are primarily due to the company's aging mines and therefore, the declining rates of production. This phenomenon illustrates the importance of Didipio as an essential component in the company's growth profile going forward.
Thus far progress with Didipio is encouraging. The company completed the construction of the project in the Philippines and is now in the commissioning stages, reaching annualized plant throughput rates of 2.4Mtpa thus far, with the objective of eventually achieving an annualized rate of 3.5Mtpa. Recoveries have also been encouraging, reaching more than 80 percent for gold and more than 85 percent for copper. Going forward, the company is expected to continue to ramp up throughput as the commissioning phase of the mine continues, while tackling issues that usually rise when a new mine is brought on to production.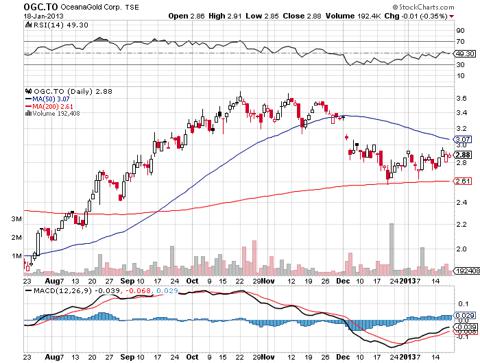 When reaching full commercial production, Didipio is expected to generate 100,000 tonnes of gold and 14,000 tonnes of copper in concentrate. To shareholders this creates value on two fronts. First, the increased production of gold will increase the company's ability to generate revenues and earnings per share. Second, due to the significant amount of copper production, gold production from Didipio is expected to be negative (net of copper credits), which will decrease the cost per ounce the company produces across all its mines. Given that the company is currently considered a high cost producer (2012 costs are estimated at $940 per ounce), the future declines in costs per ounce produced and the overall increase in production levels is a valuable combination that should generate share appreciation for shareholders as Didipio continues to show its full potential quarter after quarter.
Disclosure: I have no positions in any stocks mentioned, and no plans to initiate any positions within the next 72 hours. I wrote this article myself, and it expresses my own opinions. I am not receiving compensation for it (other than from Seeking Alpha). I have no business relationship with any company whose stock is mentioned in this article.