Market strength or weakness is identifiable by examining Bullish Percent Indicators as illustrated in this link to the NYSE. Seventy-four percent of the stocks within the New York Stock Exchange (NYSE) are currently showing a bullish signal as illustrated by Fastenal (FAST). Note the X's in the right-hand column of the Point and Figure graph. The following data table shows the condition of seven broad U.S. markets. Every market is showing X's in the right-hand column which means each index is bullish or the offense has the ball.
While every measured index is showing strength, there is cause for concern as five of the seven indexes are in over-bought territory. Over-bought occurs when over 70% of the stocks within the index are bullish. Eventually reversion-to-the-mean sets in and bullish stocks turn bearish.
In the table below each row shows the percentage of stocks that were bullish in a particular index for a particular week. While it is important to note the specific value for a given week, changes from week to week are also vital, particular when a major market moves from offense to defense or vice versa. This happened last week with the DJIA.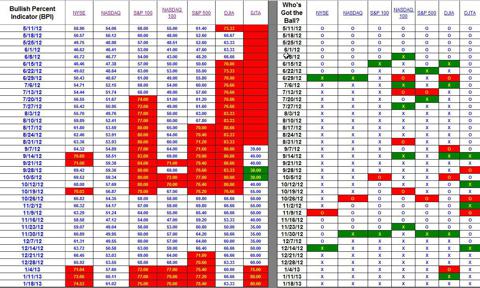 The following data table breaks the market down into ten sectors. As might be expected when the major indexes are strong, the same is true for individual sectors. However, this week Staples moved from offensive to defense. While this sector shifted the ball over to the defensive team it does not necessarily follow that a staples ETF such as VDC will also show O's in the right-hand column. The individual ETF is showing the price movement of all the stocks within VDC while the sector BPI is measuring the percentage of stocks that are bullish within that sector.
Only the Staples and Utilities sectors are bearish this week. Of greater concern is the high percentage of stocks that are bullish in all the sectors. Eight of the ten sectors are in over-bought territory, so caution is in order.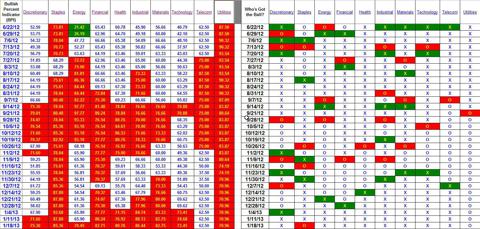 Disclosure: I have no positions in any stocks mentioned, and no plans to initiate any positions within the next 72 hours. I wrote this article myself, and it expresses my own opinions. I am not receiving compensation for it (other than from Seeking Alpha). I have no business relationship with any company whose stock is mentioned in this article.
Additional disclosure: Significant tickers are: VTI, GTU, VNQ, and VWO.