Over the past four years the following 12-ETF portfolio outperformed the S&P 500 by over 250 basis points per year with significantly less risk. Before looking at the 12-ETF make-up of the "ITA Dozen" let's examine the goals for this portfolio.
Show a projected return that is 100 basis points higher than that projected for the S&P 500.
Bring the projected risk (standard deviation) in under 15%.
Diversify widely all over the world.
Include inflation protection investments.
Set up the percentages in each asset class so they are sufficiently large to make a difference, but not so large as to make too much of a difference in portfolio movement.
Include high quality government backed securities such as [[

TIP]]

and [[

TLT]]

.
Have an equity orientation vs. a bond orientation.
Skew U.S. Equity holdings toward value vs. growth.
QPP Analysis of ITA Dozen: In the following analysis, the projected return for the S&P 500 over the next six to 12 months is 7.0% annualized so the following portfolio meets that goal. The projected standard deviation is expected to be a little under 15%, meeting the second goal.
The portfolio is global in outlook, both in equities and real estate. An anti-inflation component is present with a 10% allocation to gold (NYSEMKT:GTU) and commodities (NYSEARCA:DBC). The REITs holdings should also help to counter inflation.
In keeping with Fama-French research, we allocate a significant percentage (15%) to small-cap value using the IWN ETF. If one eliminates corporate bonds (NYSEARCA:LQD) and moves that 5% to TLT the overall performance increases without damage to the overall portfolio risk.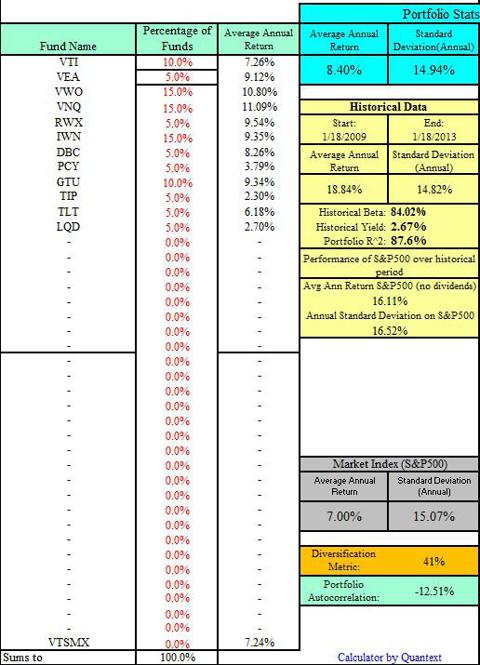 Correlation Matrix: The Diversification Metric comes in at 41%, or exceeding the goal of 40%, due to six of the twelve ETFs having a moderate to low correlation with this asset allocation plan. It is not unusual to see equity oriented ETFs show correlations of 80% or higher. Portfolio volatility is tempered with ETFs such as PCY and GTU are added to the mix of assets.

Even when a portfolio carries a high volatility percentage, it is possible to reduce risk by employing the ITA Risk Reduction model (ITARR). This is a modification of the Faber-Richardson model described in their Ivy Portfolio book, and the ITARR is being used with five portfolios tracked on the ITA Wealth Management blog.
Disclaimer: While a portfolio performed well over the past four years, it is no guarantee it will do as well in the future.
Disclosure: I am long VTI, VEA, VWO, VNQ, RWX, IWN, DBC, PCY, GTU, TIP, TLT, LQD. I wrote this article myself, and it expresses my own opinions. I am not receiving compensation for it (other than from Seeking Alpha). I have no business relationship with any company whose stock is mentioned in this article.