Shares of 3M (NYSE:MMM) should continue to perform well due to favorable valuation levels, above average growth rate, stable business, solid free cash flow, share repurchase, and increase in dividends. Since my last discussion of 3M, on October 18, 2012, the share price is up less than 5% or similar to the performance of competitor Xerox (NYSE:XRX) and the S&P 500 index, but clearly outperforming General Electric's (NYSE:GE) downward slide of about 3% (see graph). The Ceradyne acquisition was completed in the fourth quarter and after the company reports its Q4 2012 results later this week, investors' understanding and perhaps confidence in 3M common stock should improve. Below are a few factors that could drive 3M's shares higher in 2013 and beyond.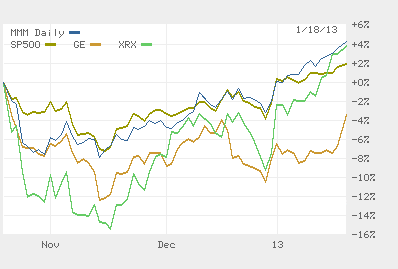 Valuation
3M has 700.8 million shares outstanding for a market capitalization of $69 billion and an enterprise value of about $70 billion with the shares yielding 2.4%, based on the recent stock price. The company should earn about $1.55 per share in the fourth quarter. This estimate is higher from the one given by the company as performance should be helped by higher demand for 3M products from hurricane Sandy and housing improvement in the U.S., thus, earning $6.45 per share, above the company's range of $6.27 to $6.35 per share.
Looking further forward, 3M expects to grow earnings between 9-11% per year in the next five years. It estimates it will earn $6.70 to $6.95 per share in 2013, for a price to earnings ratio based on 2013 earnings of 14.8 to 14.2. This is more expensive than the forward looking price-to-earnings ratios for Xerox, GE, and the S&P 500 Index of 6.8, 11.6, and 12.9, respectively. The higher price to earnings could be well justified as 3M has a lower beta than the market of 0.9 compared to betas of 1.6 for Xerox and GE and many investors prefer less volatile stocks, especially in times of uncertainty. Below is a table that compares a number of valuation measures for 3M, Xerox, GE and the S&P 500.
| | | | | |
| --- | --- | --- | --- | --- |
| | MMM | XRX | GE | S&P 500 |
| Market Capitalization* | 69 | 10 | 232 | 12,741 |
| Enterprise Value [EV]* | 70 | 18.5 | 578 | n/a |
| Beta | 0.9 | 1.6 | 1.6 | 1 |
| Price-to-earnings (2013) | 14.5 | 6.8 | 11.6 | 12.9 |
| Price-to-book value (tangible) | 8.1 | 14.4 | 6.2 | 4.6 |
| Operating Margin | 21.6% | 6.4% | 11.8% | 15.6% |
| EV to Cash Flow From Operations | 13.2 | 8.7 | 19.8 | n/a |
| Dividend Yield | 2.4% | 3.0% | 3.6% | 2.2% |
*In $ billions.
2013 Outlook
3M expects to pay out $1.7 billion in dividends in 2013 and repurchase shares for about $2-$3 billion (or $1-$1.5 billion net of re-issuance). The company should continue to grow its sales organically in the single digit range and from acquisitions as it is currently integrating its 2012 acquisitions and expects to spend about $1-$2 billion on acquisitions in 2013. From a cost standpoint, raw materials represent about 50% of cost of goods sold and 3M expects flat prices for raw materials in 2013. Even if raw material prices rise, due to higher economic activity, it is not necessarily a negative for 3M as the company would also benefit from more demand for its products and services. Further, pension plan contributions, which accounted to about $1 billion in 2012, are estimated to decrease to approximately $500 million this year. This is a significant tailwind for 2013 compared to 2012.
As the company is moving more operations abroad to reduce its tax expenses, its profitability could surprise on the upside in the future. In addition, 3M has recently repositioned its segments from six major segments to five, including:
Consumer - Includes the brands Scotch, Post-it, and Filtrete, among others

Industrial - Specialty materials, adhesives

Health Care - Medical and oral care, drug delivery, health information systems

Safety and Graphics - Personal protective, graphic solutions

Electronics and Energy - Renewable energy solutions, electronic devices, telecommunication networks
The realignment of 3M's business segments will enable management to prioritize more efficiently, make decisions more easily as well as provide greater size and scale by reducing the number of segments by one. It seems like the company begins 2013 on strong footing with significant operational changes and cost improvements that could contribute to top and bottom line surprises in the coming months.
While controlling costs is important for an industrial and consumer company, what has been driving 3M has been its ability to innovate and commercialize new products and services that its scientists develop. Some of the latest innovative products include 3M's library cloud, its reverse osmosis water filtration system for artisan coffee shops, and innovative light bulbs.
The company spends about 6% of its sales on research and development. In addition, it allows employees to take "innovation time-off." In fact, the post-it note was invented during one such period of innovation time-off. 3M is currently building a new science and technology hub near its headquarters in St. Paul, Minnesota. When completed, sometimes in 2015, it will have the capacity for 700 scientists to work there. Also, the recent acquisition of Ceradyne provides technology know-how in advanced ceramics.
Conclusion
About two-thirds and one-third of 3M sales are from international and emerging markets, respectively. While the U.S. and many developed markets are experiencing slower growth, 3M is well positioned to benefit from higher growth in emerging markets such as Latin America (Brazil and Mexico especially), China and Africa. While the shares are not cheap, 3M is a relatively stable company that also pays an above average dividend rate.
As the company continues to grow, both organically and through acquisitions, while also controlling costs well and emphasizing innovation, there is a significant chance for an upside surprise in sales and/or earnings. This could translate in a rising share price. There are risks, such as stagflation (a combination of high inflation and unemployment and low economic growth) and currency fluctuations, but these are risks that affect every international company. 3M has a strong balance sheet, diversified portfolio of products and services, a global reach, and overall is well positioned to endure economic turbulence.
Disclosure: I have no positions in any stocks mentioned, and no plans to initiate any positions within the next 72 hours. I wrote this article myself, and it expresses my own opinions. I am not receiving compensation for it (other than from Seeking Alpha). I have no business relationship with any company whose stock is mentioned in this article.