Introduction
Last year, I developed a portfolio focused on investing in companies with market capitalizations primarily between $300 million to $10 billion. The goal of the portfolio is simple: invest in companies for the long-term that have the potential to provide robust returns. LinkedIn Corporation (NYSE:LNKD) is one of the companies that the portfolio is currently holding.
LinkedIn is clearly a controversial stock to own, as much has been written recently regarding the company's valuation and stock performance. Criticisms of LinkedIn stem from insiders selling shares, questionable valuation, and competitive risks, including an article by a fellow SA contributor, titled "Zucker's Game: End Of LinkedIn?"
The question of any particular company's value is always at the forefront to determine whether a long or short position should be initiated; or for some, no position at all. Trying to gauge LinkedIn's value over the next 3-5 years is a tricky business. The remainder of this article will look to provide some insights and relevant data for those who have any interest in LinkedIn as an investment.
LinkedIn, Numbers, and Peers
First and foremost, let us bring to light LinkedIn's questionable valuation. All information included in the tables and charts of this article have utilized diluted earnings per share (EPS). Peer companies considered throughout the article include Facebook, Inc. (NASDAQ:FB); Monster Worldwide, Inc. (NYSE:MWW); Salesforce.com, Inc. (NYSE:CRM); Microsoft Corporation (NASDAQ:MSFT); and Google, Inc. (NASDAQ:GOOG).
Table 1 - Earnings, Enterprise Value, and Price-to-Book
| | | | | | |
| --- | --- | --- | --- | --- | --- |
| Company | Date | Stock Price | TTM P/E Ratio | TTM Enterprise Value/Sales | P/B Ratio |
| LinkedIn | 1/18/13 | $119.02 | 761.4 | 15.2 | 16.1 |
| Facebook | 1/18/13 | $29.66 | 146.8 | 10.0 | 3.9 |
| Monster | 1/18/13 | $5.87 | -3.7 | 0.7 | 0.7 |
| Salesforce.com | 1/18/13 | $170.02 | -94.9 | 8.4 | 11.4 |
| Microsoft | 1/18/13 | $27.25 | 14.8 | 2.4 | 3.4 |
| Google | 1/18/13 | $704.51 | 22.0 | 4.1 | 3.4 |
(Sources: Yahoo Finance and the Securities and Exchange Commission)
The glaring valuation argument for LinkedIn obviously stems from the TTM P/E ratio. We could also suggest quite easily that the TTM enterprise value/sales and P/B ratio are also indicators for extreme valuation. Comprehensively at first glance, Facebook appears to outperform LinkedIn in all categories in Table 1, while Monster seems deeply undervalued, with the exception being its recent poor earnings performance. Salesforce.com looks expensive and has poor earnings performance, while Microsoft and Google provide examples of companies offering more traditional value.
It should also be clarified that there are a few insights we can gather from these metrics if we take a step further into recent business events. For example, we should understand that the main reason Facebook's P/B ratio compares favorably with Microsoft and Google is because of the recent funds raised during its initial public offering (NYSEARCA:IPO). In this case, the P/B ratio is not a good indication of past performance, but rather a good indicator of Facebook garnering market demand for its common stock. Therefore, we should not place too much emphasis on the P/B ratio for Facebook, but rather emphasize the enterprise value/sales metric.
And for Monster, we should be quick to question why it trades at such a discount based on its peers. The company is facing challenges such as decreases in sales and profits, as well as discontinuing operations of the business have created a murky picture moving forward. Monster has also been shopping around for a company to acquire its entire business, to no avail.
Table 2 - Free Cash Flow Metrics
| | | | | | |
| --- | --- | --- | --- | --- | --- |
| Company | Date | Stock Price | TTM Free Cash Flow | TTM Free Cash Flow Per Share | TTM Price/Free Cash Flow |
| LinkedIn | 1/18/13 | $119.02 | $108 million | 0.96 | 123.5 |
| Facebook | 1/18/13 | $29.66 | N/A | N/A | N/A |
| Monster | 1/18/13 | $5.87 | -$2.8 million | -0.02 | -226.7 |
| Salesforce.com | 1/18/13 | $170.02 | $526 million | 3.76 | 45.2 |
| Microsoft | 1/18/13 | $27.25 | $22,425 million | 2.64 | 10.3 |
| Google | 1/18/13 | $704.51 | $1,649 | 4.98 | 141.6 |
(Sources: Yahoo Finance and the Securities and Exchange Commission Data)
When considering TTM free cash flow, LinkedIn clearly has outperformed Monster and unfortunately, Facebook's information is not available. The following trailing nine-month information, however, is available:
Free cash flow -$106 million,
Free cash flow per share - 0.06, and
Price/free cash flow -535.0
Another observation worth mentioning is that LinkedIn's TTM price/free cash flow trades at a better valuation than Facebook's TTM P/E ratio.
Salesforce.com provides a much better free cash flow valuation versus earnings -- they're positive! However, the scrutiny for Salesforce.com and its accounting methods only begins here; but that is another story. Microsoft provides an abundant amount of free cash flows, and it should be noted that the above amount includes operating cash flow less capital expenditures and dividend payments.
Google seems to trade at a premium when compared to the group, and it should be noted that the costs of acquisitions and capital expenditures have been included against operating cash flows, as Google has been acquiring companies quarterly, and it appears acquisition costs are fixed for the company. Google's free cash flows will improve over time from the most recent Motorola deal, which was a larger than usual quarterly acquisition. As a result, the free cash flow metrics in Table 2 may improve significantly in the near-term.
Summary
Based on the numbers, it is fair to say that LinkedIn trades at a premium compared to other similar companies. However, Salesforce.com and Facebook are no picnic either, and Monster seems questionably undervalued. In order to shed more light on these numbers, it is important to go a step further and consider more aspects of company financials.
In my opinion, the clearest way to determine a company's financial success is to follow the growth in cash flows, as this is what will finance the company's future drivers for its sales prospects. With that statement, the key to unlock a company's potential is to understand what a company needs to invest in to grow its business. The difficulty in this is to also understand the need to anticipate market trends and other economic variables.
For instance, oil companies buy fixed assets and combine leverage and operating cash flows to fund the capital requirements to grow the business. Long-term, the idea is to strengthen operating cash flows so that debt to equity levels do not become unsustainable and unhealthy for the business. The majority of oil company assets relate to fixed assets, as these assets produce commodity goods or products.
Similarly for technology-related businesses, there is a capital investment and growth dynamic for product and service development. The difference is technology companies do not typically require as much capital investment and things like goodwill and intangibles, cash and short-term and long-term investments seem to play a much larger role when combined with fixed assets on the balance sheet. The value of research and development and sales and marketing expenses on the income statement, and fixed assets as they relate to the human capital is much more magnified.
Based on this information, I believe there are a couple important questions one must ask regarding LinkedIn for investment consideration:
What does the competitive landscape look like?
Should free cash flow change the overvaluation perception?
Competition and Key Business Metrics
Competition
To summarize, LinkedIn provides both free and monetized solutions. Its revenue segments consist of Talent Solutions, Marketing Solutions, and Premium Subscriptions. Through these services. LinkedIn's goals and objectives are straight forward as stated in its financial filings:
Talent Solutions: to provide the most effective services for enterprises and professional organizations to efficiently identify and acquire the right talent for their needs,
Marketing Solutions: to enable marketers and advertisers to reach and engage with the most relevant audience and connect them to relevant products and services, and
Premium Subscriptions: to effectively manage professional identities, grow businesses, and connect entities with talent for small- and medium-sized enterprises and professional organizations, individual members, and business groups in larger enterprises.
Competition for LinkedIn is widely prevalent for all three monetized segments. As competition relates to its members, LinkedIn faces threats from Facebook, Google, Microsoft, and Twitter, as well as Salesforce.com and other smaller global entities. On the Talent Solutions side, competitors include Monster and HotJobs, CareerBuilder and Indeed.com, as well as Oracle Corporation's (NASDAQ:ORCL) Taleo, SAP AG's (NYSE:SAP) Successfactors, International Business Machines Corporation's (NYSE:IBM) Kenexa, and BranchOut. For advertising and marketing, there are extensive online and offline competitors.
Business Metrics
LinkedIn
LinkedIn registered members are defined as the number of individual users who have created a member profile on the LinkedIn website as of the date of measurement. LinkedIn recently announced that this number has increased to over 200 million registered members. Unique visitors are defined as users who have visited LinkedIn's web properties at least once during a month regardless of whether they are a member, and based on data provided by comScore, a leading provider of digital marketing intelligence.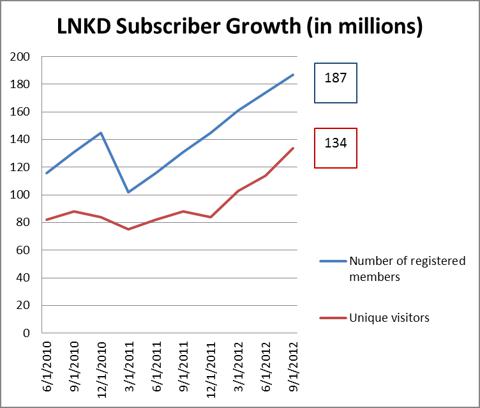 Facebook
Facebook monthly active users (MAUs) are defined as a registered Facebook user who logged in and visited Facebook through its website or a mobile device, or took an action to share content or activity with his or her Facebook friends or connections via a third-party website that is integrated with Facebook, in the last 30 days as of the date of measurement. The TripAdvisor, Inc. (NASDAQ:TRIP) Facebook feature is a great example of a third-party website. Facebook daily active users (DAUs) are defined as a registered Facebook user who logged in and visited Facebook through its website or a mobile device, or took an action to share content or activity with his or her Facebook friends or connections via a third-party website that is integrated with Facebook, on a given day.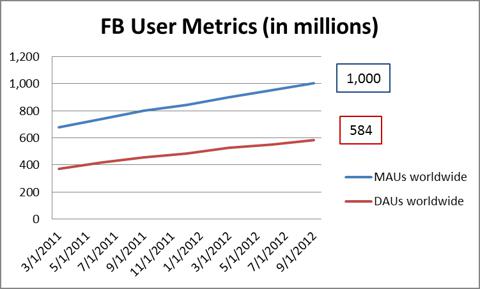 Review
While LinkedIn and Facebook do not provide identical business metrics, it is interesting to consider each company's growth trends. It could also be argued that MAUs for Facebook and unique visitors for LinkedIn do share similar parameters.
Both of the above chart time frames relate to sequential quarterly growth. Comparisons of the companies are between March 2011 and September 2012. LinkedIn has grown its number of registered members and unique visitors by roughly 11% and 10% respectively per quarter, while Facebook has grown its MAUs and DAUs by roughly 7% and 8% respectively per quarter.
It is worth noting that Monster does not include any similar trends of information with regard to its web properties and business.
Summary
LinkedIn
LinkedIn has developed a significant global presence in growing its professional network to over 200 million registered members. There is not another company that has achieved a similar product or scale as its core focus. From the beginning, LinkedIn was built as a professional network to grow into a variety of employment services for all corporate sizes and individual job-seeking needs. This professional network distinguishes LinkedIn from Facebook, Monster, and all other web-based peers and represents LinkedIn's competitive moat.
As LinkedIn continues to grow its registered members, the value of the entire company is increased through stronger opportunities for individuals seeking employment, employment-related databases providing solutions for corporate clients, and greater diversity for advertising and marketing client interests. Future development of solutions from LinkedIn's employment databases is what will provide the most robust sales growth moving forward.
Using myself as an indicator of growth, I can attest to LinkedIn's success. As a weekly user of LinkedIn, I am amazed at the activity of connections that occur daily within my network despite having less than 100 contacts. Likewise, my network extends to over 1 million members and increases by the thousands weekly. One thing I notice every week I log into LinkedIn is that activity is on the rise.
Drivers for success in generating more content and activity have included new features such as LinkedIn Daily, thought leaders, skill and expertise endorsement from colleagues, and enhancements to multi-language integration. LinkedIn now has over 1.5 million groups, of which not all are solely employment-related, as well as over 1.2 million searchable companies within the United States, United Kingdom, Netherlands, Canada, India, Australia, Spain, and Brazil.
When considering competition for LinkedIn, investors need to think about the variables stated earlier, specifically market trends. LinkedIn is attempting to use a scalable professional network to disrupt the staffing and recruiting industry. Is this model going to be sustainable, or will another trend of disruption take hold? At the moment, LinkedIn is taking the lead and pushing forward.
Monster
Monster's strategy is clear. It has integrated its products into anything and everything, including Twitter, Facebook via BeKnown, Google, Pinterest, Flickr, Foursquare, and ironically, LinkedIn-owned Slideshare. This move potentially prohibits Monster from developing its own professional network. While time will tell, this seems like a "dependency" strategy, and without proper disclosure of unique visitors or registered members, or other key business metrics, it is not clear to the extent core web property metrics are declining as sales would indicate.
Monster faces the challenge of adapting from its past business model to changing demands created by the social and professional network affect. It is attempting to use this past business model to provide similar services as LinkedIn. Monster's strategy is full of risks of aligning itself with competitors. I would even go a step further to contend this may be a one reason why no buyers have surfaced for Monster. There are much cheaper acquisition targets out there promoting the potential next best thing.
Facebook
Facebook as a social network has amassed over one billion users and is the largest social network to date. Many proponents of the company are quick to equate this scale to unlimited business potential. While it remains to be seen how much farther Facebook can grow, from a professional network standpoint, I would argue that Facebook does not provide a proper forum to effectively engage in the staffing and recruiting industry. Facebook does not have the nimble ability to up and change course, either, now that they have such a well-established communicative and entertainment-value social network -- some things just do not mix.
There are those attempting to leverage Facebook's wide breadth of users for these employment-related services such as Branchout and BeKnown. But I would be quick to question whether these combinations will prove a proper rival versus a comprehensively focused professional network such as LinkedIn. And I would suspect that such a business model would be more easily replicated than developing a separate professional network like LinkedIn's. However, the dynamic of social networks partnering with third parties to provide employment services must be monitored.
Other Competition
There are a couple of ways much larger competitors pose a threat. One is directly creating their own professional networks and/or partnering with other social networks. It is not an easy business to just plunge into developing a social network, let alone a professional network. Google can attest to this, as Google+ is finally making some headway. While we can speculate around the clock about capabilities to develop competitive products, the reality is that the majority of companies do not take such risks whether they are too focused on existing segments or other endeavors, or the risk is not acceptable on their terms.
Second is the existence of competition from major competitors such as Salesforce.com, Oracle, SAP, and IBM, which already offer employment-related services. However, we must remember that many of these companies' employment services relate to in-house management and performance for their clients' employees. If anything, it is not out of the question for these companies to partner with LinkedIn, or for LinkedIn to compete with them and offer similar services itself. These factors will remain to be seen over time and need to be monitored.
Staffing and Recruiting Industry Statistics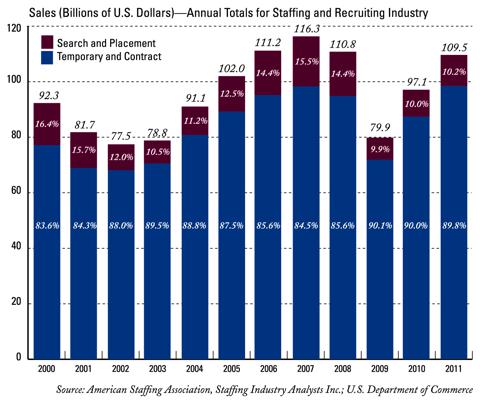 Considering the search and placement category, this amount represented just over $11 billion in sales for 2011. At its height in 2007, sales totaled roughly $18 billion. Over the entire 11-year period growth in sales has declined 2.3% per year from $15.1 - $11.2 billion. Since the recession, growth in sales has increased 19% per year from $7.9 - $11.2 billion.
It is not certain whether LinkedIn is capable of competing within the temporary and contract category. Long-term, LinkedIn's professional network may be able to supply greater efficiencies to compete. What is a recurring theme regarding LinkedIn's development is that it becomes more and more valuable as it continues to scale.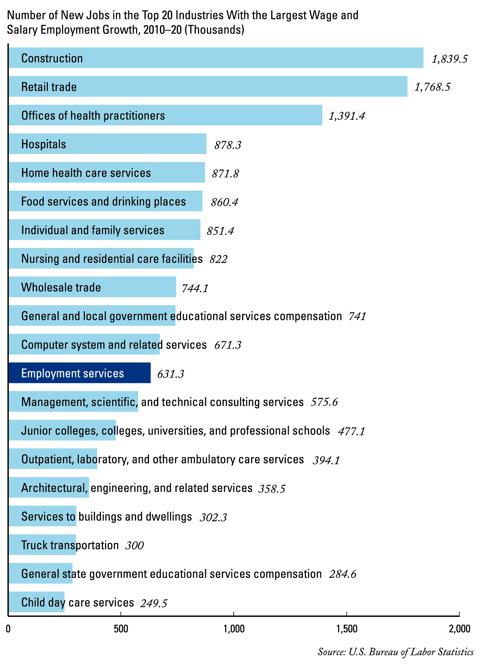 As the title of this chart suggests, employment services ranks 12th out of the top 20 industries, and is estimated to see solid new job salary wage and salary employment growth.
Finding Value in LinkedIn
In order to consider the previous valuation metrics from Table 1 and 2 that LinkedIn trades at, it is of interest to understand the overall historical picture. The past does not tell the future, however, it does speak to reality (assuming management has integrity). The following charts are for the community's benefit to observe financial trends for LinkedIn, Facebook, and Monster). At the end, we can consider LinkedIn's estimates and offer a conclusion.
Revenue Trends
LinkedIn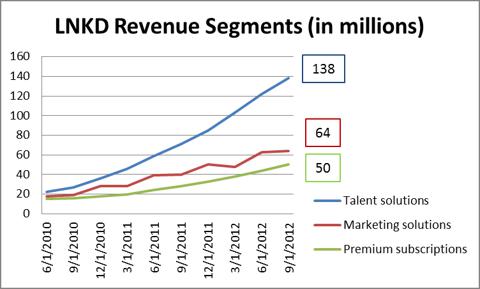 LinkedIn has seen its sales numbers grow 20% quarterly for Talent Solutions, 15% quarterly for Marketing Solutions, and 17% quarterly for Premium Subscriptions between March 2011 and September 2012.
Facebook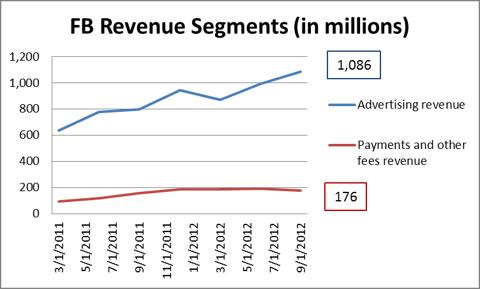 Facebook has seen its sales numbers grow 9% quarterly for Advertising and 11% quarterly for Payments and Other Fees between March 2011 and September 2012.
Monster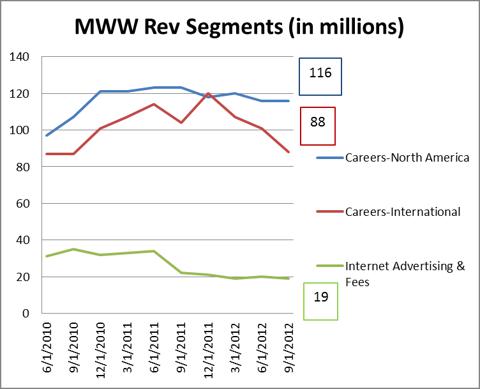 Monster has seen its sales numbers decline 1% quarterly for Careers - North America, decline 3% quarterly for Careers - International, and decline 9% quarterly for Internet Advertising & Fees between March 2011 and September 2012.
Future Revenue and Expense Trends
LinkedIn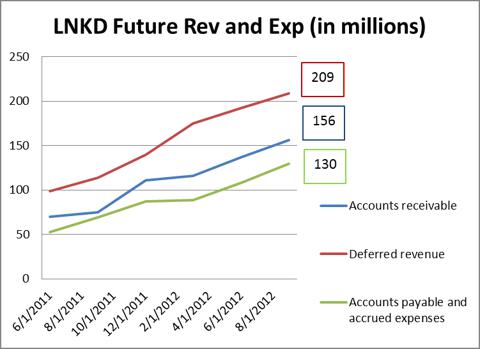 LinkedIn has seen its deferred revenue grow 16% quarterly, accounts receivable grow 17% quarterly, and accounts payable and accrued expenses grow 20% quarterly between June 2011 and September 2012.
Facebook
Facebook did not have comparable data, however deferred revenue has declined 2% quarterly, accounts receivable has grown 5% quarterly, and accounts payable and accrued expenses have grown 6% quarterly between December 2011 and September 2012.
Monster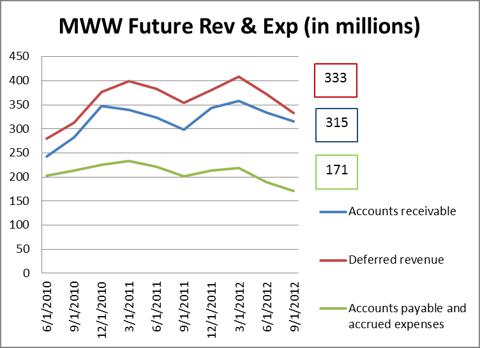 Monster has seen its deferred revenue decline 3% quarterly, accounts receivable decline 1% quarterly, and accounts payable and accrued expenses decline 5% quarterly between June 2011 and September 2012.
Gross Margin, Operating Margin, and Profit Margin Trends
LinkedIn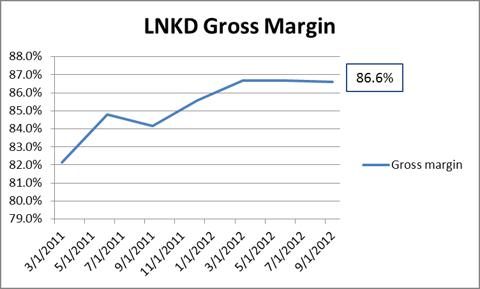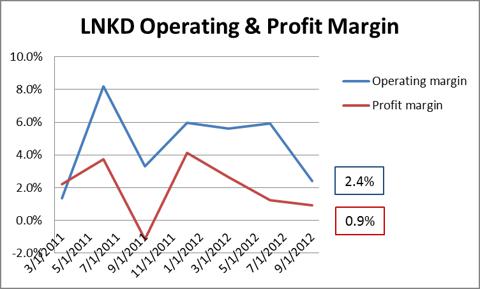 Between March 2011 and September 2012, LinkedIn has grown gross margins from 82% to roughly 87%, an increase of 500 basis points. During this same time however, operating margins have provided less than impressive growth, yielding a 100 basis point increase to 2.4%, while profit margins have declined over 100 basis points over the same time period to 0.9%.
Facebook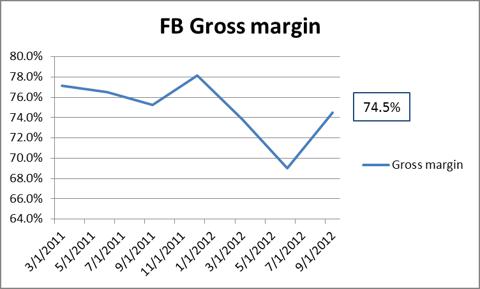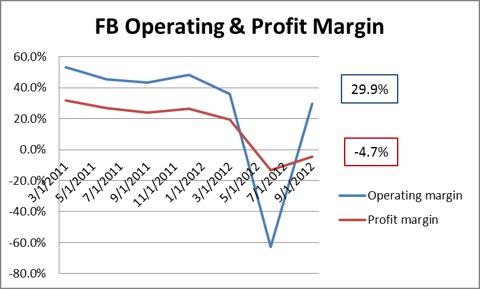 Facebook gross margins have declined roughly 300 basis points to 74.5%. Operating margins have declined significantly from 53.1% to 29.9%, and profit margins have become negative.
Monster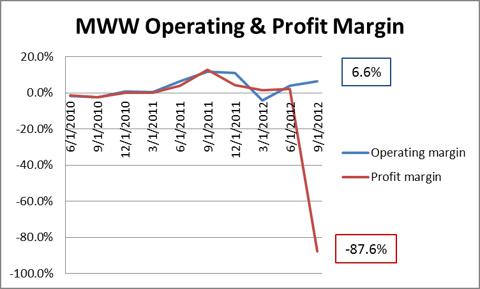 Monster does not state cost of sales therefore, only operating and profit margins will be displayed. Operating margins have proved erratic between March 2011 and September 2012, while profit margins have also proved erratic and declined dramatically of late.
Free Cash Flow Trends
LinkedIn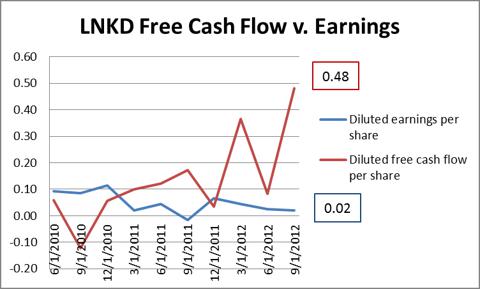 Free cash flow has grown 135% a year over the past two years, and based on the first nine months of 2012, this annual growth rate has already increased to 137% a year, not yet including the fourth quarter's results.
Facebook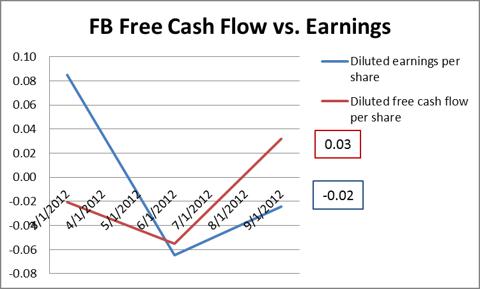 While not as much data is available, as Facebook's earnings have declined, the trends have been grim over the past few quarters.
Monster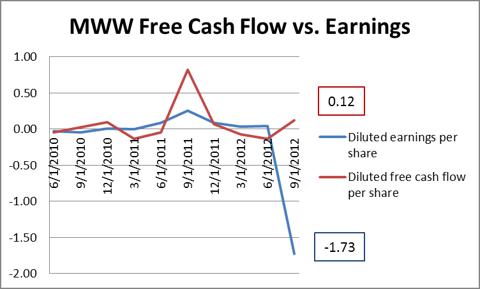 Monster has continued to be erratic with respect to free cash flows, having periods of both positive and negative results.
Operating Cash Flow
Clearly, LinkedIn's revenues are growing faster than Facebook and Monster. However, once we move past sales trends and consider margins, none of the companies offer much to get excited about of late, with the exception being LinkedIn's consistent gross margin. What intrigues me the most from this information is LinkedIn's valuation as it relates to diluted free cash flow per share.
Most of us are aware that there are "good" and "bad" line items that add up to any company's operating cash flow. When considering LinkedIn's recent nine-month performance, here is how some of the more relevant positive cash flow line items relate, as a percentage to the total operating cash flow of roughly $198 million:
33% Net income and depreciation and amortization
30% Stock-based compensation
29% Accounts payable and other liabilities
9% Income taxes, net
35% Deferred revenue
Of these line items, I would think that most would consider income taxes to be the most suspect and stock-based compensation to a lesser extent. The following offers some information from peers over the recent nine months:
Google: 17% stock-based compensation and 11% income taxes
Microsoft: 6% stock-based compensation (first quarter)
Salesforce.com: 60% stock-based compensation and 33% income taxes
Facebook: 149% stock-based compensation
Monster: 60% stock-based compensation
After accounting for capital expenditures, LinkedIn's cash flow numbers offer a much more stable picture, as Table 2 displays. Additionally, we can assume free cash flows are solid, as 95% of the TTM free cash flow has already translated into cash and cash equivalents and short-term investments, which are measurable.
Based on these factors, I would tend to consider free cash flow as a better gauge of LinkedIn's business and financial stability. However, it still should be noted that growth in diluted earnings per share is important, and we should expect LinkedIn to be successful in the future. For 2012, we should see somewhere around a 20-30% increase.
Estimates
While historical trends are important for us to get a sense of a company's direction, we also know expectations for the future are what move the markets. I will offer one final aspect considering LinkedIn's revenue estimates and enterprise value/sales as a proxy for near-term valuation.
LinkedIn states in its most recent 10-Q statement that since 2008, the company has grown its sales by a compound annual growth rate of roughly 88%. LinkedIn is estimated to grow sales by 82% for 2012. For 2013, sales are estimated to grow by 52%, a deviation from the trend, placing total sales at roughly $1.5 billion.
This puts an enterprise value/sales ratio somewhere around 8-9 by Table 1's price, assuming $1 billion in cash and short-term investments, and 8% share dilution at year end 2013. Assuming LinkedIn grows its sales over the next 3 years (taking us to 2016) by an average of 30%, sales would be roughly $3.3 billion and yield an enterprise value/sales ratio of 4-5, based on Table 1's price and assumptions for $1.5 billion in cash and short-term investments, and 8% share dilution per year.
If LinkedIn's stock price were to increase to $150 a share, it would trade at roughly 6 times enterprise value/sales in 2016, and similarly, if the stock price increased to $200 a share, it would trade at roughly 8 times enterprise value/sales in 2016 based on these assumptions.
This presents up to a 68% premium based on Table 1's $119 a share price over a time period of three years. Considering the growth potential of LinkedIn, I would suggest an entry price near $100 a share would be a sufficient opportunity, depending on an investor's risk profile.
Based on the growth prospects and conservative estimates, combined with LinkedIn's business potential, investors could expect to see their investment double within the same three-year period with potential for adequate returns over the long-term. There is no question that competition and technology will impact the staffing and recruiting industry. If LinkedIn is able to grow its revenues to the $3 billion range, it is not unlikely for the stock to rise to the $200 a share level.
Conclusion
Based on LinkedIn's business model and trends, I feel there is a compelling argument for an investment in this company. I do agree with those who say that the recent stock price is definitely trading at a premium. I would contend however, that the P/E ratio should not solely be used. I would also consider assessing LinkedIn near $100 a share.
LinkedIn's revenue growth is much more robust than Facebook's. The correlation between registered member and user growth to revenue displays that LinkedIn is getting much more value translated to revenues than Facebook from members and users. At this stage, this may be due to a difference in scale, and only the future will clarify these observations.
This analysis is not meant to suggest that any investor should take any trading activity for LinkedIn. However, based on the business, historical information, peer comparison, and forecasts, I would not be so quick to think LinkedIn's current premium is insanely overvalued. There is much more to consider, including free cash flow estimates and earnings per share estimates in the near-term, as this article focused solely on enterprise value/sales and considered a multiple higher than more traditional valued companies such as Microsoft and Google. Higher growth companies tend to trade at a premium, so this is not out of the ordinary.
Take a look at Salesforce.com's end-of-year P/E ratio since going public: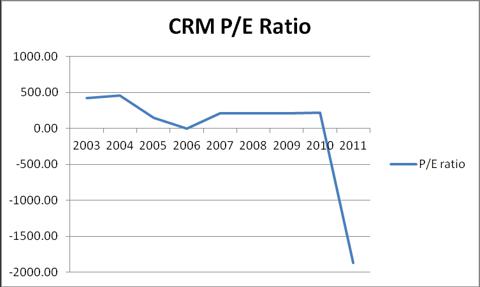 The company has never traded below 150 times earnings (it should be noted that earnings per share in 2006 were 0.00). Google traded over 100 times earnings its first year, and traded north of 50 times earnings three of its first four years, however, Google is a very special circumstance and an example of phenomenal growth and earnings.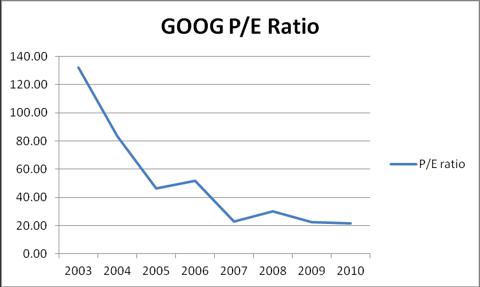 Lastly, for all companies discussed, we will have to remain patient as they evolve. There is no wrong in taking one's time to get to a level of comfort before making any investment decision. In fact, this would be the best approach and strategy.
The Individual Investor Fund portfolio holds a small position in LinkedIn, representing 2% of the fund. Total return on LinkedIn as of this article is roughly 32%.
Disclosure: I am long LNKD. I wrote this article myself, and it expresses my own opinions. I am not receiving compensation for it (other than from Seeking Alpha). I have no business relationship with any company whose stock is mentioned in this article.