Transocean LTD (NYSE:RIG) is an international provider of offshore contract drilling services for oil and gas wells. RIG had increased 15.37% to $55.78 last Friday since our last article, "Time To Sail On Transocean With 28.2% Profit Potential", was written. The reviewed option strategy resulted 28.2% return on margin as the options expired and became worthless on January 18, 2013. This article will follow up on the new developments and review a new options strategy for RIG.
RIG continues to develop positively with the following 6 bullish factors:
Positive Fleet Update. The company's midwater floater Sedco 714 received an 18-month contract extension at a dayrate of $435,000, higher than the previous dayrate of $398,000. In August, 2012, this midwater floater got a one-year contract extension from oil and gas major Total SA (NYSE:TOT).
Deeper dig in demand. Transocean is poised to gain from a market with robust multi-year demand trends for deeper dig as less oil is being discovered on land, given its technologically advanced and versatile drilling fleet. Transocean, with growing efficiency, is currently building more capacity to meet demand.
Improving demand and 2010 oil spill settlement. Demand improves as drilling activities pick up in the Gulf of Mexico. For 2010 oil spill, RIG will pay $1.4 billion in

penalties

, including $1 billion in civil penalties and $400 million in criminal

charges

. RIG is ready to move on beyond the spill incident.
Backlog worth $30 billion.
Heavy-weight investor adds positions. Billionaire investor Carl Icahn plans to increase its ownership to 5% from current 3.26% stake. Carl Icahn is believed to push for a return of dividend payouts.
RIG had hinted at spinning off its commodity jackups into a separate company possibly in the second half of 2013, which could improve the overall quality of Transocean's fleet.
Risks
Reducing margins and demand due to new regulations. The introduction of new and more stringent regulations due to the oil spill will likely make deepwater drilling activity prohibitively expensive for exploration and production companies, making many projects marginal.
Earnings, Key Stats and Valuation
Analysts, on average, are expecting an EPS of $0.81 with revenue of $2.37B for the current quarter ending in December, 2012. Analysts are estimating an EPS of $3.46 with revenue of $9.66B for fiscal 2012. For 2013, analysts are projecting an EPS of $4.81 with revenue of $10.12B, which is 4.80% more than 2012, as seen from the tables below.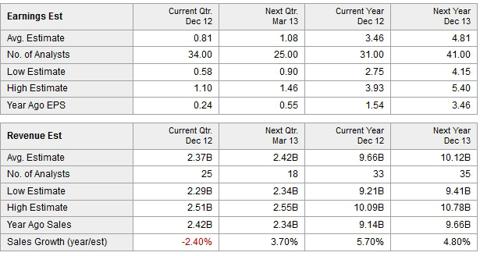 Source: Yahoo! Finance
RIG has an enterprise value of $28.17B with a market cap of $20.05B. RIG has a total cash of $6.01B with a total debt of $14.13B. RIG has a book value of $42.49 per share. RIG generates an operating cash flow of $2.35B with a levered free cash flow of $1.71B. By using Morningstar's data, RIG's key stats will be compared to its peers in the industry of oil & gas drilling, including Seadrill Ltd (NYSE:SDRL), Ensco PLC (NYSE:ESV) and Diamond Offshore Drilling, Inc. (NYSE:DO). RIG has revenue growth (3 year average) of -10.3, which is lower than the industry average of -1.1. RIG has lower operating margin of -48.2%, ttm, and lower net margin of -67.5%, ttm, comparing to the averages of 7.2% and -0.4%, ttm, respectively. RIG generates ROE of -37.7, which is lower than the average of -0.2.
RIG has P/B of 1.3 and P/S of 1.9, which is below the industry average of 1.4 and 2.2. RIG has a forward P/E of 10.3, which is below S&P 500's average of 13.3. RIG has a PEG ratio of 0.3.
Technical Analysis
RIG closed at $55.78 with 0.85% gain on January 18, 2013. The volume of 2.26M was 39.57% less than the 30 day average volume of 3.74M. RIG had been trading in the range of $39.32-$59.03 in the past 52 weeks. RIG has a beta of 1.14. The MACD(12, 26, 9) had been showing a bullish trend; however, the MACD difference continued to converge. The momentum indicator, RSI (14), is currently in the over-bought territory and continued to increase at 81.90. RIG is currently trading above its 50-day MA of $47.52 and 200-day MA of $46.73 and cleared all resistance points in the near-term, as seen from the chart below. RIG is very bullish, technically.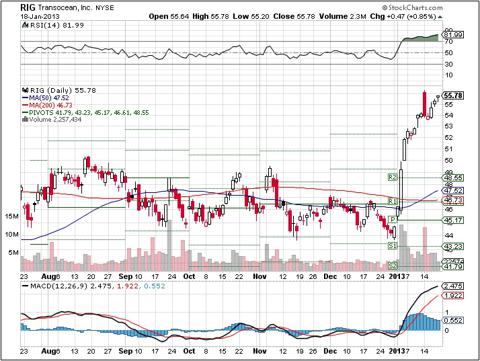 Source: StockCharts.com
Options Strategy
Our bullish view on RIG is maintained. However, with the recent run-up, RIG is in the over-bought state, technically. A new credit put options play will be reviewed for long-term investors who would like to acquire RIG stock with a safer entry price while gaining some upside potentials.
Short put 1x May 18, 2013 put at the strike price of $48.00 for the credit of $0.99
Buy put 1x May 18, 2013 put at the strike price of $43.00 for the cost of $0.33
The maximum profit is $0.66, and the maximum risk/margin requirement is $4.34 ($5 loss - $0.66 credit received). If RIG closes above $48.00 on May 18, 2013, 15.21% return on margin will be gained. If RIG falls below $48.00 upon options expiration, RIG stock will be acquired at $47.34, which is 15.13% less than the current price of $55.78.
Note: All prices are quoted from the closing of January 18, 2013 and all calculations are before fees and expenses. Investors and traders are recommended to do their own due diligence and research before making any trading/investing decisions.
Disclosure: I have no positions in any stocks mentioned, but may initiate a long position in RIG over the next 72 hours. I wrote this article myself, and it expresses my own opinions. I am not receiving compensation for it (other than from Seeking Alpha). I have no business relationship with any company whose stock is mentioned in this article.