Investors of all ages and risk tolerances are increasing their focus on high yielding opportunities. Unfortunately with interest rates nearly at zero most savers have to decide between a negative return after inflation or assuming more risk than they are comfortable with. For example, recently issued sub-investment grade European debt was yielding 2.875%. I propose a third choice: high quality equity securities with above-average yields. These investments are not just for retirees: anyone can improve their portfolio returns by increasing their dividend-focused allocation.
For details of the strategy and my screener details, please consult my methodology on the topic (last modified 1/21/2013). In brief, the screen focuses on relative stable equities with a concentration on liquid companies at affordable valuations. This is summarized below:
Dividend Yield ≥ 4.0%
Ex-Dividend Date = Next Week
Market Capitalization ≥ $1B
P/E Ratio: 0-20 (Expanded to 0-50 this week due to lack of candidates)
Institutional Ownership ≥ 15%
Ideally Modest YTD S&P 500 Underperformance
Minimal European Exposure
After applying this screen I arrived at the equities discussed below. Although I envision these as short-term trading ideas, (i.e. less than three month holding period), you still need to exercise caution. Depending on the quality of the equity you may decide to just hold long enough for the dividend or to make the stock a longer-term holding. The information presented below should simply be a starting point for further research in consultation with your professional financial advisor before making an investment decisions. My goal is to present new companies to you and provide a brief overview of their recent developments; this should not be considered a substitute for your own due diligence.
Targa Resource Partners LP (NYSE:NGLS): 6.84% Yield; Ex-Dividend 1/24
Targa is one of the largest providers of midstream natural gas and natural gas liquids in the United States. Targa focuses on southern states where its supply of natural gas supplies is considered relatively stable which acts to dampen supply shocks. Dana Blankenhorn has a nice summary of Targa's operating structure and relationship to Targa Resources Corp. (TGRP).
The most attractive reason to invest in Tagra is the growing dividend, which has increased approximately 15% in the past year. The forecasted range for distribution growth in 2012 was 10% to 15% so Targa exceeded expectations. Management's distribution commentary has remained bullish and they indicate that the distribution payout should continue to rise based upon expected 2013/2014 projects. Unfortunately if operations do not improve, or if Targa does not make acquisitions, it will face difficulty growing the payout at the same rate. In the most recent quarter Targa disclosed the following related to the dividend:
We distribute all available cash from our operating surplus. As a result, we expect that we will rely upon external financing sources, including debt and common unit issuances, to fund our acquisition and expansion capital expenditures…We intend to make cash distributions to our unitholders and our general partner at least at the minimum quarterly distribution rate of $0.3375 per common unit per quarter ($1.35 per common unit on an annualized basis). As of September 30, 2012, such annual minimum amounts would have been approximately $105.4 million. In every quarter since the fourth quarter of 2007, we have paid quarterly distributions greater than the minimum quarterly distribution rate. [emphasis added]
For the nine months ended September 30, 2012, revenue has declined approximately 13% but income from operations actually increased marginally due to a reduction in product purchases. The problem facing Tegra is that commodity prices have been weak, especially natural gas and natural gas liquids. Since the last reporting period, natural gas prices were generally above $3.5 per 10,000 MMBTU (million British thermal units) so the partnership should show some quarter-over-quarter improvement. Targa has hedged most commodity prices through 2014 so the impact of this increase may be less than expected.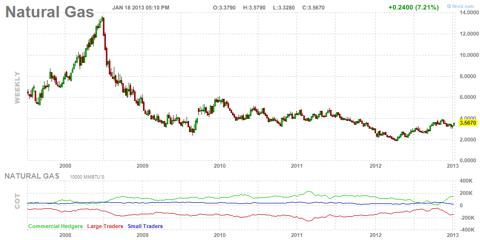 (Source: Finviz.com)
Targa's P/E has been creeping upward over the past year and the forward P/E is approaching thirty. The financial position is mixed as liquidity measures are solid (current ratio of 1.2) but LT debt/equity is 1.2. The solvency ratios are not unexpected as management remains committed to raising funds externally to finance operations; however, this type of trend cannot continue unabated into the future. Eventually the debt payments become prohibitive and shareholders become agitated at the magnitude of interest expense. At this level, I believe that Targa is priced fairly well. The yield is already high and prospects of further growth support the valuation but if natural gas prices do not improve in the future, the partnership will be unable to continue the past dividend increases.
Government Properties Income Trust (NYSE:GOV): 6.81% Yield; Ex-Dividend 1/23
Government Properties Income Trust is an office REIT with 82 properties across 31 states. GOV is unique in that it specializes in renting properties to federal, state, and other governmental agencies. 94% of annualized rental income is generated from federal/state governments and the United Nations. Tenants include the Internal Revenue Service, U.S. Customs & Immigration Service, Federal Bureau of Investigation, Social Security Administration and other entities that will be exist for the foreseeable future. Renting to governments is extremely stable and over the past ten years, government tenants have occupied leased space for an average of 26 years. The Public Buildings Reform Act of 2012 brings additional regulation to the governmental real estate sector but reductions in space through 2015 are expected to be less than two percent of current totals. Rental income for comparable properties declined in reported 2012 due to vacancies at four properties. The flipside of having such a stable business is that any vacancies have outsized impacts on performance.
Reported 2012 normalized funds from operations (FFO - a non-GAAP measure) per common share were $1.57 versus $1.26 of common distributions per share over the same period. On an annualized basis, GOV has $2.09 of FFO and will distribute $1.69 on a per share basis. Note that GOV's calculation of FFO is higher than the standard set forth by The National Association of Real Estate Investment Trusts because acquisition related costs are excluded. Ordinarily this is an immaterial difference but GOV had significant acquisitions during the year.
For the first nine months of 2012 GOV incurred approximately $1M of acquisition fees, or $.02 per share. The dividend payment has been increased marginally but the yield has held steady above six percent for the past few years. In the past year GOV increased its number of properties by 22% and FFO increased by 11%. With this in mind, GOV is positioned to increase the dividend slightly faster in the future but any increases will still likely be minimal. The book value per share is $18.47 and the price-to-book ratio is 1.37. The premium is higher than I would like to pay for a real estate oriented investment but I am willing to give GOV some leeway based on its track record.
Franklin Street Properties Corp. (NYSEMKT:FSP): 5.85% Yield; Ex-Dividend 1/23
Franklin Street Properties Corp. is a REIT specializing in commercial real estate with a dedicated focus on properties in Texas. Out of the 41 properties owned by FSP, 12 are in Texas. FSP is unique in that it holds interests in other sponsored REITs. Funds from operation appreciated by 11% in the past year and totaled $58.5M. Over the same period, FSP distributed $47.3M in common distributions. The growth in FFO is consistent with top-line revenue growth; however, the majority of the increase was related to the acquisition of a new property. The dividend has been $.19 per quarter since 2008 so do not expect any dividend growth from FSP.
FSP surged 44% the past year and is currently at its 52-week high. The book value per share is $10.54 and the price-to-book ratio is 1.23. FSP is an average REIT but is far from spectacular at this price. If interested in initiating a position I would look for a pullback towards $12, which will also push the yield closer to six percent.
The information presented has been summarized below. I make no warranties regarding the information in the chart as industry classifications are frequently imperfect. Yellow and red represent "avoid" and "consider" classifications, respectively.

Please refer to profile page for disclaimers.
Disclosure: I have no positions in any stocks mentioned, and no plans to initiate any positions within the next 72 hours. I wrote this article myself, and it expresses my own opinions. I am not receiving compensation for it (other than from Seeking Alpha). I have no business relationship with any company whose stock is mentioned in this article.