The so-called January effect will be under scrutiny this time around, as circumstances are extreme and stocks, exchange traded funds and the economy are in turmoil.
Mark Hulbert for MarketWatch reports that the January effect is the seasonal tendency for stocks of small companies to outperform the large-caps around the turn of the year. Research indicates that this pattern has been true for more than two decades, and further digging into the backtesting proves that this pattern has been solid in many decades prior to that, as well. The January effect may be the strongest historical pattern that researchers have noted in the stock market.
But there's some caution this time around. The reason is that the January effect actually exists because of the appetite of investment managers' for riskier stocks at the start of the new year. Haven't we all seen a large enough dose of risk over the past six months? If the bear market continues with its voracity and another downturn occurs, managers will steer clear of risky small-caps.
Whether it's real or not, just stick to the strategy of watching for the 50-day moving average before jumping in, and wait to see a trend really develop instead of relying on past history. Some small-cap ETFs include:
iShares Russell 2000 ETF (NYSEARCA:IWM): down 38.8% year-to-date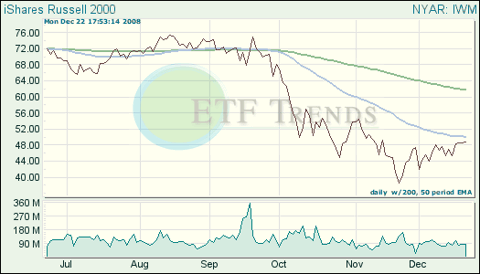 Vanguard Small Cap (NYSEARCA:VB): down 40.7% year-to-date