2012 was a tough year for the utility sector, which underperformed the broad market. However, I believe 2013 will be a better year for the utilities as compared to last year, due to high yields offered by the utility sector, earnings stability, removal of the dividend tax overhang and an expected increase in rate cases because of rising capital spending. In this article I will briefly review 2012 utility sector performance and discuss utility sector outlook for 2013.
2012 Review
Electric utility stocks underperformed the broader market in 2012. The factors which I believe led to the underperformance of the sector are profit taking in 2012 due to strong financial performance posted in 2011, investor concerns on a dividend tax increase and low electricity demand. In 2012, as broad market advanced, investors invested in growth and riskier assets that led to the decline in utility sector. Also, unregulated power producers were adversely affected by lower natural gas prices that translated into lower power prices.
For a performance comparison of the utility sector I will use XLU (utility sector ETF) and PHLX Utility Sector (UTY). The following chart shows the performance comparison of the sector with S&P 500 and Dow Jones Industrial Index.
| | | | | | |
| --- | --- | --- | --- | --- | --- |
| | UTY | XLU | S&P 500 | DJIA | US GDP Growth |
| 2012 | -4.7 | -3% | 13.4% | 7.3% | - |
| 2011 | 14% | 14.8% | 0% | 5.5% | 1.7% |
| 2010 | 1% | 0.05% | 12.9% | 11% | 3% |
| 2009 | 5% | 4.5% | 23% | 19% | 3.53% |
| 2008 | -30% | -31% | -38.5% | -34% | -0.36% |
| 2007 | 15.5% | 16.8% | 3.5% | 6.5% | 1.9% |
| 2006 | 16% | 17% | 13.6% | 16.3% | 2.7% |
Source: Google Finance and other public data sources.
In the last seven years, utilities have outperformed the broader market four times, as evident from the table above.
- 5 Top and Worst Performing stocks in 2012
5 Top Performing utility stocks in 2012

Return %

5 Worst Performing utility stocks in 2012

Return %

Sempra Energy (NYSE:SRE)

29%

Exelon Corp. (NYSE:EXC)

-31.5%

NRG Energy (NYSE:NRG)

27%

Entergy Corp. (NYSE:ETR)

-12.5%

UNS Energy (NYSE:UNS)

15%

TECO Energy (NYSE:TE)

-12.5%

NextEra Energy (NYSE:NEE)

13.5%

Consolidated Edison (NYSE:ED)

-10.5%

PNM Resource (NYSE:PNM)

12.5%

AES Corp (NYSE:AES)

-9.5%
Investor concern over dividend tax hikes was an important factor that kept utility stock prices depressed in 2012. However, the dividend tax hike overhang has been removed as tax on wealthier investors has been increased from 15% to 20%. (Investors were fearing dividend tax rate to increase to 39.6%.)
2013 Outlook
Given the low interest rate environment and uncertainty over macroeconomic conditions, investment in utilities will remain an attractive opportunity in 2013 as the sector offers high dividend yield and earnings stability. Moreover, in future, rising CAPEX is expected to bode well for utilities as companies will take advantage of rate case increases.
Also, the utility sector is expected to perform well in 2013 due to the mean reversion concept. In 2011 materials and financials were the worst performing sectors. However, both sectors bounced back in 2012 with almost 25% return each.
Below are some factors that would have an impact on the utility sector's performance in the future. These factors include rising capital spending in the industry, mergers and acquisitions trend, coal to gas switch and slowing electricity demand.
Rising CAPEX
Capital spending has been increasing due to infrastructure improvement, grid modernization and changing regulations. This planned capital spending increase provides consistent earnings expansion opportunity for regulated utilities as costs would be passed on to consumers through rate case increases. More than $1.8 trillion of infrastructure spending is expected by 2030 according to Edison Electric Institute. The chart below shows CAPEX from 2010 through 2014. (2013 and 2014 figures are based on expectations.)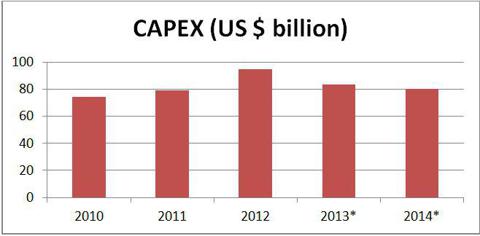 Source: eei.org
M&A Activity
Merger and acquisition activity would remain an attractive option for utility companies in the future due to rising CAPEX requirement, strengthening of balance sheet, achieving operational efficiency and regional diversity. Recent merger and acquisition transactions include Duke Energy's (NYSE:DUK) merger with Progress Energy that led to the creation of the largest U.S utility company. Another example includes NRG Energy's acquisition of GenOn Energy.
Coal to Gas Switch
Natural gas prices remained at a low level in 2012 (bottomed in April last year) which made natural gas' use an attractive option for the electricity producers. However, natural gas prices have been rising and are currently at $3.44 MMBtu. If the natural gas prices increase in 2013, utilities will burn more coal for electricity generation as compared to last year.
Challenges faced by the utilities
There are some other factors that can have a significant impact on the financial performance of the utilities going forward. These factors include weak economic outlook and slowing electricity sales growth. Economic conditions are expected to remain uncertain and weak given the relatively high unemployment rate and Euro zone debt crisis. Also, rising CAPEX may lead to more debt borrowing which will create a threat of ratings downgrade for utilities companies, which in turn would increase interest costs and lead to lower earnings.
Conclusion
The utility sector is a low risk sector and offers healthy yields in current low yield environment which makes it an attractive opportunity for investors. However, given low electricity demand growth, operational efficiency will remain an important factor in earnings growth rate. Moreover, the companies should try to expand its reach to solar panels markets to grow their top and bottom lines.
In the next part of the article I will also discuss top five companies which I believe will outperform the sector in 2013.
Disclosure: I have no positions in any stocks mentioned, and no plans to initiate any positions within the next 72 hours. I wrote this article myself, and it expresses my own opinions. I am not receiving compensation for it (other than from Seeking Alpha). I have no business relationship with any company whose stock is mentioned in this article.