…as a confessed contrarian, I cannot shake the feeling (suspicion?) that the heavyweight piledriving into Facebook's image and ethos has become a handy tool for transferring Facebook shares out of the hands of people who bought into the IPO into the eager hands of larger buyers eager to participate at much better prices.
This quote comes from a piece I wrote within a month of the Facebook (NASDAQ:FB) IPO titled "Reporting On Reuters Facebook Poll Fashioned To Feed The Fear." At that time, I noted how the disastrous opening for FB's IPO was being unfairly interpreted as an analog for Facebook's business model. In particular, I took issue with the following assessment:
Four out of five Facebook Inc users have never bought a product or service as a result of advertising or comments on the social network site, a Reuters/Ipsos poll shows, the latest sign that much more needs to be done to turn its 900 million customer base into advertising dollars.
Seven months later, Facebook has tried to demonstrate that it is actively inventing new ways to keep its users engaged and monetized. For the last two months, the market has finally started buying the message; at least until the announcement of Graph Search on Monday, January 14th. The pullback in the stock for the rest of the week was mild, but it presents a good moment to put FB into perspective as it has churned from $45 to $17.50 and then back to as high as $32.
When I wrote the piece in June, FB had closed the previous day at $26.32. It turned out that negativity had indeed finally reached a climax, but a temporary one. The negative momentum resumed in July even as the general stock market was well into its recovery from the June, 2012 low. The negativity came to a head after FB's first earnings report in July. Since then, CEO Mark Zuckerburg has greatly improved his public presence and is now able to inspire the positive sentiments of analysts and investors alike. He got a bounce from the bottom after his TechCrunch appearance on September 12th. The company's second earnings call received a large bounce from the bottom (up as much as 24%) that in retrospect heralded the bottom in FB. Finally, a contrarian surge of 13% after the expiration of a major lock-up on November 14th confirmed the bottom as the surge immediately followed the complete reversal of FB's post-earnings gains. FB has ground ever higher since then.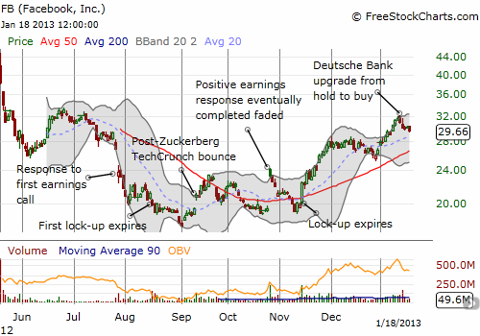 Facebook's price action has markedly improved
Source: FreeStockCharts.com
The change in sentiment is remarkable. From price action in the stock to analyst upgrades and increased price targets, to options trading, to short interest, FB is a completely different company in just a matter of months. No more blaring headlines about FB being worth $5 or $10 based on valuation. For example, the latest upgrade to FB came just last week when on January 14th Deutsche Bank finally succumbed to FB momentum and upgraded the stock from Hold to Buy. Analysts have become decidedly more positive over the last three months. According to Yahoo!Finance, three months ago, FB had 8 strong buy, 14 buy, 15 hold, 1 underperform, and 1 sell rating. Last month, the lowest rating was a hold with 10 analysts rating FB there. A total of 14 analysts rated FB a strong buy, and 11 analysts rated FB a buy. According to Schaeffer's Investment Research, FB is now up to 20 strong buy, 2 buy, and 7 hold ratings.
FB's open interest put/call ratio has plunged to its lowest level since FB's IPO in May, 2012. It now sits at a very bullish 0.88. It was as high as 1.58 immediately after November's big lock-up expiration.
Finally, short interest has also dropped to its lowest levels ever for FB even as the number of outstanding shares has soared. Again, the November expiration turned out to be a major turning point as short interest was its peak then at 95.3M shares. Short interest is now at just 26.39M shares and 5.6% of float.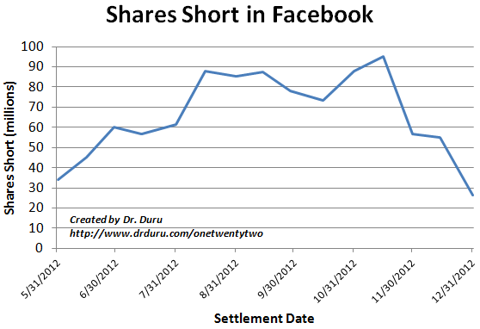 Shares Short In Facebook Since the IPO
Source: NASDAQ FB Short Interest
During this time of increased bullishness, I have itched to relieve myself of the shares I bought prematurely at the IPO and finally did so last week. I am now 100% short not because I think FB is doomed but because I think the run-up in FB is closing in on its end. The bullish consensus has left FB again with little room for error and a lot of opportunity for disappointment. I am also guessing that the smart hedge funds that were scooping up shares when FB was trading below $20 are seeing a great opportunity to lock in profits in the coming weeks and months.
The next earnings call should provide another major turning point for the stock. The big focus will likely be the promise of mobile monetization and Facebook's new Graph Search feature. It should be a polished presentation that tells a convincing story of FB's future promise. However, I do not think it will be enough to sustain the strong momentum that carried the stock upward 88% in two months off the bottom. The Graph Search story is a case in point. Kudos to FB for its willingness to roll out features in beta and to iterate quickly based on user feedback.
In the meantime, the monetization model will remain unclear and likely not provide notable changes to FB's financials for a year or even longer (if ever). I have read commentary concluding that the selling following FB's announcement is a result of selling the news or that it represents disappointed investors expecting something even bigger. I would claim that at a trailing P/E of 154, forward P/E of 45, a price-to-sales ratio of 14, and an 88% rally, ALL announcements advertised as being significant need to deliver the goods because only big growth can justify the renewed bullishness.
Mind you, I am definitely looking forward to Graph Search. I have long wanted the ability to quickly and easily search for content in my profile. However, I have very rarely thought to look through someone else's profile foraging for material. More importantly, I am certainly not interested in allowing my entire profile to get searched by anyone other than my closest friends and family. I suspect this will be the case for a lot of people. FB was smart to integrate with another search engine - Bing in this case - since a FB Graph Search can only access the most minute fraction of content available on most topics.
In the promo video for Graph Search, an Engineering manager talked about FB's ability to provide more personalized search results on generic search terms. Perhaps not intended, but I think this commentary provides clues into an ultimate goal of leveraging Graph Search into a comprehensive search engine that has the additional power of more accurate personalization specific to your social graph. The monetization potential for such a product extends far beyond the more limited applicability of searches within the FB universe.
The promo video for Graph Search contained other notable uses cases, some revealing the shortcoming of the product. One of the use cases presented by an Engineering Director involved searching for all the dentists that his friends liked. He was new to the area and needed to take care of a toothache. While this search may turn up some useful clues, it is highly likely to miss the most up-to-date information. The universe of dentists in your area on Facebook is the first constraint, further confounded by the number of those dentists your friends know, even further limited by the friends who bothered to like their dentist's FB page. Many people will find it even more effective to just ask.
Remember, FB is also about conversations about content, not just passively trolling through the content your friends have decided to post. I have direct experience with this. Over the Christmas holiday, I urgently needed to refill a cavity. I posted a plea for help on my newsfeed, and I was soon flooded by numerous helpful suggestions. I could ask follow-up questions in near real-time, and I could be confident that the suggestions were the most up-to-date possible. A Graph Search cannot deliver that efficacy. Also notice that in this use case I will NOT click on a related advertisement for dental services since I have no reason to trust those over what my friends are suggesting.
Also in the promotional video, a Facebook Product Manager talks about asking questions that only a social search can solve. But, again, this sounds like an even better use case for a conversation, not a passive search. The social search may supplement my conversations through my newsfeed, but it will not be as useful as timely interactions.
The biggest monetizing and social potential from Graph Search comes from stepping outside of your own Social Graph and into the spaces of others. The same Engineering Director with the dentist use case and a Product Director talk about using Graph Search to reach out to people your friends know. This steps right out to the ledge of privacy concerns. I for one do not want people I do not know trolling through my FB profile (I am not sure whether FB provides statistics on the usage of its privacy features, but it would be VERY useful data to know!). I much prefer someone I know asking whether I would mind reaching out to so-and-so who has asked for references, etc. Just call me old-fashioned. I am guessing the younger generation will be very excited about the prospects of Graph Search for socializing and dating. While they have less money to spend, the odds of monetizing seem much higher with the younger demographics. However, note well that dating sites like MeetMe (NASDAQ:MEET), Spark Networks (NYSEMKT:LOV), and FriendFinder Networks Inc. (FFN) get valuations at a fraction of FB's current valuation as the competition is stiff and the field is extremely crowded.
The biggest weakness in Social Graph comes in mobile. At some point, I am sure Graph Search will be available on mobile, but for many "in the moment" mobile uses cases, my graph of friends (or even friends of friends) will often come up short. There are many times I have been out with the family and used yelp.com (NYSE:YELP) to search for highly rated places to eat while on the road. We have never been disappointed and often delighted.
For example, while we were out last weekend in a nearby city, we found ourselves about 40 minutes from home around dinnertime. We decided to find someplace to eat nearby rather than wait to get home with the hungry bellies of children screaming at us. My wife popped out her iPhone and asked Siri for "family friendly restaurants around here." Not seeing anything enticing, we broadened the search to all restaurants in the immediate area. Being big Thai food fans, we selected a local Thai restaurant that got high marks, especially on key dishes. The restaurant turned out to be amazing; we even managed to learn something new about traditional Thai iced tea. My universe of friends scattered across the globe simply cannot match the knowledge base of locals when it comes to "in the moment" choices. It is the delicious irony of crowdsourcing - the best information can come searching the universal ratings amongst a tightly constrained set of options rather than searching the limited ratings of a tightly constrained set of friends.
Thus, in many ways, the fundamental business of social networking has changed very little since Facebook's IPO, even as the company continues to churn out new features to convince Wall Street that it has a strong monetization engine. What HAS changed is market sentiment, and the market's willingness to pay up for the current story. While Facebook's business pushes onward, I will not be surprised to see Facebook's stock hit $20 or so at some point this year as the fickle market loses its patience (aka profit-taking) at some key moment.
Be careful out there!
Disclosure: I am short FB. I wrote this article myself, and it expresses my own opinions. I am not receiving compensation for it (other than from Seeking Alpha). I have no business relationship with any company whose stock is mentioned in this article.
Additional disclosure: Long YELP.