Spirit Realty (NYSE:SRC) was founded in 2003 as a Maryland Corporation and entered the REIT investment scene through its 9/25/12 IPO. With only 5 days of operations after going public on its 3Q12, which remains its most recent official reporting, much of the information regarding its fundamentals is distorted. In this article, we will clear up the discrepancies relating to its FFO and show how the clearer image reveals a sturdy company with potential for growth and a well-supported dividend. I believe the lack of clarity has deterred enough investors that its current price is opportunistic.
Clearing up the discrepancy
FFO for 3Q12 was reported in an earnings release as a (loss) of ($21.8mm) or ($0.74) per share. This is massively misleading for 2 reasons:
1) This is based off of 29.45mm shares outstanding which fails to factor in the shares generated from conversions associated with the IPO which bring the total number of shares outstanding to just under 85mm.
2) It does not account for 1 time charges associated with the IPO, of which there were 4.
I) $32.5mm loss on extermination of Term Notes.
II) $8.7mm non-cash charge related to derivative instruments on the Term Note.
III) $4.9mm additional G&A expenses related to the IPO.
IV) $4.8mm incurred to secure lenders' consent to the IPO.
Accounting of earnings is further complicated by the fact that the Term Notes were converted to common shares as part of the offering. In all $729mm of this debt, which had an average rate of 3.44% was functionally extinguished.
Spirit Realty did not intentionally mislead anyone with this earnings announcement. It was merely consequent to a very complex IPO.
We can get a much clearer picture of earnings by looking at their guidance. SRC suggests 4th quarter FFO/share of $0.32-$0.34 and AFFO/share of $0.38-$0.40. Full-year 2013 FFO guidance is given at $1.35-$1.40/share and AFFO/share of $1.60-$1.65. This is very much in line with the FactSet consensus FFO estimate of $1.37/share which translates to a price/FFO around 13.01.
I believe and will attempt to demonstrate that SRC is well-positioned to meet or even beat this estimate.
Operations
Spirit Realty's operations impressively showcase top-of-the-line triple net performance. Of its 1,190 properties, 98.4% are occupied and leased. 95% of these leases are triple net, 96% of which have built in escalators. In all, its leases have a weighted average 11.2 years remaining. Such a powerful contractual source of revenue should provide stability of earnings for years to come. However, investors should keep a close eye on its tenant concentration risk. Specifically, its exposure to ShopKo.

In February of 2012 ShopKo and Pamida merged. Since both were major tenants of SRC, the aggregate became 29.9% of its rental income. Any time there is such a concentration of revenue, it brings about concern as to the reliability of that source, particularly considering that ShopKo is not investment grade.
However, Spirit has been very careful to only acquire properties that generate sufficient earnings to easily cover their rent. The top 10 tenants listed above have a weighted average unit level rent coverage (or EBITDAR) of 2.67. While Spirit refused to give out ShopKo's coverage ratio when inquired about in the 3rd quarter conference call, we can surmise that it is likely somewhere around 2.67 due to its nearly 30% weight. Information was not withheld to conceal truth, but rather to protect ShopKo's proprietary information as a private company. ShopKo appears to be a stable revenue source, but investors should certainly keep an eye on it as a potential risk.
Aside from the single tenant concentration, SRC is very well diversified by industry.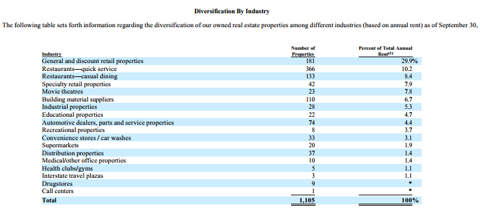 And geographically: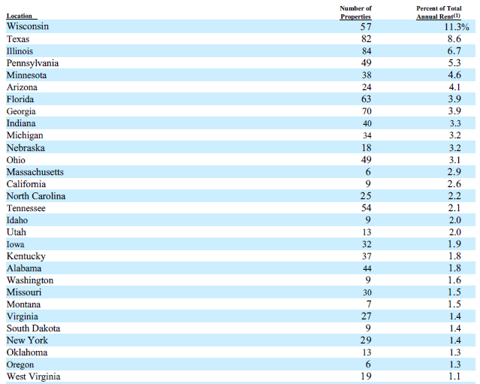 The strength and stability of its present portfolio is bolstered by a powerfully accretive acquisition pipeline similar in nature to that of STAG Industrial's (NYSE:STAG).
The STAG effect
STAG went public in April of 2011 at a price of $12.00 and has already reached $19.96. Plenty of companies have had explosive price growth, but what makes STAG so powerful is the fact that it was matched with equally explosive earnings. All of this was accomplished through a seemingly endless stream of high-cap-rate acquisitions. Recognizing the competition for investment grade acquisitions and the consequent cap-rate compression, STAG targeted B grade industrial properties. Such a strategy separated it from the herd and it generated 80.9% total returns over the past 52 weeks.
Perhaps this tangent to the industrial sector will seem relevant once we go over the remarkable similarities between STAG's and Spirit's acquisition strategy. Tom Nolan, chairman and CEO of SRC has also noticed a similar cap-rate compression amongst investment grade retail properties. He targets BB properties for acquisition for their increased cap-rates while preserving the safety of the portfolio by paying close attention to unit level rent coverage. Such a strategy has led to a pipeline of accretive acquisitions similar to STAG's. In the 9-month period ending September 30 2012, Spirit Realty acquired 58 properties with 5 tenants for $86.2mm at a weighted average cap-rate of 8.58% and an average contract length of 17 years. While Nolan refused to set an acquisition target for 2013, he indicated intent to continue to make accretive acquisitions. If successful in this endeavor, SRC could follow STAG in its explosive growth.
Investment possibilities
Spirit Realty represents a strong dividend play backed by contractual stability and the growth potential to raise its dividend going forward.
It has probably become clear to readers by now that I am fairly bullish on SRC. Why then do I not have a position in it? Presently there are 2 other opportunities among triple net REITs that I feel are better opportunities; CapLease (NYSE:LSE) and Gladstone Commercial (NASDAQ:GOOD).
CapLease has been consistently amortizing its debt, thereby edifying its equity. FactSet recently raised its consensus NAV of LSE from $7.01 to $7.08 per share, which is very high compared to its $5.36 share price. When combined with its price/FFO of only 7.8, I feel LSE is too strong of a triple net value to ignore.
Gladstone Commercial has also become an incredible value with a reduced shareprice and bolstered estimates. FactSet increased its 2013 FFO/share estimate for GOOD from $1.67 to $1.72 making it a 10.67 price/FFO with a yield of over 8%.
Conclusion
SRC is a strong investment, but better opportunities are presently available. Add it to your watch-list as it could be a great pick-up in the near future. It is working to reduce its exposure to ShopKo and even a minor reduction could stimulate buying.
Disclosure: 2nd Market Capital and its affiliated accounts are long LSE and GOOD. This article is for informational purposes only. It is not a recommendation to buy or sell any security and is strictly the opinion of the writer.
Disclosure: I am long LSE, GOOD. I wrote this article myself, and it expresses my own opinions. I am not receiving compensation for it (other than from Seeking Alpha). I have no business relationship with any company whose stock is mentioned in this article.