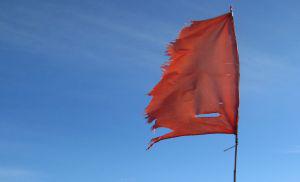 Previously, in "PPG Shareholders: Beware Of Georgia Gulf Exchange Offer," I suggested that the confusing, uncertain exchange offer carried risks that warranted saying "No."
That conclusion may seem questionable when reading PPG's (NYSE:PPG) expectations. The original 7/19/12 press release, in addition to CEO Charles Bunch's positive observations, stated that:
The transaction is highly complementary to strategic objectives of both companies, with significant potential to enhance value for both PPG and Georgia Gulf (GGC) shareholders.
Unwelcome news: PPG executives sell on eve of expected good times
Yesterday (Jan. 21) we learned that CEO Bunch sold 100,000 PPG shares ($13.8 million) and EVP J. Rich Alexander sold 56,800 shares ($7.8 million). Each exercised options on January 16 and sold them the same day, with Alexander adding another 10,000 shares to his sell order.
Why did they sell now? The options had long expiration dates (2016 to 2018), so that cannot be the reason. Nor was tax management because we are in a new year. What we are left with is the appearance that they don't share the PR optimism.
Do those sales really affect shareholders adversely?
Yes, in three ways:
First, the executives' actions, by both creating new PPG shares through option exercises and then dumping them on the market, negatively affect PPG's stock price to some extent.
Second, because of who they are, the sales create an investor uncertainty: "What do they know?"
Third, and the reason most organizations would ban such sales, the exchange offer's pricing is based on PPG's and GGC's relative stock prices. The lower PPG's stock price relatively, the less GGC shares exchanging shareholders will receive.
And remember - this exchange offer's pricing hits shareholders 100% and PPG not at all.
So, why not wait for the pricing before tendering the shares?
Because, unless you're an institution that can issue a "guaranteed delivery" letter by the 1/28 expiration date, you'll need to submit your decision to your broker by 1/23. Since the pricing depends on the volume-weighted average prices (VWAP) for PPG and GGC on 1/23, 1/24 and 1/25, you must act before knowing the details.
The bottom line
In my previous article, I explained why, besides saying "No" to the exchange offer, I thought it was time to sell PPG. With yesterday's news, that thought is reinforced. When the CEO dumps shares just prior to a significant corporate deal, with potentially negative effects on shareholders, it's time to leave. Fortunately, we can do so near PPG's all-time high.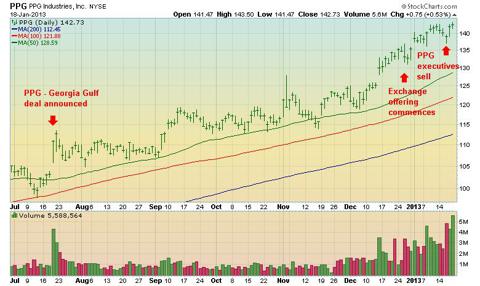 (Stock chart courtesy of StockCharts.com)
Disclosure: I have no positions in any stocks mentioned, and no plans to initiate any positions within the next 72 hours. I wrote this article myself, and it expresses my own opinions. I am not receiving compensation for it (other than from Seeking Alpha). I have no business relationship with any company whose stock is mentioned in this article.
Additional disclosure: Just sold PPG. Portfolio holdings: Long U.S. stocks