Chesapeake Energy Corp. (NYSE:CHK) is, on a percentage basis, the fastest growing US liquids (oil and NGLs) E&P company over the last three years. On an absolute basis CHK is second only to EOG Resources (NYSE:EOG). The charts below show just how outstanding this performance has been.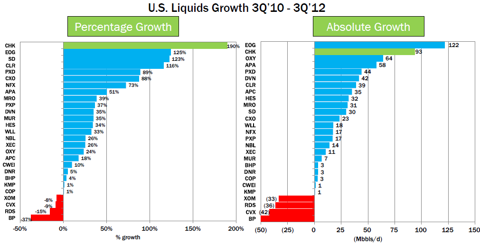 CHK has done this without any current Bakken holdings, which many think is the most prolific unconventional liquids field in the US. It has instead done this by being the #1 driller of unconventional wells in the world. It has the largest lease holdings of (and 3D seismic) in the continental US. It was the earliest developer in many of the United States' biggest and most prolific unconventional oil and gas fields. In its 10 "core plays," it has the #1 or #2 development position. These include the Eagle Ford Shale (490,000 net acres), which some regard as more prolific than the Bakken, the Utica Shale (approximately 1.3 million net acres), the Mississippi Lime (approximately 2.0 million net acres), the Cleveland (520,000 net acres), the Tonkawa (285,000 net acres), the Powder River Basin Niobrara Shale (340,000) net acres, the Marcellus Shale (approximately 1.5 million net acres in the northern dry gas portion and 285,000 net acres in the southern wet gas portion), and many more. All told CHK has approximately 15 million acres of US onshore leasehold. These many great fields have the added benefit of being relatively "safe." There won't be any civil wars as in Libya and some other African countries. The government won't appropriate the fields as has happened in Venezuela and other South American countries.
The chart below shows CHK's planned liquids growth through the end of 2015.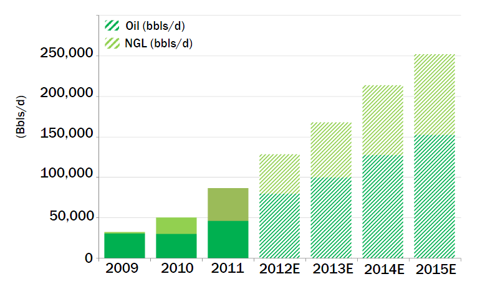 Its Q3 2012 average production of approximately 143,000 bpd of liquids has already surpassed its forecast of approximately 135,000 bpd of liquids production for the end of 2012. An average production of 150,000+ bpd of liquids for Q4 2012 seems a quite reasonable expectation. This makes an expectation of 200,000+ bpd of liquids by the end of 2013 more than reasonable.
In Q3 2012, CHK realized $90.79/barrel for its 8,996,000 barrels of oil production ($816.7 million). It realized $31.22/barrel for NGLs production of 4,130,000 barrels ($128.9 million). It realized just $1.97/mcf for natural gas production of 302 bcf ($594.9 million). In other words, the liquids production (oil and NGLs) accounted for approximately 61% of production revenues in Q3 2012 even though liquids production was only approximately 20% of total production in boe terms in Q3. This says that CHK's strategy of emphasizing liquids development is working. If CHK increases its liquids production to 25% of production in 2013, that would be a 25% increase in liquids production. It would be approximately $236.4 million in added revenue at Q3 prices. Given CHK grew liquids production approximately 52% year-over-year in Q3 2012, CHK is likely to exceed this figure considerably. It is aiming for approximately 29% year-over-year growth in FY2013.
On top of this, CHK is the second largest US natural gas producer. Many discount this as nearly unprofitable; but natural gas prices will make a comeback over time. Already the words CNG (compressed natural gas) and LNG (liquefied natural gas) are becoming household words. It won't be long before many people start using CNG as a fuel for transportation. Some city transit systems (buses) have already converted over. CHK itself is in the process of converting all of its gasoline and diesel powered trucks, drilling rigs, pumping machines, etc. to natural gas use. CHK estimates that it will save approximately $250 million per year through this strategy. Other companies, especially US unconventional shale E&P companies, are sure to follow CHK's lead.
As more private citizens realize they could spend half as much or less if they powered their cars with natural gas instead of gasoline, the US will likely see the demand for natural gas vehicles go up too. There have already been attempts to pass a natural gas for transportation bill in the US Congress. If that were to happen, natural gas prices would spike immediately. They would still likely stay significantly below oil/gasoline prices. This would keep natural gas attractive as a fuel source. Plus it would lead to less pollution.
Many think such a law could pass in the near future. It meets the Democrats' desire to have a cleaner environment and cheaper fuel. It meets the Republicans' desire to wean the US away from foreign oil. It will provide more US jobs. This would make both parties happy.
Natural gas usage for power generation is already up. It now is used for 32% of all electrical power generated in the US, and this percentage is rising. Plus the overall need for electric power is expected to increase by 75,000 - 90,000 MWs by 2015. Natural gas will likely be used to produce a considerable amount of this new capacity.
In 2015 and beyond, LNG exports from the US are tentatively scheduled to start. This will add further to US natural gas demand. Even the anticipation of LNG exportation should push the price of natural gas higher.
China, a country troubled with terrible pollution, has already made significant inroads in the adoption of natural gas for transportation, including for cars. If the natural gas rich US wants to be competitive, it will have to follow China's lead. China is forecasting 1.5 million natural gas vehicles in 2015 and 3 million in 2020. Gaining a cleaner environment (and likely better health) in the process will be an added bonus.
In Q3 2012, CHK had to take a $2B+ write down on assets mostly due to the lower value of its natural gas assets. The value of these assets is based on a one year rolling average of natural gas prices, which fell dramatically in 1H 2012. The SEC trailing 12 month average price for natural gas was $2.83/MMbtu in Q3 2012. It is possible that CHK may have to take another smaller write down due to a lower rolling one year natural gas price average in Q4 2012. However, Q4 2012 (or possibly Q1 2013) will likely be the end of the write downs of natural gas assets due to lower prices.
Natural gas prices have been rising recently. Many of the leading natural gas E & P companies have cut back severely on their natural gas development. Natural gas prices have been hovering in the $3.50/MMbtu range. This is much higher than the average for both Q2 and Q3 2012. Q4 will also suffer from CHK's natural gas hedging at $3.06/MMbtu for 76% of production for Q4 2012. It entered these hedges when natural gas prices were much lower. However, these hedges end with the end of Q4. CHK had no further natural gas hedges at the end of Q3 2012, although it planned to acquire some hedges for 2013 at much higher natural gas prices.
On top of this, the weak el Nino winter in North America so far should keep natural gas use high this winter (2012-2013). This should lead to higher natural gas prices. Thus far natural gas prices are acting as CHK and other industry experts have predicted. If natural gas price appreciation continues, CHK should do considerably better in FY2013. Having no natural gas hedges (or much higher new ones) in 2013 should allow CHK to fully glean the profits from the now higher natural gas prices. CHK estimates each $0.10 increase in natural gas prices will translate into another $100 million in revenue. Increased profits should be considerable. Plus CHK should be able to write up the value of its natural gas assets in 2013 as the rolling one-year average natural gas price increases during the course of the year. This will mean extra, perhaps huge, net income gains in 2013. The natural gas price nadir was in Q2 2012.
Many have also talked about CHK's large amount of debt. However, it is working hard to bring this down. The following table is a list of CHK's asset sales in 2012.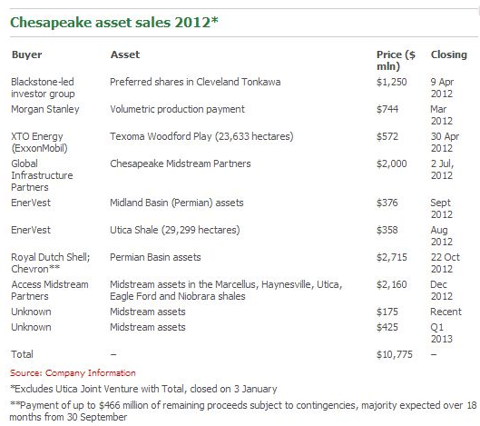 Note that more than $5B of these sales have completed in Q4 2012 or later. They will significantly cut into CHK's approximate $16.5B debt figure from Q3 2012. CHK says it will sell $17B-$19B in total in the 2012-2013 period. These sales may well bring CHK's total debt to below its aggressive $9.5B goal. Plus CHK should have considerably higher money flow in 2013 due largely to the reasons cited in paragraphs above.
Further CHK plans to significantly cut CapEx expenses in 2013. It is planning to do this partly through more efficient drilling and partly by drilling less. It expects to drill even fewer natural gas wells in 2013. CHK's total number of rigs active in January 2012 was 165. At the end of Q3 2012, it had only 89 rigs active. It plans to cut this number still further. However, the actual amount of wells drilled has not been cut by 46% as one might expect from the rig count. The use of pad drilling and other new techniques has done a lot to curb both the time of drilling and its cost. In pad drilling, the drilling rig can be moved as a whole from one drill site to a nearby one on the "pad" without disassembling and reassembling the rig. This saves a huge amount of time and expense.
With its growing revenues from liquids production (and even natural gas production going forward), CHK expects to be able to pay for much if not all of its 2013 CapEx out of Operating Cash Flow. Keep in mind that many of its past asset sales agreements fund CHK development costs on the fields CHK sold a portion of (monetized). For instance, approximately $1.25B in such funding for Utica development was still available from Total (NYSE:TOT) as of Q3 2012.These funds may be accounted as outgoing monies. However, CHK does not actually have to borrow or earn these monies as they are spent. Further a significant number of wells in areas such as the Utica have been drilled. However, they are not online yet; or they are in various other stages of completion. With more midstream infrastructure scheduled to become available in 2013 in a number of areas, especially the Utica and the Niobrara, CHK plans to bring a large number of wells online in 2013 in addition to those drilled in 2013. This should add nicely to both the top and bottom lines.
Overall, CHK is a buy with the expectation of vastly improving fundamentals. Further, CHK has hired the former Chairman of ConocoPhillips (NYSE:COP) as its Chairman. This and CHK's board changes are expected to deter CEO Aubrey McClendon from future gambling actions. Further, activist investors Carl Icahn, who owns 8.9% of CHK, and Mason Hawkins, who owns 13.5%, now control a substantial portion of CHK's board of directors. They will make sure that CHK's priorities going forward will benefit investors. The company touts its assets as being worth $50B-$60B. However, they may be worth $100B+. For investors following CHK's asset sales over the last few years, this last is a quite reasonable statement. By contrast, CHK has a market capitalization of $11.49B and an enterprise value of $28.76B. If CHK does cut its debt level to about $9.5B by the end of 2013, the stock may take off as revenues climb and borrowing rates fall.
The investor friendly board has only recently taken control. The company has great assets. Now is likely a great time to get into this stock that has huge long-term potential. Icahn, Hawkins, and Dunham are probably as experienced a group of value harvesters as an investor is likely to encounter. CHK is a buy.
The two-year chart of CHK provides some technical direction for this trade.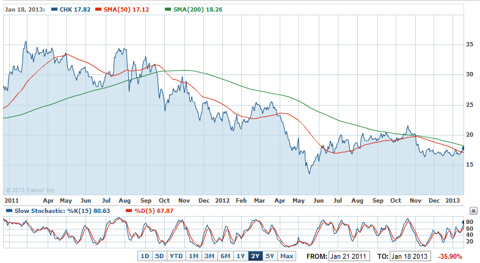 The slow stochastic sub chart shows that CHK is close to overbought territory. The main chart shows that CHK has been in a down trend since 2011. It appears to have bottomed on May 17, 2012. It put in a higher bottom on November 15, 2012. It now appears to be headed upward toward a new high. If it manages to reach this, it will officially have started an uptrend. This seems likely to be a slow process, but CHK is such a huge value stock that it almost demands investment.
The natural gas market will eventually recover from its currently ultra-low prices. Consider that Carl Icahn and Mason Hawkins are known to be successful investors. You may wish to buy CHK just to follow them. One of them alone is a good sign. Both together make CHK an excellent investment. With CHK's huge value of great unconventional oil and gas fields, it is probably one of the safest and perhaps best investments you can make.
The average analysts' estimate for EPS growth in 2013 is 158.30%. That's fantastic for a mature oil and gas company. CHK has an average analysts' recommendation of 2.5. CAPS gives it a four star rating. It has a high one-year target price of $36.00 and a low target price of $18.00. This last is still above the current stock price of $17.82. You can't go far wrong on this one. It could go down in an overall market downturn. However, it will likely bounce right back up. Plus you will get to collect the approximately 2% dividend as you wait. If CHK does get its debt level down and its production up, you may get to collect a heftier dividend by the end of 2013. The value is great; and natural gas prices are improving.
Averaging in is still a good strategy. There may be an austerity mediated downturn in the overall market in 2013. If CHK gets significantly cheaper, back up the truck.
Note: Some of the fundamental financial data is from Yahoo Finance.
Good Luck Trading.
Disclosure: I have no positions in any stocks mentioned, but may initiate a long position in CHK over the next 72 hours. I wrote this article myself, and it expresses my own opinions. I am not receiving compensation for it (other than from Seeking Alpha). I have no business relationship with any company whose stock is mentioned in this article.