Chipotle Mexican Grill (NYSE:CMG) reported numbers last Tuesday which caused the stock to drop to $267, then recover to $280.90 by the end of trading.
"The Denver-based restaurant chain is now anticipating earnings of $1.92 to $1.97 a share on revenue of $699.2 million, an increase of 17.2% from a year ago. Analysts were looking for per-share earnings of $2.07 and revenue of $692 million."
Chipotle also said same-restaurant sales have so far increased 3.8%, citing more traffic.
By the end of the quarter, food costs are expected to account for 33.5% of sales, an increase of 1.3% from last year. Marketing and promotional-related expenses drove other operating costs higher."
The market reacted to the news poorly, but when I read the release I was quite pleased. The only thing I read was food inflation affected EPS, duh! During last quarter's earnings calls Chief Financial Officer Jack Hartung said:
"The company will be "patient" with its pricing decisions, so as not to deter customers. We could move quickly, but we're going to choose not to be in too much of a hurry. We don't want to be the first ones out of the box with price increases," he said. "We'd rather see what happens with the economy, see what happens with the consumer spending, see what other competitors do and how consumers response."
Extreme weather across the globe this year led to low crop yields, which alongside increased demand for meat and dairy caused an increase in food prices around the world. Food inflation is something that is affecting the entire industry, not just Chipotle. Due to Chipotle's loyal following and the food with integrity brand, I think Chipotle will have an easier time passing costs to customers than competitors like Taco Bell of Yum! Brands (NYSE:YUM) and Qdoba of Jack In The Box (NASDAQ:JACK).
Two parts of the release reassured me of my previous thesis on the company, $699.2 million in revenues and an increase of 3.8% in same-restaurant sales. After Greenlight Capital's David Einhorn presented his negative thesis on the company (I'm guessing he already covered his short) and Taco Bell's 7% same-store sales increase, there was worry that Taco Bell would steal Chipotle's customers, the above figures prove otherwise. The quick recovery of the stock price back to $295.02 today is a good sign for Chipotle and we can pretty much rule out any big surprises when earnings are released on the 5th of March.
Chipotle also announced that its catering service will be available in Colorado starting Monday and that it will be rolled out to all of its markets during 2013. This is another growth opportunity for Chipotle, probably an idea management picked up from Panera Bread (NASDAQ:PNRA) who has had a lot of success in the catering business. Panera has consistently managed to grow its catering business by over 20% per year since it was introduced, sadly they don't disclose exact revenue numbers for the segment. I don't believe Chipotle will have as much success as Panera in the catering business due to a more limited product offering, but it won't hurt.
Looking at the competitive landscape, Chipotle is in a league of its own, the company is the ideal everyone is trying to copy. I also believe that the trend of customers dinning more at fast casual places instead of traditional restaurants (a trend that will also help Panera) will outweigh any loss due to competition from fast food. I believe that fast food competitors, mainly Taco Bell have an extremely strong well-built brand. A brand of cheap, low quality, and unhealthy food, a brand that will make it difficult to ever compete on the same field or for the same customers.
I think in this situation a picture is worth a thousand words (try the search for yourself).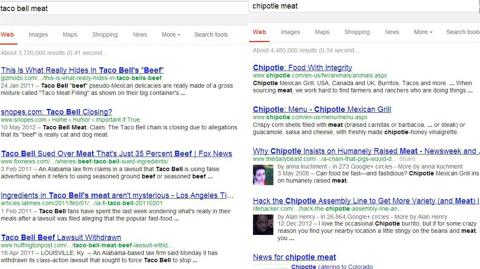 Overall I'm bullish on all the names discussed in the article, Yum! Brands has great leadership that has been making inroads in the home market and abroad, especially in China. McDonald's (NYSE:MCD) is a more conservative option in the sector. The company is trading at a reasonable valuation and its success over the years does not need to be repeated. Still, looking forward five years from now I believe Chipotle is the best option in the sector and the one that will reward shareholders the most. Panera Bread is another solid option, a great analysis was done by Alexandra Reisman which ultimately agreed with me that Panera is good but Chipotle is better. I think when you consider Chipotle, you have to really decide for how long the company can grow. In my previous analysis of Chipotle, I projected earnings out for five years, and its difficult to go further because you can end up coming up with wacky numbers, but when I look at Chipotle today I see McDonald's 60 years ago. If that is the case, it doesn't really matter if you buy Chipotle at $250, $300 or $400. I believe there is a real change happening in the fast serve industry and Chipotle is the only company that is in a position to capitalize.
Look, this may all be farfetched wishful thinking, but at the company's current valuation I don't have to be right to make money.
Disclosure: I am long CMG. I wrote this article myself, and it expresses my own opinions. I am not receiving compensation for it (other than from Seeking Alpha). I have no business relationship with any company whose stock is mentioned in this article.