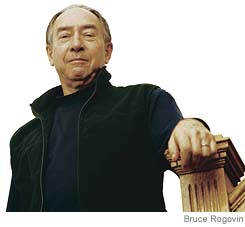 Barron's Bill Alpert does a a fascinating interview of Off Wall Street Consulting Group founder Mark Roberts. Roberts' research boutique feeds ideas - mostly short - to a small group of money managers. That his model short portfolio is up 60% YTD is impressive, if not surprising. Even more noteworthy: 80% of Roberts' ideas over the past 15 years have made money, and his shorts have outperformed the Russell 2000 by an average of 22%/year since 1995 (track record).
In talking with hedge fund managers, Roberts notes many have gone credit heavy. "If one had a contrarian view of things, one would probably want to start buying equities." With that, let's take a look at some of his long ideas:
Bristow Group (NYSE:BRS): The largest helicopter-service provider to oil-and-gas production companies, it's been punished with them and the plunge in oil prices. However, flight-hour pricing is not historically correlated to oil and gas prices, and BRS is more tied to gas than oil. Also, 80% of its business is production, not the riskier and more expendable exploration work. And oil fields are increasingly further offshore. "Our price target is about $54 (Friday $19.46). I think this is one of the most compelling buys."
PHH Corp. (NYSE:PHH): The #2 corporate-vehicle fleet-management business (behind GE), the tenth-largest mortgage-service provider, and a private-label mortgage-origination business. Investors have fled the stock like all things mortgage-related, but not all that much has changed in its business. The balance sheet is healthy, and "some very smart financial buyers" are building stakes. At $9.89, vs. $18 in January, PHH "looks like an incredible bargain."
And, of course, some shorts:
Hill-Rom (NYSE:HRC): Hospital beds are 62% of its sales. With credit markets dry and donations down, hospitals are cutting capital spending. New beds - which don't boost revenue - will not be high on the list. Same thinking with Stryker (NYSE:SYK), along with its 36% orthopedic-implant business, which will suffer as patients push off elective procedures because of job issues and insurance problems.
Psychiatric Solutions (OTCPK:PSYS): 33% of the psychiatric-hospital chain's revenue comes from managed care. Occupancy should decline as the number of uninsured grows, particularly because Medicaid won't pay for most of its facilities due to their large number of beds. And then there's the sexual abuse issue.
:::::::::::::::::
Barron's also interviewed Roberts in Feb. 2007 and Jan. 2001.