For years, Hewlett-Packard's (NYSE:HPQ) stock has been on a rapid decline. Last month the stock traded close to the $10 mark, near its 2001 low and a long way from its all-time high of $70.
In the last three weeks, the stock has rebounded nicely, however. Last Friday, it was trading north of $17, well above its 100-day moving average, but still below its 200-day moving average.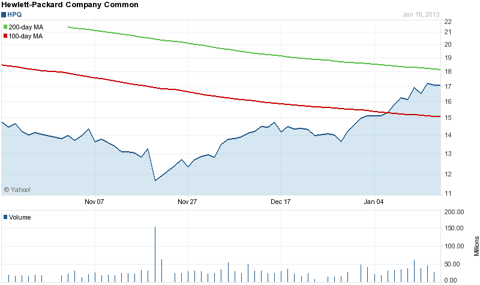 Click to enlarge
Is this shift in momentum for real?
It's hard to say. Hewlett-Packard's stock has been hurt by a number of strategic mistakes that wasted the company's resources and talent.
The first came in 2001, when Hewlett-Packard purchased Compaq Computer - which was supposed to provide the company with the scale advantage in the PC market to compete effectively against Dell Computer, International Business Machine (NYSE:IBM) and all sorts of emerging Asian competitors.
The problem, however, was that the PC market was already saturated and ravaged by price wars, as the PC was a "commodity" about to be replaced by tablets.
Besides, Compaq Computer itself didn't have an internal innovation system, but relied on external acquisitions to expand its product portfolio -- buying up Tandem Computer, and Digital Equipment Corporation.
In April 2010, Hewlett-Packard made the second strategic mistake - it purchased the near-bankrupt Palm, which was supposed to help the company enter the fast-growing market for mobile devices that was beginning to replace PCs.
The problem, however, was that Hewlett-Packard was a follower rather than a leader in this market, going against Apple - which enjoyed the first-mover advantage in this market.
Last year, Hewlett-Packard made the third mistake when it announced the acquisition of enterprise software maker Autonomy (at a hefty price of $10.3 billion). Why? This move will pit the company against three major competitors, Salesforce.com (NYSE:CRM), Oracle (NASDAQ:ORCL), and IBM.
Aren't these mistakes already reflected in the value of the stock, however? Is it time to buy Hewlett-Packard?
It depends on the investment horizon of individual investors. Short-term investors may want to stay away from the stock, as it may be ripe for a correction after a near 30 percent rise from its December lows. Besides, part of the stock's rebound is driven by beginning of the year bargain-hunting and hype over Dell's prospects of being taken private, rather than positive corporate developments.
However, long-term investors may want to begin accumulating the stock, betting on Meg Whitman's turnaround plan. Especially on three strategic initiatives she has taken.
First, the paying down of the company's debt before it becomes unmanageable.
Second, the shift from an external to an internal innovation model - a major departure from the policies of predecessors. That's a policy which has worked for other technology companies like Apple (NASDAQ:AAPL) and Microsoft (NASDAQ:MSFT).
Third, the opening up of the company's operating system WebOS to the applications development community. This move provides HP the chance to challenge the dominance of Google's Android system, especially if Android becomes a closed system after the integration of Motorola Mobility with Google (NASDAQ:GOOG).
The bottom line: HP is an appealing bet for long-term investors, who have faith in Meg Whitman's plan to turn the company around and want to collect a hefty dividend (3.5%) while waiting.
Disclosure: I am long HPQ, AAPL. I wrote this article myself, and it expresses my own opinions. I am not receiving compensation for it (other than from Seeking Alpha). I have no business relationship with any company whose stock is mentioned in this article.