I wrote about Celsion (NASDAQ:CLSN) last week, stating my opinion on some bear-raidish trading and reaffirming that I am still waiting for the concrete data of the Phase III HEAT trials for its liver cancer treatment, ThermoDox. Celsion has had a hell of a ride the last 6 months leading up to Phase III results: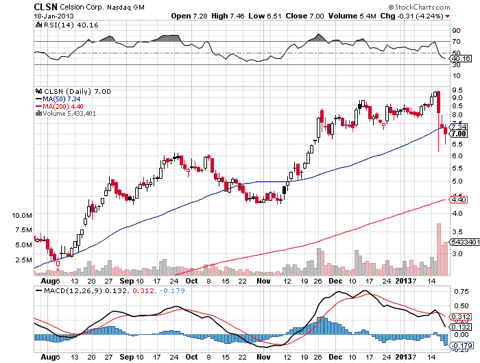 This morning, Celsion offered up long investors what appears to be a nudge in the direction that they've been waiting for. They fired off this press release, indicating that they've entered into a technology agreement with Zhejiang Hisun Pharmaceuticals, a "leading Chinese pharmaceutical company" to develop ThermoDox in the greater China territory.
As terms of the agreement, Celsion is paid a non-refundable $5 million up front, and is expecting another $5 million upon execution of the contract. This agreement gives Zhejiang Hisun exclusive rights to license ThermoDox to the Chinese marketplace. It appears that upon good Phase III data, Celsion is basically looking at $25 million up front and the chance to avoid dilutive financing for shareholders. The agreement has an "approximate 10 year total value to Celsion of well over several hundred million US dollars, which includes:
$55 million in upfront milestone and regulatory milestone payments within the next 18 months;
$45 million in milestone payments for reaching certain sales targets; and
Escalating double-digit royalties on net sales of

ThermoDox in th

e Greater China Territory.
Hisun will serve as both the manufacturer and distributor of the

ThermoDox

drug product for the Greater China Territory, and also take responsibility for local regulatory activities including submitting approvals in China to the state Food and Drug Administra

tion (sFDA)."
So now, the question that all investors are asking - the billion dollar question. Was this agreement signed and $5 million put up with or without being privy to the results of the Phase III data? There's absolutely no way to know, so we're left speculating about several scenarios:
1. Zhejiang could have signed an NDA with Celsion, which is currently holding and aware of the results, and made the easiest decision in history on great results by putting money upfront and agreeing to potentially hundreds of millions more. Large investors like Zhejiang could be privy to the information before the public if they signed an NDA in conjunction with the financing.
2. Zhejiang has not seen the Phase III results, but Celsion has, and they've passed along some sentiment on them. Perhaps they're not amazing and still need to be developed? This is, again, a technology development agreement. This could be good news put out before the mediocre or poor news that ThermoDox, although showing promise, still needs further development. This is one situation that gives me a slight bit of pause when considering the news today.
3. Neither group has seen the results yet, and this agreement is based 100% off of past metrics. Future execution of this agreement could still be predicated on the results of Phase III, which no one might have. Zhejiang and Celsion could be joined arm and arm with the common shareholders, still blinded, and waiting on what is ultimately going to be the biggest news in the company's history.
Risk and How to Trade this News This Week
This investor is going to take this opportunity to use the burst on this news to buy just a little more insurance in the form of puts. I'm leveraged about 7:1 calls to puts, but this spike in the price on this news without the data gives me a chance to make the insurance bets I want to make for cheaper prices than it was going to cost me pre-news.
I know that hyper-bulls don't want to hear this risk management strategy, so I'd like to reaffirm that I have been and continue to be extremely bullish on ThermoDox and CLSN. It's just important, however, that people do not confuse today's press release with the actual data itself.
As I've said from the get go, and the strategy that let me trade through last week's chaos, we know nothing until the Phase III results are released to the public. This morning was a great PR and an apparent big step in the right direction, but don't confuse it with the data that we have all been patiently waiting for. Let's hope this PR today is part of a multiple PR strategy this week to make the shorts squirm, but we won't know until the data comes out.
As I said in my previous article, "This investor has been buying on the panic and downgrades, hoping that the pro move here is to wait for the results. I've seen enough curious patterns of trading and timely upgrades/downgrades in my day to not let this last week falter my resolve in the company and in ThermoDox. Bulls and bears ... there can be only one in this case. Whatever result, I'm appreciative of the hard work at Celsion and what they're trying to do for medicine. I'm standing with my long position in Celsion come hell or high water, and whatever side you're on, I wish you the best of luck."
Continued good luck for all Celsion investors. It's great taking this ride with you all.
Disclosure: I am long CLSN. I wrote this article myself, and it expresses my own opinions. I am not receiving compensation for it (other than from Seeking Alpha). I have no business relationship with any company whose stock is mentioned in this article.
Additional disclosure: I own CLSN calls and will be buying both calls and puts within the next 72 hours.